About the industry
Sector and economy
The UK is the tenth largest milk producer in the world, and British dairy farmers produce 14 billion litres of milk each year. The British dairy industry also accounts for 18% of all UK agricultural production.
To help British dairy farmers you can buy British milk, cheese, yoghurt, butter and ice cream. Look out for the Red Tractor logo on packaging as 95% of milk produced in the UK is Red Tractor assured. This means milk is produced on farms that are independently inspected to high animal health and welfare, environmental and food safety standards. The Union Flag on the logo ensures traceability by guaranteeing that the product can be traced back to a UK farm.
Find out for yourself about the fabulous work British dairy farmers do producing our food and managing the countryside by visiting a farm for Open Farm Sunday 2019.
As a rough estimate the dairy industry in the UK provides jobs for 70,000 people. The majority of dairy farms are family farms, employing mainly family labour and relief milkers. Larger dairy farms will employ specialist staff for animal health, nutrition, breeding and foot trimming. The rough estimate is that 1 person can manage 50 cows, so the larger the herd the more staff you will require.
As well as on-farm staff, dairy farmers support a wide network of wider dairy industry staff including veterinary surgeons, feed merchants, tanker drivers and hauliers, milk processors, foot trimmers, dairy consultants and farm secretaries.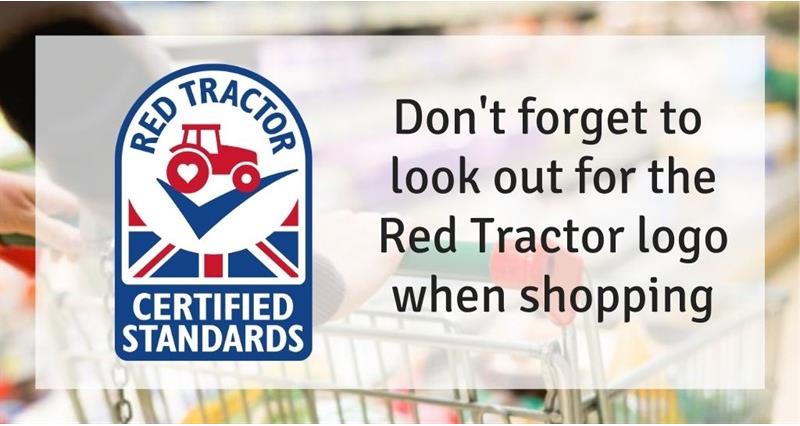 Food
Dairy products are highly nutritious with milk, cheese and yoghurt all containing high-quality protein, calcium, B vitamins, iodine and potassium. According to medical experts, young children should drink full fat milk (which has 3.5% fat), whilst school aged children and adults are advised to drink semi-skimmed milk (only 1.7% fat). This makes dairy foods an important part of overall health and a balanced diet. Eating these foods improves bone health, especially in children and teenagers, and provides a balanced package of essential nutrients. Currently 98% of the UK population regularly eat dairy products.
Raw milk is the term used to describe milk sold as it is straight from the cow. Milk for sale in retailers is pasteurised and processed Raw milk can only be purchased direct from the farmer. Sales of raw drinking milk are prohibited in Scotland. Around 200 dairy farmers in England sell raw, or "green top" milk directly to consumers, either at the farm, at a farmers' market, or through a delivery service. The bottle must display a health warning.
Dairy and the environment
Dairy farmers take great care and pride in protecting the environment through responsible use of fertilisers and careful management of hedgerows to allow wildlife to flourish. Much of this is recorded in the Dairy Roadmap which has set environmental targets for the UK dairy industry (from farm to retail) for 2020 and 2025. British dairy farmers in particular have worked extremely hard for almost a decade to reduce their environmental footprint and as a result greenhouse gas emissions from UK dairy farms have declined sharply over the last 20 years. This has mainly been through increasing efficiency and yield per cow.
Dairy Environmental Wins
90% of dairy farmers are actively nutrient management planning – good nutrient management can bring a number of important benefits including minimisation of greenhouse gas emissions, reducing the incidence of diffuse water pollution and optimising farm efficiency.
The Dairy Roadmap found in 2013 that 69% of dairy managed farmlands were in an Environmental Stewardship Scheme – this demonstrates the excellent work already being completed on farm, including hedgerow management, protection of habitats and lowering inputs on grassland.
The Roadmap set the target for a 70% uptake in water efficiency methods - British dairy farmers are looking to conserve water and cut costs without compromising animal welfare or dairy hygiene. In 2012 78% of farmers were implementing water efficiency methods, of these 30% collected rain water, 94% re-used water from a plate cooler and 53% diversified water supplies using a borehole.
78% of dairy farmers are currently taking action to reduce the GHG emissions on their farm – this is higher than any other farming sector.
Yes. In 2014 one-third of farmers in England and Wales were generating renewable energy – out of over 500 farmers interviewed, dairy farmers made up 10% of respondents. The industry has continued to improve and expand on this target through methods such as solar PV panels, wind turbines and anaerobic digestion which allow dairy farmers to produce renewable energy from cow manure and various crops.
Meet the dairy farmer
A series of on-line articles introducing dairy farmers, seeking to explain what they do and the efforts they go to producing quality British milk.
Abi Reader, South Wales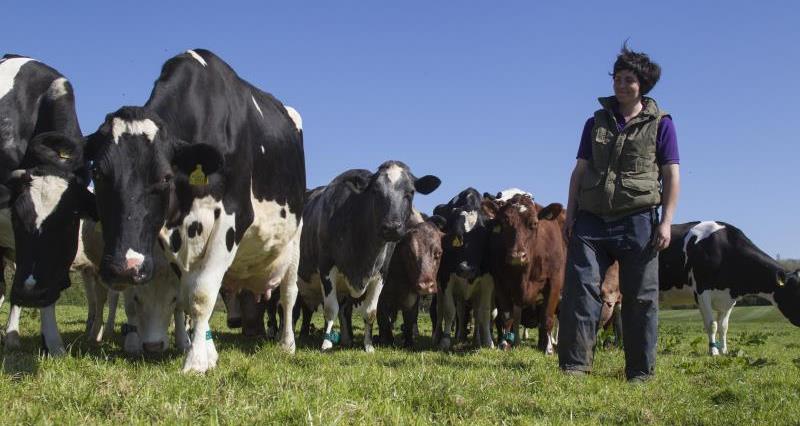 I am a third generation dairy farmer and farm alongside my father and uncle on 800 acres in Glamorgan. Dairy farming is in my blood. We currently have 90 Holstein Friesians and 90 Dairy Shorthorn, which is a rare native brown and breed that was very popular pre-World War 2.
We tend to have 15 new born calves each month and calve all year round. We rarely have to assist with calving, maybe 8 – 10 cases a year. Once the cow goes into labour she is monitored all the time, but we only interfere if we feel it is necessary and the cow is in distress. Once the calf is born its mum is given a bucket of warm water to drink as she's usually really thirsty. The calf is licked off although not all cows do this and given a bottle of colostrum to get much needed nutrients into it immediately. If it's winter a coat is put on the calf to keep it warm as understandably they feel the cold. We aim to give the calf 3 litres of rich colostrum milk in its first six hours of life so it has the right protection.  Due to a young calf's vulnerability it is essential to ensure they get the colostrum they need early on, a farmer's intervention is required to ensure the calf isn't sucking futilely and getting weaker rather than gaining strength in those early hours.
The instinct of a young calf is to lie down and hide, to keep the calf safe we put them into a single pen in a shed next to the main cowshed, where other calves are housed. They stay in a single pen for their first week before moving into a small group of similarly aged calves to learn to be part of a herd and socialise. The calf drinks its mother's milk for the first week then herd milk until it is weaned at approximately 8 weeks, their milk is always served warm. The calf is fed twice a day.
Meanwhile the cow, once it has had a much needed warm drink is fed with a hay based diet of maize and silage before being milked after about 12 hours. The milk which contains the valuable colostrum is saved for new born calves and their milk is given to their calf for a week before the normal milking regime recommences. The cow enjoys being milked after birth to have the pressure taken off their udder after the sudden milk flush of calving.
Both bull and heifer calves are treated the same way in their first weeks of life. Young calves are vulnerable, to bugs and infection but also to adult cows, who due to their clumsiness can without intention lie on them and can sadly pass on infections, which adult cows have built resilience to. Even a simple stomach upset can kill a young calf, this is one of the reasons the calves are housed separately after birth.
Our husbandry practices have been developed over many years, taking account of our experiences and ensuring the needs of the cows and their calves are met.  Our calves have a warm, safe and social environment in their early weeks of life with individual care.
Phil Latham, a dairy farmer from Cheshire  

Four generations of my family have farmed at our farm near Nantwich in Cheshire, we also have a second unit at Tarporley. We currently have 450 pedigree Brown Swiss cows and we operate a closed herd, which means we breed our own replacements and haven't had to buy in young cows for 21 years.
We have a team approach to good cow husbandry with our staff, nutritionist and vet. Our healthy cow strategy was developed back in 1996 and aims to make positive nutritional decisions to ensure our cows receive exactly the right amount of feed, which means they enjoy a healthier, longer life.  We chose to breed Brown Swiss cows because they provide the vigour of a hybrid combined with being a good milk producer. We used to have Holsteins (the classic black and white dairy cow) who typically yield 45-48 litres per cow per day, but feeding them to meet their metabolic requirements at peak yield meant we had to keep them indoors.  With the Brown Swiss they produce 38 -40 litres of milk per cow per day, and they can be out on grass for longer. Our farm is good at growing grass.
Like most farms we have routine vet visits and our herd health has a huge emphasis on nutrition and meeting the cow's needs. Milk yields are measured every day with digital weigh scales and the dairy parlour software enables us to produce yield measurements by group for all milking cows. We carefully monitor health characteristics and adjust the nutrition accordingly.
Dairy farming is a massively high-tech sector and we use a huge amount in the care and welfare of our herds. For instance, every cow has an auto ID tag apart from those that are pregnant who wear a silent monitoring collar to measure activity. We also use inter-herd software to keep our cow records for all parameters including health characteristics, movements and medicine records. We work with a vet to measure any illness within the cows, factor in any cost to the farm and set targets to reduce any incidence.
Our herd tends to calve all year round. We monitor the cows' body temperature, which is done five times a day, to check when they are ready to be serviced by a bull. For the cows that are already in-calf we check on those every night to ensure their health and wellbeing. After a cow has calved we are quick off the mark to separate cows and calves because we want to optimise their welfare and ensure that the calves get the right levels of colostrum soon after birth. This is hugely important because colostrum is the first milk from the mother and contains antibodies to protect the new-born against disease. A calf's immunity is assessed using something called ZST test which measures their vitamin and mineral levels to ensure that the right colostrum level is attained. A lack of this in the early stages of a calf's life can result in health problems later on. Our females go into the herd and all of our bull calves are sold to other farms where they are reared for beef.
All dairy cows come indoors to barns for the winter to avoid the harsher weather and on this farm we aim to turn them out to pasture at the end of February and then they stay grazing the fields until early December. While in the field we use something called Aginet software to optimise grazing quality and ensure there's a sufficient quantity of forage for the period ahead to meet the cows' food needs. Everything we do is geared towards their health, welfare and making the farm as efficient as possible.
John Torrance, a dairy farmer from Essex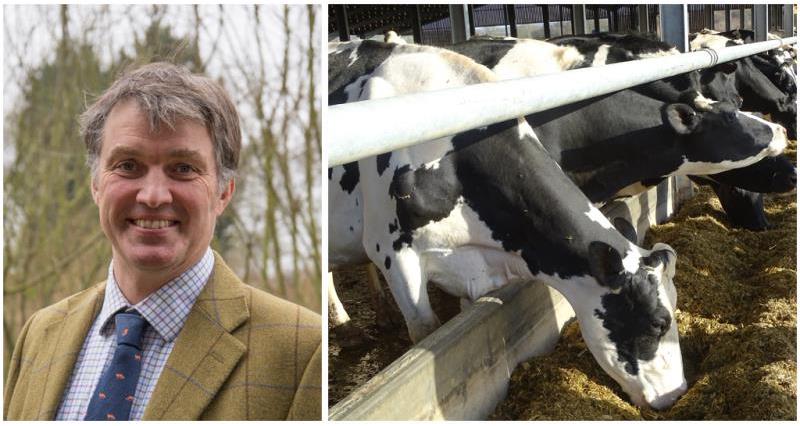 I am the third generation of farmers in my family. My grandfather moved down from Scotland in the 1920's and took up a Crown Estate tenancy. I then followed in the footsteps of my father. Our farm is one of the few farms within the M25 near Romford and is only 15 miles from central London.
Our dairy herd consists of 500 Holstein cows and we employ eight full time staff to help run the farm and ensure our cows are professionally looked after. We operate an indoor system as experience over the generations has shown that we can't rely on adequate quality of grass for our cows due to the dry conditions we experience in this part of Essex. Our milk yields have to remain the same all year round in order to meet our milk supply contract, which would be impossible if we relied on outdoor grass feed all year round.
Our cows are housed in a large barn, which is well lit and airy. The cows have two areas that they can use, the first is in the centre of the barn and is like a large sandpit, where the cows can lie down in comfort as the sand moulds around their body and the other area, which covers the whole outer area has rubber matting covering the floor, where they can mix and mingle with their other herd mates. The cows have free access to fresh water and food and can roam between areas.
The welfare of our cows is crucial as without a relaxed and healthy herd we wouldn't get the milk yields that enable us to have a reliable business. We milk the cows three times a day in a separate parlour. Every time the cows are milked the barn is cleared and cleaned so the cows always return to a clean environment. The cows' dietary needs are met by a nutritionist who advises us on the best feed to meet all their dietary and health requirements. Their daily feed includes freshgrass, maize silage and wheat, much of which is grown on our farm.
The way we farm has been developed over many years and we are proud of our dairy cows and our husbandry standards.