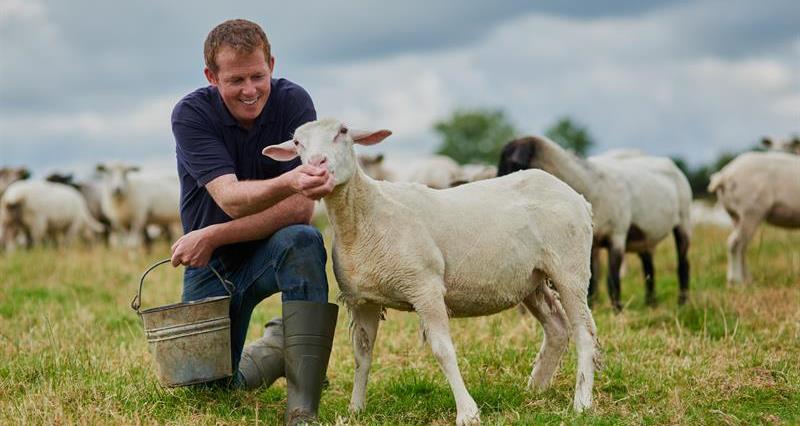 British farmers invest a lot of time and resources into caring for their animals to make sure their farms have some of the highest welfare standards.
The UK has one of the most robust and comprehensive legal frameworks protecting animals on farms, extremely mature and well-developed industry bodies that recognise the importance of animal welfare, and a significant number of credible quality assurance and welfare schemes and/or initiatives.
The NFU commissioned a global review of farm animal welfare. Read a summary of the report here.
What is animal welfare?
There is no universally agreed definition of what constitutes animal welfare, but the World Organisation for Animal Health's (OIE) is the most accepted. It has Five Freedoms of animal welfare:
Freedom from thirst, hunger and malnutrition
Freedom from discomfort and exposure
Freedom from pain, injury and disease
Freedom from fear and distress
Freedom to express normal behaviour.
When caring for animals, British farmers provide suitable housing, bedding and correct nutrition, as well as using medicines responsibly.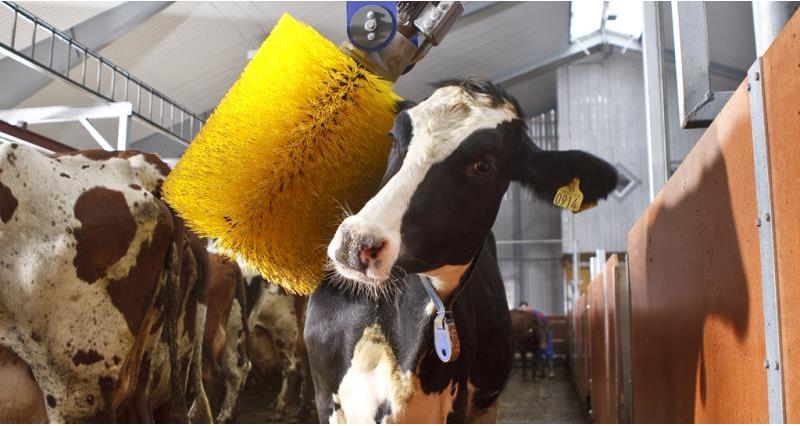 Pictured above: Many dairies have robotic cow brushes. The cows love the way they feel and they help to keep the cows clean.
We've put together a list of questions and answers to help you understand more about British farming and animal health and welfare.
Transport of live animals
Dairy calves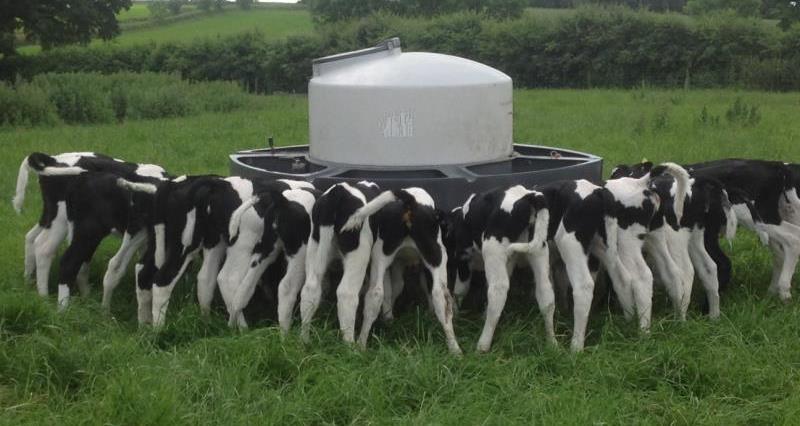 For several reasons, be it culture, history or nutritional benefits, 98% of the public consume dairy products. It is therefore essential to have a national dairy herd to serve this demand for home-grown dairy produce. Farmers and vets work together to find the best way to do this from a welfare perspective.
Experts recommend that calves are separated from their mothers as soon as possible, as this minimizes stress to mother and calf. The mother is returned to the main herd to eat and recoup energy after calving. Many dairy farmers raise their calves in a special area of the farm, where they are given additional dedicated care to ensure they reach peak condition in a protected environment. During the first 24 hours, newborn calves are fed colostrum, as this provides essential antibodies to protect them against illness or disease.
Calves continue to receive milk for several weeks after birth. During this time they are gradually introduced to other foods, with nutritionists and vets helping the farmer to develop a diet plan suited to the calves' age and size. After weaning, female dairy calves are generally reared to join the milking herd.
Another key reason for keeping calves separate from the herd is to reduce the risk of illness whilst they are building their immune systems. The risk of pneumonia is greatly increased if calves are kept with a mix of animals of all ages. It also prevents the calves from being trampled or bullied by other adult cows.
Red Tractor Farm Assurance requires farmers to follow recognised and independently inspected standards of calf health and welfare.
Standard dairy industry practice is to separate calves within 24 hours of birth. This is done to reduce the risk of disease transmission to the calf, to ensure adequate colostrum (first form of milk production) and feed intake, and to simplify disease detection. Separation of the calf from the dam also occurs to facilitate milking and management of the cow.
Sheep shearing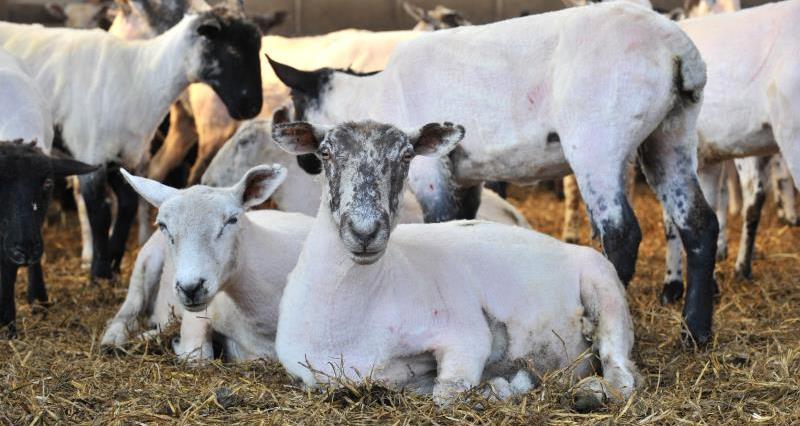 Shearing must take place for the health and hygiene of the animals.
Most sheep are unable to shed their coat, risking overheating and potential death in hot climates. Therefore shearing is generally carried out in the spring so that sheep don't overheat in the summer.
Shearing also prevents the fleece from dragging along the ground in the dirt, therefore preventing infection.
No, the process is pain free; it is similar to a man having a haircut at the barbers. We musn't forget that sheep are live animals and prone to wriggling, so there is the odd occasion where the farmer accidentally cuts the sheep, but this is always cleaned up quickly to make sure the sheep is comfortable and free from infections.
Pigs and piglets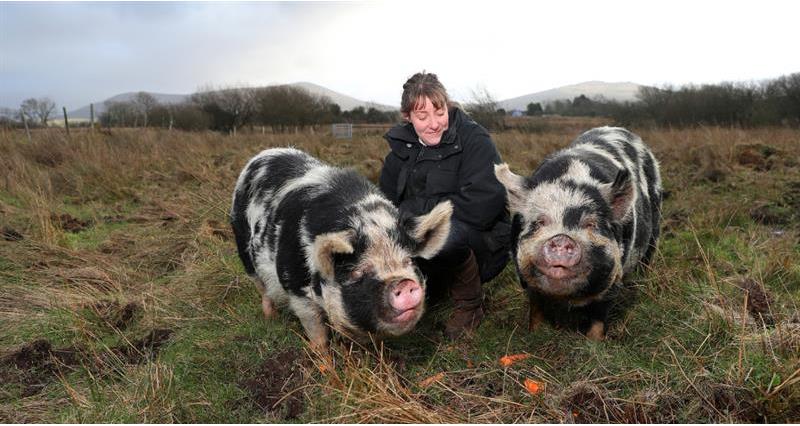 Tail biting is an undesirable problem where pigs bite and chew the tails of pen mates. There are many factors for this including health problems and dominating pigs. Tail biting can occur in all types of production from indoor to free range.
Tail docking has been scientifically proven to reduce the likelihood and severity of tail biting permitted following veterinary advice under EU Council Directive 2008/120/EC. Tail docking may only be done where there is evidence of tail injuries and where other measures to prevent tail-biting have been tried, taking into account environmental factors and stocking density.
Only a veterinarian or somebody that has been trained and deemed competent in the procedure is permitted to carry out tail-docking.
You can find out more information on tail docking on the National Pig Association's website.
Put simply, pregnant pigs are kept in crates for safety reasons. Farrowing (giving birth) crates are permitted for female pigs (sows and gilts) from the week before expected farrowing, during farrowing and until the piglets are weaned from her.
The primary purpose of the farrowing crate is to prevent the sow from rolling on and crushing her piglets (due to the sow being about 150 times the size of the piglets).
The crate also enables stockpersons (a person who works with pigs) to work easily and safely around the sow and her piglets, during a time when sows can be particularly aggressive.
Piglets are usually weaned between 21 and 28 days of age, meaning most sows spend a maximum of five weeks in a farrowing crate in any one period. After weaning, pigs are moved to group housing until they are due to farrow.
More information can be found on the National Pig Association website here.
The Animal and Plant Health Agency is warning farmers and smallholders not to feed catering or kitchen waste to livestock such as pigs and poultry, even if they are being kept as pets.
It remains illegal to feed catering waste, kitchen scraps, meat or meat products to farmed animals. This is to prevent the introduction and spread of potentially devastating notifiable animal diseases, such as African and Classical Swine Fever, and Foot and Mouth disease. These diseases cause significant animal health and welfare problems and damage to the economy.
Chickens