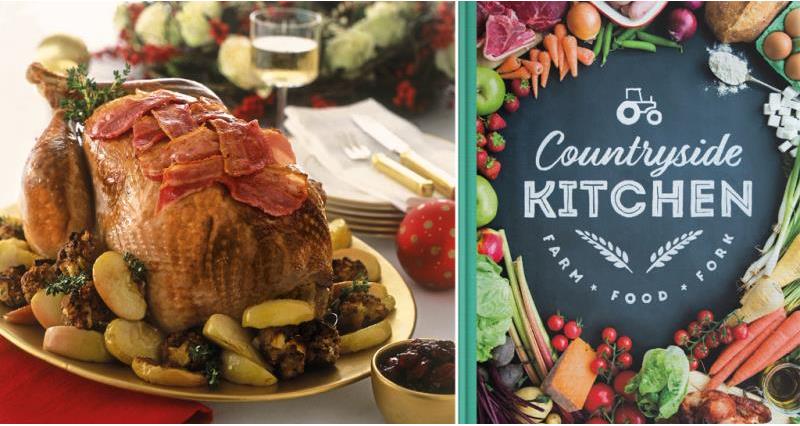 Ingredients 
2 tbsp oil 
1 onion, peeled and chopped
6 small eating apples 
175g fresh white breadcrumbs 
2 tbsp freshly chopped thyme leaves 
2 tbsp freshly chopped flat leaf parsley
450g Cumberland pork sausages, skins removed 
1 egg, beaten 
salt and freshly ground black pepper 
5.4kg oven-ready turkey - search for your local turkey producer here
50g butter, softened 
a handful of fresh thyme sprigs
4 grilled rashers back bacon, to garnish
For the turkey gravy
juices from roasting
2 tbsp flour
700ml turkey or vegetable stock
a splash of red wine, Madeira or port
Method
Heat the oil in a frying pan and fry the chopped onion until just softened.
Peel, core and finely chop 3 of the apples and add to the pan. Cook for 2–3 minutes.
Leave to cool then mix with the breadcrumbs, herbs, sausages and egg. Season well with salt and freshly ground black pepper.
Preheat oven to 190°C/fan 170°C/375°F/gas mark 5.
Fill the turkey neck with half the stuffing, then smooth down the flap of skin and tuck under the bird. Tie the turkey's legs together with string and fix the wings to each side of the bird with metal skewers. Calculate the cooking time by weighing the turkey – allow 18 minutes per 450g plus a further 18 minutes.
Shape the rest of the stuffing into 12 small balls, then put them in a roasting tin, cover and chill in the fridge.
Place the turkey in a roasting tin. Spread the butter over the skin, season and cover loosely with some buttered foil. Roast for the calculated time, basting occasionally with the juices from the roasting tin. Uncover for the last 45 minutes to allow the skin to brown (see timings above).
Transfer the turkey to a large warmed platter. Cover and leave in a warm place. Put 4 tablespoons of the cooking juices in a roasting tin. Cut the rest of the apples into wedges and toss into the juices. Roast in the oven with the tray of stuffing balls for 15–20 minutes until just golden.
To serve, put the stuffing balls, thyme sprigs and apple around the turkey, with the grilled bacon on top.
For the turkey gravy: pour nearly all the juice and fat from the roasting tin into a jug and skim off any excess fat from the top of the juices. Heat the roasting tin on the hob and stir in 2 tablespoons flour.
Cook, stirring with a wooden spoon, for 1 minute then gradually whisk in the turkey juices and about 700ml turkey or vegetable stock. Bring to the boil, stirring all the time, then allow to simmer until the gravy has thickened.
Add a large splash of red wine, Madeira or port and season with salt and pepper.
---
NFU Countryside has put together a fantastic collection of recipes for our recipe book called 'Countryside Kitchen.' The book, which contains recipes and some of the stories behind the growers of the raw ingredients retails at £15.95 plus P&P. Members can buy the book for £7.95 plus P&P.