Lamb has a number of qualities it brings to the dinner table. So NFU Student and Young farmer Ambassador Anna has given us 5 reasons why we should all enjoy British lamb well beyond Love Lamb Week.
1. Tasty
The most important reason - British lamb is full of flavour! Many chefs have sworn by British lamb in the past and MasterChef's John Torode is a great lover of this great product.
2. Good for the environment
Due to Britain's climate and weather patterns, we have an excellent ability to grow grass and this goes hand in hand with rearing grass-fed livestock. Most lambs spend most of their life outside on pasture, which is not only extremely healthy for livestock, but also has benefits for our landscape. 70% of British sheep live on land that we cannot grow crops on, like mountain and hills. Livestock grazing helps to manage grass species and encourages wild flowers and species of insects to flourish.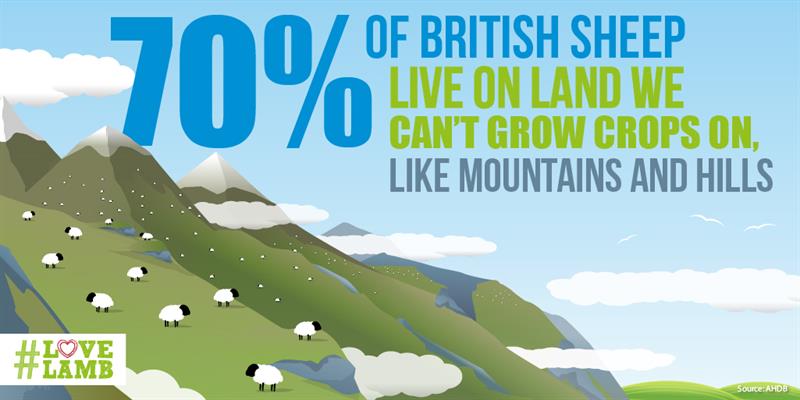 3. Health benefits
British lamb is very good for you; not only is it a source of high-quality protein, but it also a source of vitamins and minerals, including vitamin B12, zinc, potassium and iron. These are very important for muscle growth and repair, so lamb is a great recovery aid for athletes especially. Lamb also contains health-promoting omega 3 fatty acids.
4. High standards
British lamb is produced to some of the highest animal welfare standards in the world. Lamb which has the Red Tractor label on it is part of an assurance scheme which means that the product is fully traceable, safe and produced to high welfare standards. Each farm must undergo an annual inspection where farmers must, amongst other things, prove they have completed records for movements of animals and medicine records, as well as having their farm inspected physically.
5. Low food miles
British means British! And that means low food miles, and therefore less global greenhouse gas emissions from transportation. Agriculture is responsible for around 10% of global greenhouse gas emissions, whereas transportation is responsible for around 27%. Therefore, buying local food can help our planet!! If lamb is sold locally, why not buy it locally?