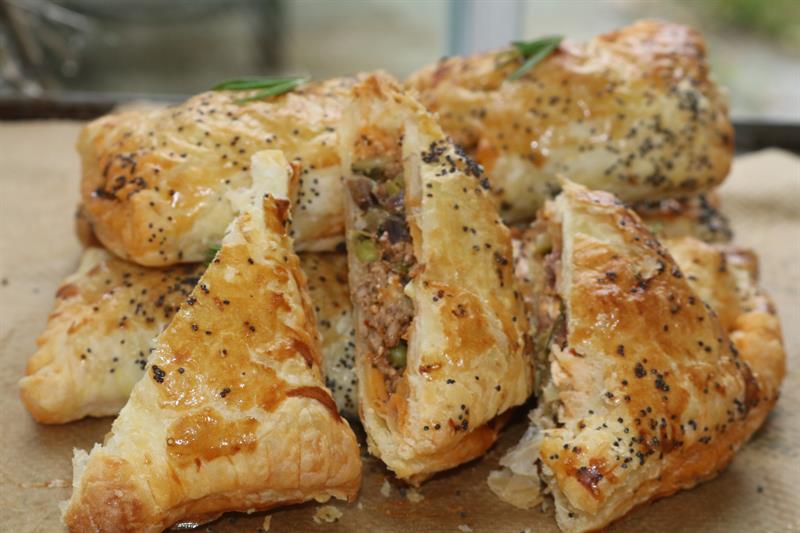 This recipe from Miranda Gore Browne's is lovely to grab for a snack, to pack for lunch or to make for a party. Try to find a locally-produced feta style cheese or crumbly goat's cheese if you can.
Serves: 12
Ingredients
1 tablespoon of olive oil
Half a red onion, finely chopped
180g lamb mince
A pinch of dried chilli flakes
100g feta-style cheese
200g courgette, chopped into small pieces
80g peas
½ tsp fresh thyme
A pinch of cinnamon
½ tsp orange zest
A pinch of dried mint
Fresh mint, finely chopped
Salt and pepper
2 tbsp of tomato puree or sundried tomato paste
2 sheets of roll-out puff pastry
1 tbsp of poppy seeds
A little beaten egg to brush the pastry
Method
Put the oil into a frying pan with the onion and cook until softened.
Add the mince and brown then add the courgettes, peas, zest and the herbs and spices and salt and pepper.
Cook for about five minutes then add the tomato puree. Stir in and continue to cook.
Remove from the heat and crumble in the feta-style cheese then leave to cool while you get the pastry ready.
Preheat the oven to 200 degrees.
By all means make your own pastry but ready-rolled puff pastry works a treat with these and makes them much quicker to make!
Unroll the pastry and sprinkle the poppy seeds on top. Press a piece of baking paper on top and then flip so the poppy seeds are underneath.
Use a pastry cutter or pizza cutter (or sharp knife) to cut each sheet into six squares or oblongs.
Spoon the filling onto one half of each pastry square. Wet the edges of one side with some water on your finger, fold together and press to seal with a fork.
Brush generously with beaten egg and put in the preheated oven to bake for about 20 minutes or until they look flaky and golden.