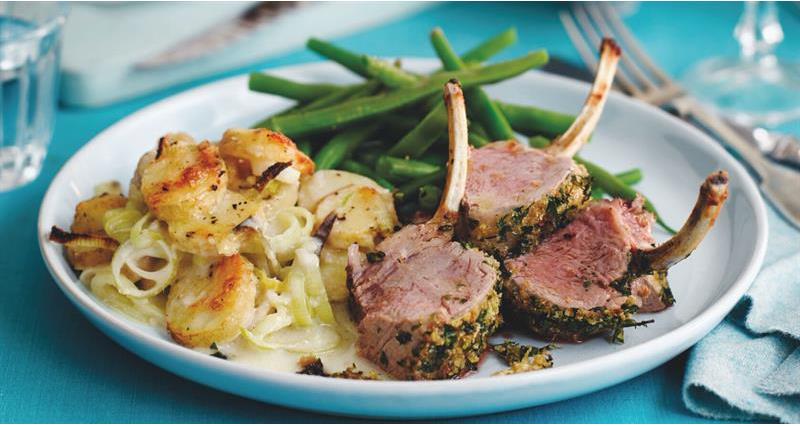 Serves: 4
Prep and cook time: 1 h 10 min
Cooking skill: medium
Ingredients
4 large floury potatoes, e. g. King Edward or Maris Piper, peeled and sliced 2 cm | 3/4 inch thick
3 tbsp olive oil
1 small bunch flat-leaf parsley, leaves only
1 small bunch chervil, leaves only
1 small bunch mint, leaves only
50 g | 1 3/4 oz white breadcrumbs, stale
1 British lamb rack, best end, 7-8 chops, trimmed
1 tbsp unsalted butter
1 leek, sliced, washed, and drained
2 tbsp reduced-fat crème fraîche
250 g | 9 oz green beans, trimmed
Salt
Freshly ground black pepper
Method
Preheat oven to 220°C (200° fan) | 425°F | gas 7. Parboil potatoes in a saucepan boiling water until tender, 15 minutes. Drain and toss with 1 1/2 tbsp olive oil in a roasting tray.
Combine remaining olive oil with herbs, breadcrumbs, and a pinch of salt and pepper in a food processor. Pulse until combined; if needed, add a splash of water to loosen. Pack onto lamb.
Sit lamb on top of potatoes. Roast until centre of the lamb registers at least 60°C | 140°F on a meat thermometer and potatoes are golden, about 20-25 minutes.
Remove from oven. Let lamb rest under foil. If needed, return potatoes to oven until golden.
Melt butter in a saucepan set over a medium heat. Add leeks and a pinch of salt, sweating until softened, 6-8 minutes. Stir in crème fraîche, salt, and some pepper.
Steam green beans in a covered steaming basket set over a saucepan of simmering water.
Cut lamb into chops and serve with potatoes, leeks and green beans.