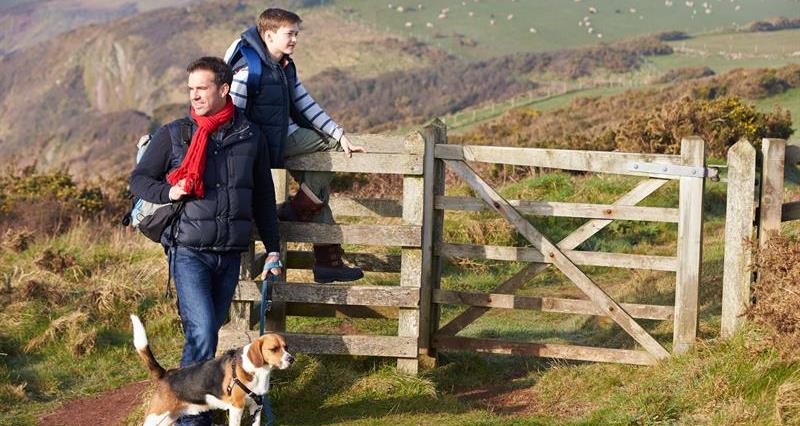 Coronavirus and the Countryside Code
You can now spend more time in the countryside. The government has produced this handy video to ensure you stay safe when enjoying outdoor spaces. Before travelling to open spaces, check online to see if they are open. When you are in the countryside, act responsibly and respect local environment, people and animals, stay more than 1 metre apart from other people and follow the Countryside Code. Once you return home, make sure you wash your hands.
Respect other people
Slow down or stop for horses, walkers and farm animals and give them plenty of room. By law, cyclists must give way to walkers and horse-riders on bridleways.
Keep out of the way when farm animals are being gathered or moved and follow directions from the farmer.
Don't block gateways, driveways or paths with your vehicle.
Leave gates and property as you find them.
Follow pathways unless wider access is available.
Leave machinery and farm animals alone. If you're worried about something, try to alert the farmer.
Stay more than 1m away from other people who are not in your household.
How can I help protect the natural environment?
We all have a responsibility to protect the countryside now and for future generations, so make sure you don't harm animals, birds, plants or trees and try to leave no trace of your visit. When out with your dog make sure it is not a danger or nuisance to farm animals, horses, wildlife or other people.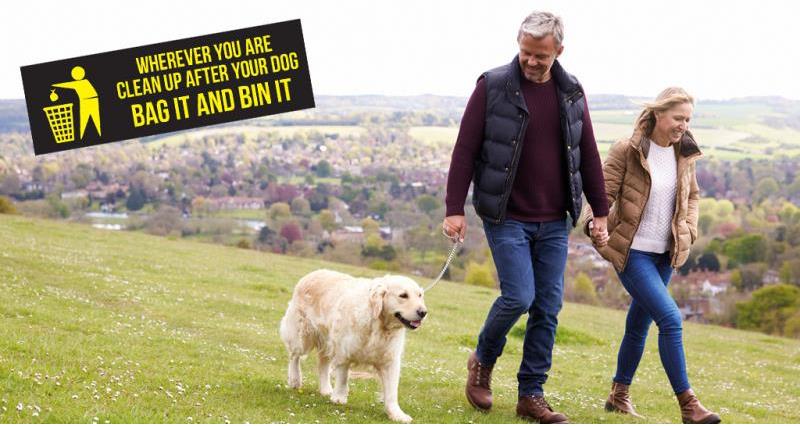 Leave no trace – take your litter home. Litter and leftover food doesn't just spoil the beauty of the countryside, it can be dangerous to wildlife and farm animals.
Put it out. Fires can be as devastating to wildlife and habitats as they are to people and property. Be careful with naked flames and cigarettes, and make sure they're extinguished properly. Don't have barbecues or fires.
Keep your dog on a lead around livestock. Ensure your dog does not disturb wildlife, farm animals, horses or other people by keeping it under control and on a lead. A farmer may shoot a dog which is attacking or chasing farm animals without being liable to compensate the dog's owner.
Bag it, Bin it. Dog mess isn't just unpleasant, it can also cause infections and be harmful to wildlife and farm animals. Be a responsible dog owner and be sure to pick up after your dog and put the bag in a bin. Any rubbish bin will do.
Don't dump your garden waste. Grass cuttings and clippings from from shrubs and hedges should never be thrown over the hedge into fields where cattle and sheep graze. These clippings – including yew, rhododendrons, aconite, boxwood, lupins, laurel, laburnum – can be poisonous if consumed by livestock. If in any doubt, it is a safe rule to regard all garden trimmings as unsafe for farm animals - instead make use of the recycling bins or local disposal sites.
Wash your hands. Always wash your hands when you get home.
A hiker's guide to the livestock landscape
Download our 'Hiker's Guide' to learn more about our iconic landscape. The guide aims to provide an insight into common breeds of cattle and sheep, farming activities that happen at different times of the year, wildlife, birds and plants to look out for and guidance on how to enjoy the countryside responsibly. Don't forget to follow the countryside code while out walking and enjoy the countryside which is shaped by British farming.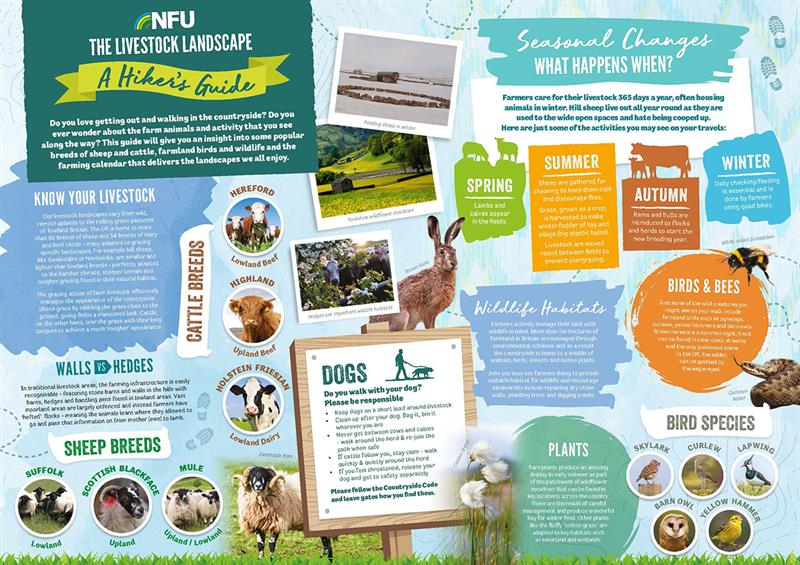 How can I enjoy the outdoors responsibly?
Find out as much as you can about where you are going, plan ahead and follow advice and local signs. Public rights to some areas of Open Access Land may be restricted in particular places at particular times.
Plan ahead by referring to up-to-date maps or guidebooks - visit www.gov.uk/natural-england. Before travelling to open spaces, check online to see if they are open.
Keep your children safe around wild and farm animals. Give them space - they can behave unpredictably.
Be safe - let a friend or family member know where you're planning to go as you may be without a mobile signal.
How well do you know your signs?
Get to know the signs and symbols used in the countryside to show paths and open countryside. Next time you're out and about keep an eye out for the different colours and see if you can remember what they mean.