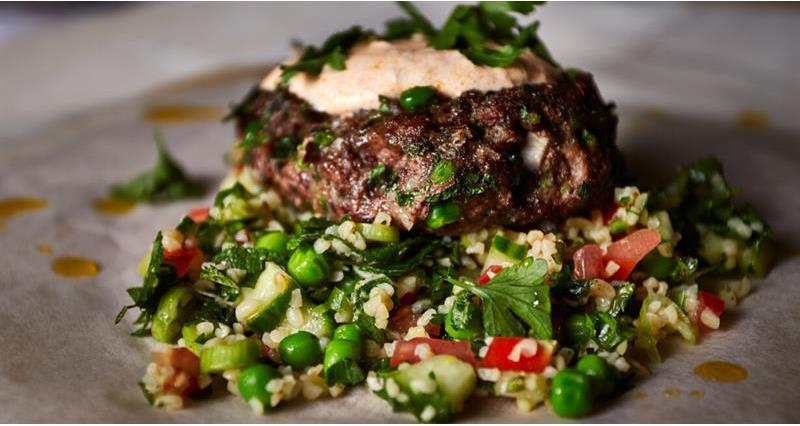 Serves: 4 people
Ingredients
For the kofta:
1 medium onion
1 small bunch of parsley & mint
500g lamb shoulder, finely minced
2 tsp ground cinnamon
1 ½ tsp ground allspice
1 tsp cumin seeds
sea salt flakes & freshly ground black pepper
oil, to grease
For the tabbouleh:
100g bulgur wheat
200g frozen peas
a good handful of flat-leaf parsley & mint, chopped
2 vine tomatoes, deseeded and diced
4 spring onions, finely sliced
1 cucumber, chopped
zest and juice of 1 lemon
1 garlic clove, crushed
3 tbsp olive oil
For the rose yoghurt:
100g yoghurt
1 tsp harissa paste
Method
Grate the onion, squeeze out most of the liquid through a sieve and put in a large bowl. Finely chop the parsley and mint and add to the onion. Mix in the lamb, spices and salt until thoroughly combined. Shape into 4 patties, cover and chill for at least an hour.
Meanwhile, rinse the bulgur wheat in a sieve until the water runs clear. Drain well and transfer to a bowl. Pour over 200ml of boiling water, cover with cling film and leave to soak for 30 minutes.
Cover the peas in boiling water, strain and pulse until coarsely crushed.
Put the chopped herbs in a large bowl and add the tomato, spring onion, cucumber and crushed peas.
Thoroughly drain the bulgur then add to the herb mixture along with the lemon zest and juice, garlic and olive oil. Mix thoroughly and season with salt and pepper.
To make the yoghurt, mix the harissa paste into the yoghurt and leave to one side.
Heat the bbq grill, greased with a little oil. Cook the patties until golden brown on all sides.
Serve immediately with the rose yoghurt and tabbouleh.