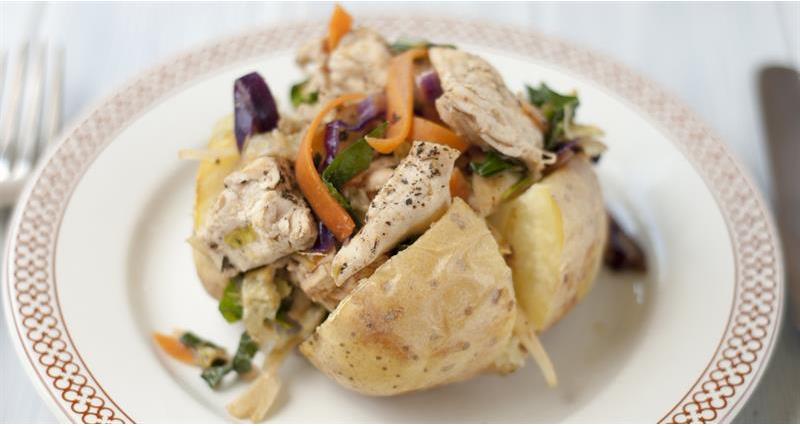 Serves: 4
Ingredients
3 Red Tractor chicken breasts
cut into thin strips
4 baking potatoes
2 x 5cm pieces of ginger, grated
350g pack of stir-fry vegetables
4 spring onions, sliced
2 tbsp teriyaki sauce
Method
Wash but don't dry the potatoes. Pierce and place 2cm apart on a microwaveable plate.
Cook the potatoes on full power for 12-15 minutes*, turning half way through. Remember that the potatoes will continue cooking once out of the microwave, so leave to stand for 3-4 minutes.
Top tip: If you have more time and want a crispier jacket potato, heat the oven to 150°C/300°F/gas mark 2. Brush with oil and bake in the oven for 1 to 1.5 hours.
Heat oil in a large frying pan or wok on a medium heat. Cook the chicken for 4-5 minutes or until lightly brown.
Add the grated ginger and cook for a minute before adding the vegetables. Stir-fry for 5 minutes, then add the teriyaki sauce and cook for a further 2 minutes.
Cut open the potatoes and fill with the stir-fry chicken and vegetables.
*Microwaves vary, so please adjust time appropriately.