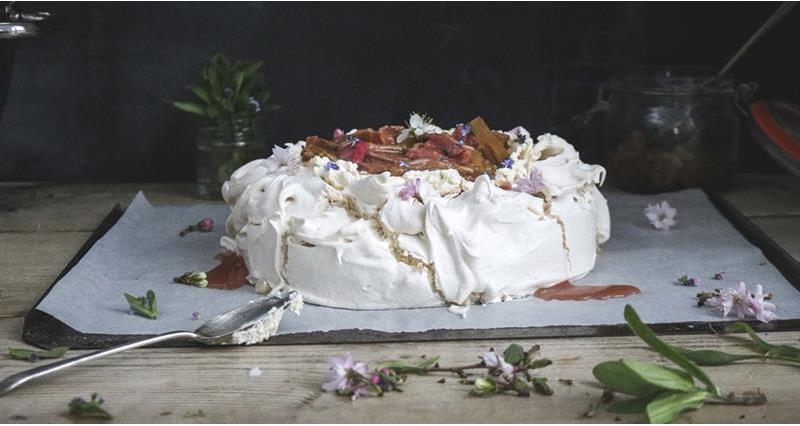 Craggy, creamy white and utterly beautiful. The simple magic of whisking egg whites and sugar never ceases to amaze Miranda Gore Browne. Pile it high with the prettiest pink baked rhubarb and softly whipped cream for a simple and dreamy summer pudding.
Ingredients
4 egg whites
A pinch of salt
1 tsp of cornflour
1 tsp of cider vinegar
150g granulated sugar
200g caster sugar
For the baked rhubarb
6 sticks of rhubarb (500g once leaves and ends removed)
2 tbsp of honey
For the cream
250ml double or whipping cream (crème fraiche, thick yogurt or a mixture of soft cream cheese and cream will also work)
Method
Put the vinegar and cornflour into a mug and mix to a smooth paste.
Preheat the oven to 120 degrees.
Whisk the egg whites and salt until stiff peaks.
Add a teaspoon of the vinegar and cornflour paste, then a tablespoon of the granulated sugar and whisk at a high speed until smooth and glossy, continue adding until it has all been whisked in. Then repeat with the caster sugar and keep adding like this until it has all gone.
Line a flat baking tray with non-stick baking paper and use two large serving spoons to dollop the mixture into a rough circle shape, then use a palette knife to gently scrape out some of the middle and make a more nest-like shape.
Put into the middle of the preheated oven, close the door and bake for an hour.
After an hour, do not be tempted to open the door, reduce the oven temperature to 100 degrees and bake for another 3-4 hours or, even better, switch off the oven and bake overnight.
For the baked rhubarb
Cut the rhubarb into sticks about 6cm long and lie them in a baking dish, spoon over 2 tablespoons of honey.
Cover with foil and bake in the oven for about 20-25 minutes, test with a sharp knife, it should be tender and holding its shape, not completely squashy.
Finally, whip the cream gently to soft peaks, and spoon on the meringue with the rhubarb on the top.