British apples have a wonderfully rich history, and are undoubtedly one of the nation's favourite fruits. Names like Egremont Russett, Worcester Pearmain and St Edmunds Pippin conjure up a terrific sense of our food and farming heritage.
There are thousands of acres of orchards in the UK and 130 of these are owned by Bruce and Sarah Starkey, near Tenbury Wells in Worcestershire, whose bitter sweet apples are grown mainly for Bulmers cider, and have been for a good number of years.
Bruce explains: "There are trees in the old orchard that were planted for Bulmers in 1939 and are still cropping. Bulmers have records of every tree they have ever planted. We were given a list that told us they planted this orchard in January 1939, what the varieties were, and how much they charged for the trees and the planting. It was amazing and the trees are still producing good apples too."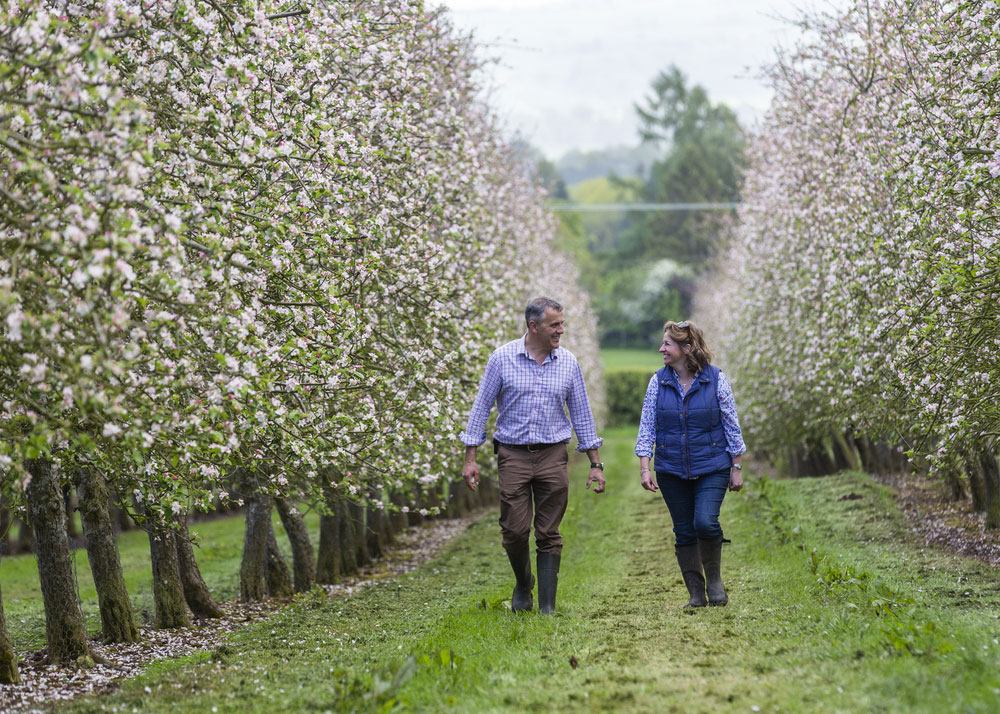 Since taking over the tenancy of the farm from his Dad, Bruce has planted new orchards with cider apples. "We also have a very small block of eating apples that we make our own apple juice out of, but the bulk is for cider," he explains.
"We now have 130 acres of orchards and about 50 acres of grass with a couple of hundred rare breed pedigree Lleyn sheep. We also do contract work for other fruit growers in the local area including harvesting, spraying and pruning.
"Most of our apples are bitter sweets – we grow Michelin, Dabinett and Harry Masters – and go into Bulmers Original cider, but they have started experimenting with other varieties. Instead of putting together all the varieties that are picked, they are producing single varieties to get different flavours and have reduced the amount of sugar content," says Bruce.
"Most of the ciders are made with 100 per cent British apples, which shows that even big companies care about provenance and where the ingredients come from. It's all about connecting the farm to the glass you have in your hand."
Sarah adds: "We have brand new varieties that were planted about seven years ago, including Vicky, Gilly, Fiona and Hastings, which are designed to be harvested earlier to extend the harvesting season. Quite a lot of science has gone into extending the season, which is good for the factory as they can process apples for longer, and good for harvesting as it helps to eliminate a bit of risk against late frost.
"The new varieties are all cider apples crossed with eating apples. They are also higher in natural sugar so they can blend in with other apples.
Farming and the environment
Caring for their environment is important to the family and they have plenty of measures in place to encourage pollinators and other wildlife.
"Bumblebees are our best pollinators and are not quite so bothered by poor weather as the honeybee. A neighbour of ours keeps honeybees, which is great for us but we also leave wide margins around the outside of the fields, which provides a lot more places for bumblebees to nest. We are planning on putting in pollinator strips for the bees to encourage them to stay on the farm once the blossom has gone."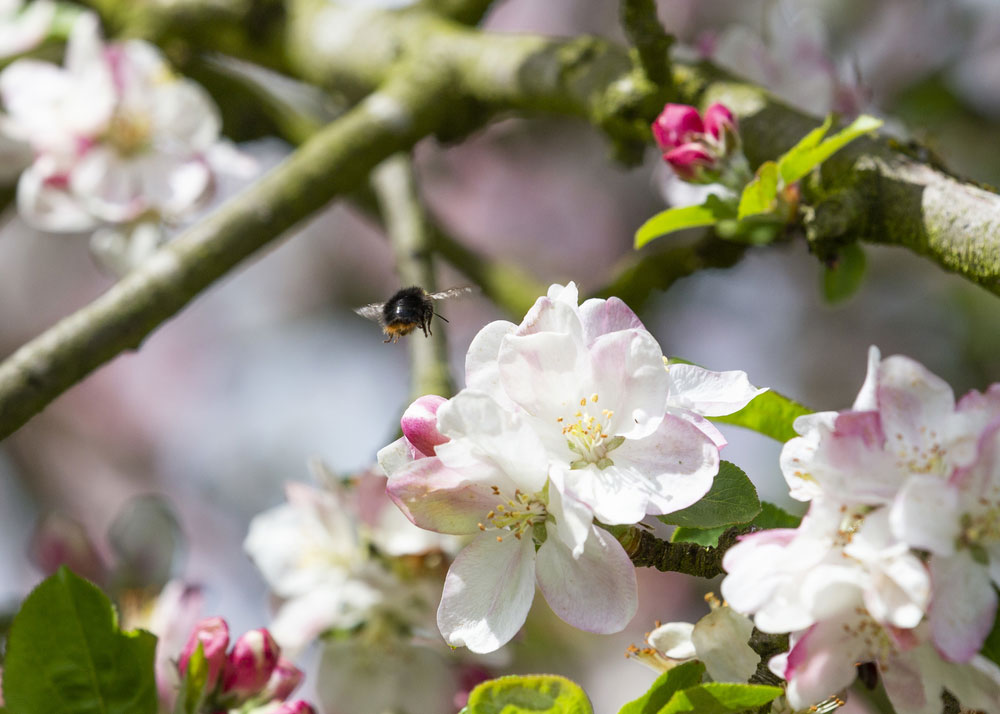 "We have bird boxes in the trees and barn owl boxes. Barn owls love flying over the long strips of the orchard because they provide the perfect habitat for flying low to look for prey."
Sarah explains about a rare insect find in the old section of the orchards. "Noble Chafers have been found in the old orchard, which are quite rare and bespoke to Worcestershire. It's a beautiful green iridescent beetle, and their favourite habitat is old orchards."
The farm also has an old meadow that is cut for hay once a year and is grazed really lightly by the sheep. It's a picture of wild flowers in July and a haven for insect life. The work they do caring for the environment then ensures the apples get the best growing conditions and are of the highest quality.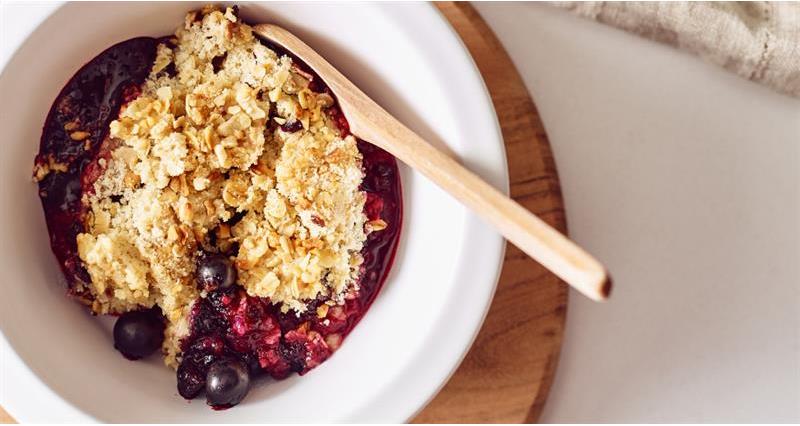 Cook with British apples
Why not try our recipe for a classic apple and blackcurrant crumble.