From the magazine...
From edibles to ornamentals, Pippa Greenwood gives some great advice on what to be doing in your garden this May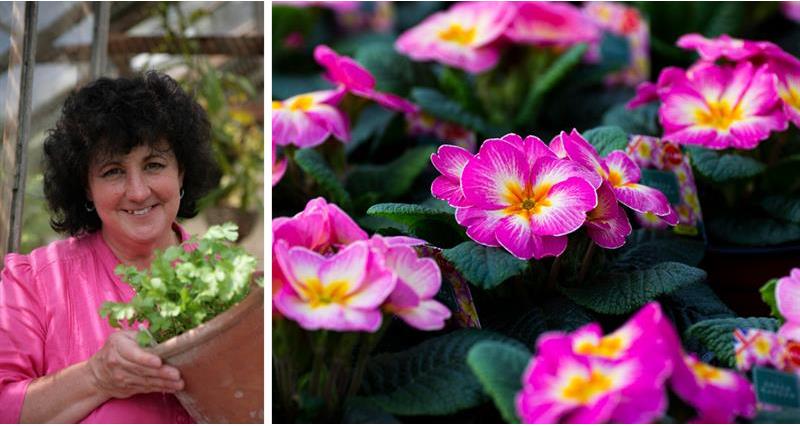 It's ages since I sat an exam, yet, all these years later, I still associate May with exams and the thought makes me shudder! If for you, like me, this time of year still holds horrible memories, indulge in some garden therapy. Whether you're hard at it digging, sowing, weeding and planting or sitting back on a lounger with a cuppa while you simply enjoy the scents, sights and sounds that the garden has to offer, get out there! Your garden may need you, but you also need your garden!
Edibles
Make sure that tomatoes, peppers, cucumbers and aubergines already growing or potted in the greenhouse are never at risk from chilly nights. Keep fleece or fleece jackets to hand and, if in doubt, cover up these young, tender plants. The smaller the plant, the more vulnerable it will be. If you find yourself without any fleece, covering plants with a few sheets of newspaper will be okay for a night or two.
If you have planted out any tender veg such as tomatoes, even in the warmer or more southerly parts of the country, they can still be at risk if temperatures dip, so again, keep fleece to hand. It's always worth giving extra protection, in the form of mini-cloches, to young veg plants both in the greenhouse and out in the garden. Save plastic drinks bottles and, once rinsed out, cut them around the midriff to create tiny cloches whose cut edge can be nestled into the soil while they create some useful protection.
Even if temperatures are still a bit unpredictable, if you have a few plants to spare (and especially if you like to take a few risks) you can plant out a few crops such as courgettes and marrows and allow them to start to get established while under a snug cloche.
As soon as conditions allow, plant out sweetcorn, remembering that, as it is wind-pollinated, if you want good, full cobs at harvest time, you need to plant it in a block so, say, a 4x4 block of 16 plants. Early this month you can get away with still sowing the seed, ideally using a propagator with some bottom heat to speed things up and Roottrainers so that you plant out the young sweetcorn with minimal root disturbance as soon as they're ready.
Ornamentals
Grab your secateurs, make sure they're really sharp and give a prune to shrubs that have just finished flowering, such as kerrias and maybe even some wall-trained pyracanthas. It'll help to keep them in shape and give you a good display of flowers next year. Make sure you cut back to a healthy-looking outward-facing bud each time and that you use really sharp secateurs that will make clean, neat cuts.
If you're buying bedding plants, choose with care. In most cases it's best to look at the plant more than the flowers. A plant which is covered in open blooms may have instant appeal, but has often put on a good part of its display before it gets to your garden and sometimes the plants itself is already a bit stressed from all that effort while confined to a tiny pot or small tray. Far better to look for good sturdy plants with plenty of buds and maybe just one or two flowers so you can see how those buds will develop.
Herbaceous perennials, those border favourites that come up in spring, flower in the summer and then die back each winter ready to re-emerge the following year, may need a bit of extra support if they are to be displayed to best effect. Getting twiggy sticks or proprietary plant supports in place now, while these lovely plants are still small. Doing it now reduces the risk of damage to the plants as you position the supports, ensures that as the plant grows it does a better job of hiding the support and makes the job easier for you, too!
Gardenwide
Weeds seem to grow faster than any other plant on the planet but get to grips with weeds promptly and you'll save yourself a lot more work later on. Caught early, they'll cause less competition to your garden plants and be easier and quicker to remove. Give them the chop now and you should also catch many of them before they set seed, so reducing problems in the future, too. A hoe works wonders for annual weeds, or a garden fork, or, for small areas, a hand-fork, do a good job. For weeds with taproots such as dandelions or weeds in paving or other tight spaces, I rely on a Speedweeder, a simple but effective tool. You can add all but chunky roots and weeds which are already bearing seed-heads to the compost heap.
If you've been inundated with the oxalis weed in your garden and although you like the look of its pretty 'four-leaf-clover-style' leaves and pink flowers, by now you'll have realised that it is extremely invasive. This is the time to take action. As soon as you see the young weed plants appearing there's nothing for it but to get down on your hands and knees and start weeding by hand. But why the rush? This oxalis spreads by tiny underground structures known as bulbils and, at this time of year, they're still firmly attached to the weeds' roots. Leave the weeds in place for a few months more and when you try to pull them out, the bulbils will be left behind......ready to form more weeds!
Any plant, be it edible or ornamental which you grow for flowers or fruits, will benefit from a high-potash feed as this will encourage more buds and flowers. I use liquid tomato food for everything like this, rather than buying lots of different sorts of feeds.
Butterfly favourites
Bring a little extra action into your garden by encouraging butterflies. You may be used to seeing only a handful of species, but by providing them with a five-star meal, you should find more and more pop by. Try these lovely garden plants and see what a difference it makes:
Aubrietia
Honesty
Sweet William
Lavender
Buddleia
Marjoram
Helichrysum
Verbena
Golden rod
Pippa Greenwood is a trained botanist and a regular presenter on Radio 4's Gardeners' Question Time. Find her online at pippagreenwood.com