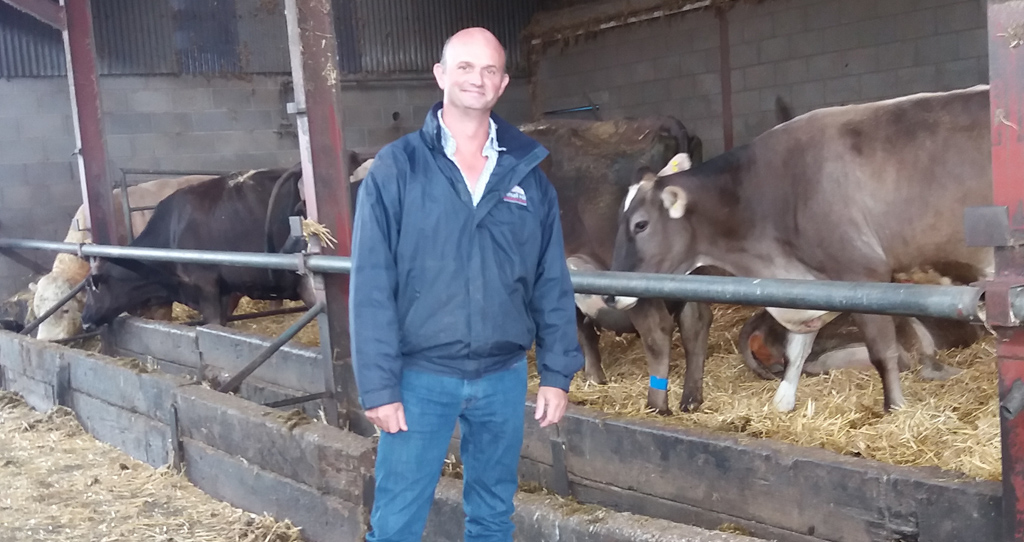 Name: Phil Latham
Farming sector: Dairy
Four generations of my family have farmed at our farm near Nantwich in Cheshire, we also have a second unit at Tarporley. We currently have 450 pedigree Brown Swiss cows and we operate a closed herd, which means we breed our own replacements and haven't had to buy in young cows for 21 years.
We have a team approach to good cow husbandry with our staff, nutritionist and vet. Our healthy cow strategy was developed back in 1996 and aims to make positive nutritional decisions to ensure our cows receive exactly the right amount of feed, which means they enjoy a healthier, longer life. We chose to breed Brown Swiss cows because they provide the vigour of a hybrid combined with being a good milk producer. We used to have Holsteins (the classic black and white dairy cow) who typically yield 45-48 litres per cow per day, but feeding them to meet their metabolic requirements at peak yield meant we had to keep them indoors. With the Brown Swiss they produce 38 -40 litres of milk per cow per day, and they can be out on grass for longer. Our farm is good at growing grass.
Like most farms we have routine vet visits and our herd health has a huge emphasis on nutrition and meeting the cow's needs. Milk yields are measured every day with digital weigh scales and the dairy parlour software enables us to produce yield measurements by group for all milking cows. We carefully monitor health characteristics and adjust the nutrition accordingly.
Dairy farming is a massively high-tech sector and we use a huge amount in the care and welfare of our herds. For instance, every cow has an auto ID tag apart from those that are pregnant who wear a silent monitoring collar to measure activity. We also use inter-herd software to keep our cow records for all parameters including health characteristics, movements and medicine records. We work with a vet to measure any illness within the cows, factor in any cost to the farm and set targets to reduce any incidence.
Our herd tends to calve all year round. We monitor the cows' body temperature, which is done five times a day, to check when they are ready to be serviced by a bull. For the cows that are already in-calf we check on those every night to ensure their health and wellbeing. After a cow has calved we are quick off the mark to separate cows and calves because we want to optimise their welfare and ensure that the calves get the right levels of colostrum soon after birth. This is hugely important because colostrum is the first milk from the mother and contains antibodies to protect the new-born against disease. A calf's immunity is assessed using something called ZST test which measures their vitamin and mineral levels to ensure that the right colostrum level is attained. A lack of this in the early stages of a calf's life can result in health problems later on. Our females go into the herd and all of our bull calves are sold to other farms where they are reared for beef.
All dairy cows come indoors to barns for the winter to avoid the harsher weather and on this farm we aim to turn them out to pasture at the end of February and then they stay grazing the fields until early December. While in the field we use something called Aginet software to optimise grazing quality and ensure there's a sufficient quantity of forage for the period ahead to meet the cows' food needs. Everything we do is geared towards their health, welfare and making the farm as efficient as possible.