Having a multitude of strands to their farming business means the Hawkins family is constantly on the go. But they wouldn't have it any other way. They farm livestock, grow cut flowers and produce rapeseed oil.
Bringing up four boys while running a busy livestock farm would be a challenge for most couples, but for James and Victoria Hawkins it was merely the beginning of an adventure that would see them make the most of their entrepreneurial spirit.
The family are tenants who rent Warren Farm, on the National Trust's Brockhampton Estate in Herefordshire, where they settled nearly 20 years ago.
"I was working on my family's farm, going out at 5am and getting back at 10pm and not seeing the boys growing up," James explains. "I was enjoying farming, but we felt we needed something else.
"We wanted a farm of our own, and looked at places in France and Pembrokeshire and then, ironically, tendered for this, which is just a mile and a half away from my family's farm, and got it. My best friend at primary school lived here and I used to come and play here, so I knew it well."
But what should have been a dream start to a farming life rearing cattle turned into a nightmare, as, two months after signing the tenancy for the 550-acre farm in 2001, foot-and-mouth struck.
"So the first year was hell and we couldn't do anything with livestock and machinery," says James.
"That's when we first realised that working with the public was the way to go. Victoria's mum was here one day, watching visitors to the estate walk past the window and she said: 'everyone of those is a bacon butty!'"
"So I opened a tearoom," Victoria continues, "and the boys were very good at being waiters. The menagerie of pets the kids kept became our petting farm, and we did this for 12 years until Fraser, the youngest, went to university."
The main thrust of the farm was and still is the cattle, Hereford-Angus cross, which James and youngest son, Fraser, look after together.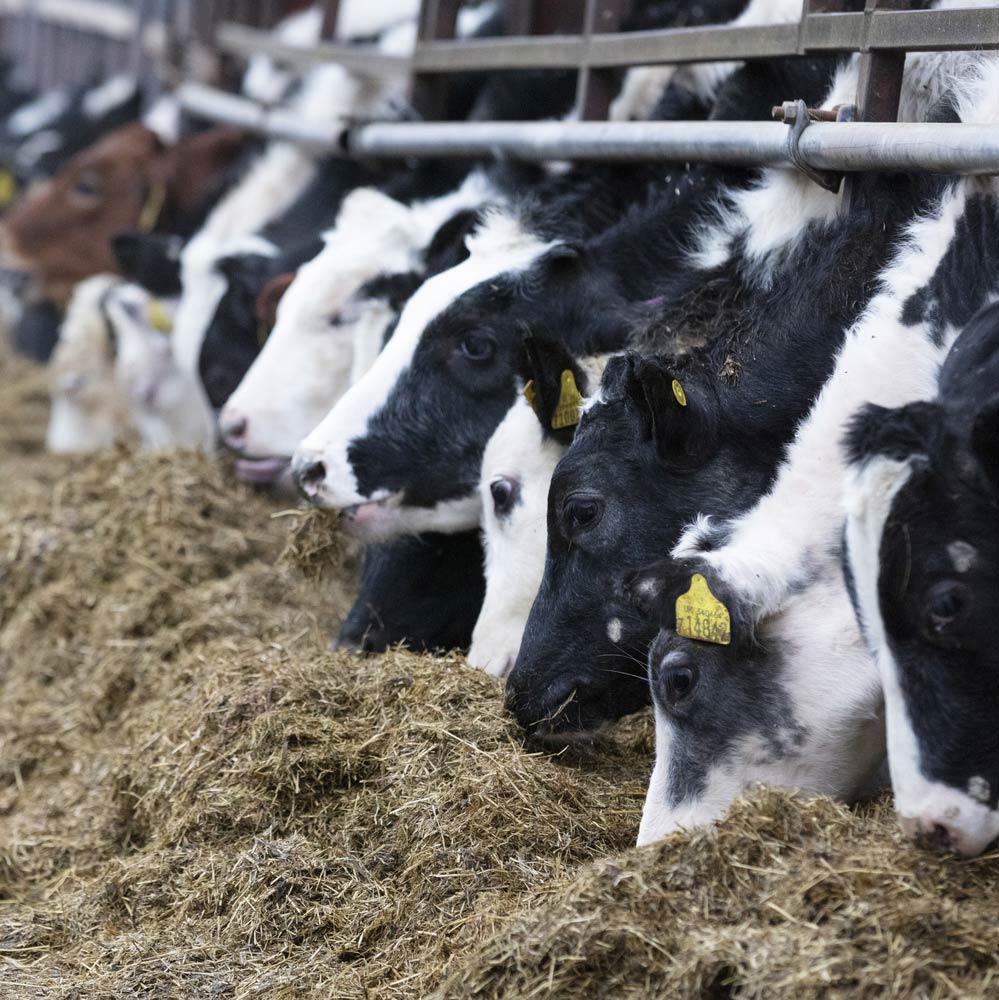 James says: "We have 300 cattle a year for Waitrose. We have them as weaner calves and they stay for about a year. We fatten them up and then they go to someone else to finish. They leave us once they weigh about 450kg, so are here for about 12 months. We are the middle man, so, roughly every two months, a bunch go out and a bunch come in.
"We used to have sheep, but sold most of them last year because of worries over Brexit. We just felt they weren't making a lot of money. We wanted to spend more time on the leisure side of the farm, and better income streams, and the sheep were taking alot of time."
Fraser adds: "We still have 70 pedigree Hebridean sheep, which we bought to graze the common and we have smaller areas on the farm that need managing for the National Trust as well, that were too small for cattle to graze. They have proved to be very easy to manage."
Rustic celebrations: The large barn at Warren Farm has proved to be the perfect venue for weddings and parties
The tearoom was a big commitment, so the decision was made to close it a few years ago, but rather than give themselves more time off, the family decided to turn their hand to hosting functions and events in one of their large barns.
"People can hire our barn space for weddings and parties, and we also do bed and breakfast in the farmhouse," says Victoria.
"We have an old stable which can seat 20, that's very basic and rustic," says Fraser. "And then there's an old stone barn with a big area attached to it that we rent out for weddings and parties; we had a christening and someone's 60th most recently. It's as close to being a barn as you can get – no frills, but within reason, we allow people to decorate and use lights."
"The barn isn't heated and it suits some people but not others," adds James. "The main business is the cattle and if people view the barn in the winter, they will see the cattle are in the barn next door. We had our eldest son's wedding there this year and it was stunning, with beautiful lighting."
The barn is just one of many strings the family has to its farming bow. Another is rapeseed oil.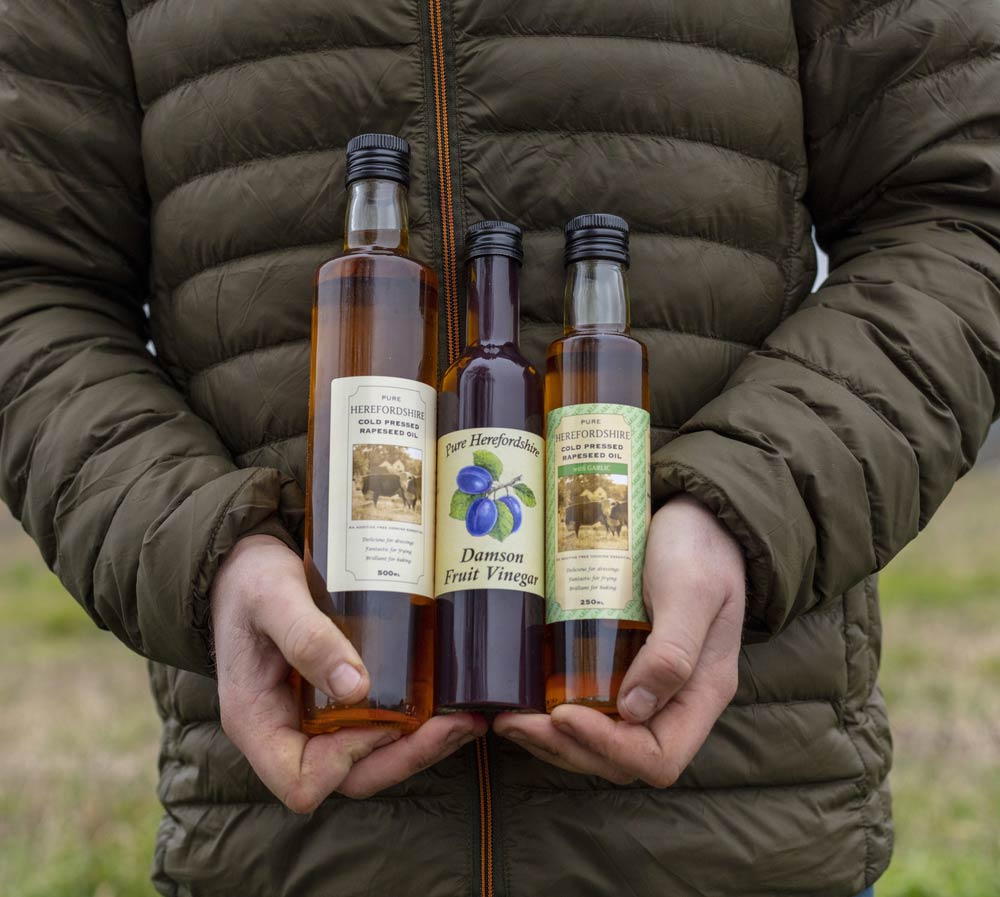 James explains: "The rapeseed oil started after we tried meat boxes but weren't making the money for the effort we put into them. We saw other people pressing their rapeseed and so we thought we'd try see what it was like. We did our own and we thought it had a particularly nice nutty flavour because of the soil type.
"We entered the National Trust Fine Food Awards and our oil won, so we started selling it locally. Then last year, the National Trust got in touch and said would we be interested in bottling our oil for them with their branding? So we produce it now for them and it's sold in 70 shops around the country.
"We have a consistent flavour, as we grow the same variety and we also do lemon, garlic and chilli flavoured oils. To process the oil seed rape here would be a big investment and we would need to be doing around 150 tonnes to make it worth it, so that's done off-site. It's a fantastic product as you have the oil and then the cattle can be fed the waste product after pressing.
"We also still have our own brand of oil that we sell in local shops in Hereford, Ross on Wye, Ludlow and Bromyard."
The farm also produces damson vinegar for the Trust, and this is going so well, they are planting a new damson orchard this winter.
They also grow wheat and spring oats and when that has finished, they leave stubble on the fields for the birds.
James explains: "We are members of LEAF so we have a full nature conservation policy and margins around the fields. We are in Higher Level stewardship scheme and have a land management policy with the National Trust.
"We do the Big Farmland Bird Count each year and do a lot of work with meadow restoration. We have bird seed mixes, and nearly 60 species of birds were spotted on the last count. We have more than 100 acres of traditional meadows on existing farmland. A lot of the banks we haven't touched too much, so, in all those fields, we have orchids growing. Some even grow in the arable margins."
And just when you think they can't do much more, Victoria tells me that she grows cut flowers in an acre of garden behind the farmhouse.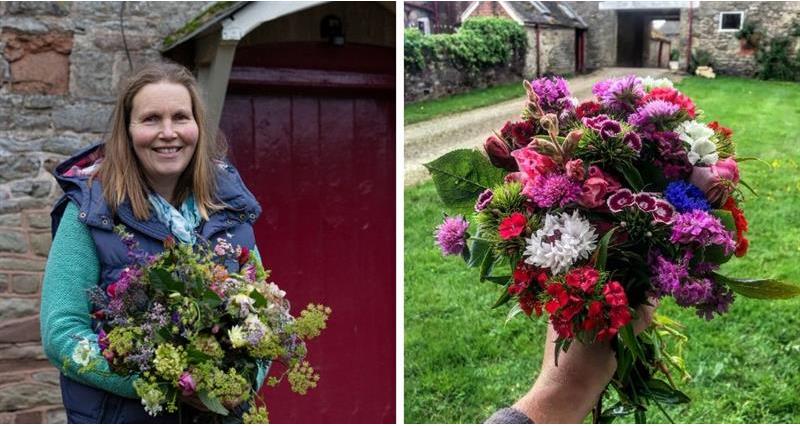 Best of the bunch: Victoria sells cut flowers grown in her own one-acre plot
"We sell to florists who come here and pick for themselves," says Victoria. "I supply buckets to people who want to pick for themselves and I also make up bunches and sell them at the end of the drive. We are members of Flowers from the Farm.
"We started testing our market by selling at the end of the drive and we haven't actually done anything more than that, because we can't grow enough. We have done it for four years now."
And not only that, but they also support an organisation that helps severely disabled young adults by providing them with work in the flower garden. "They normally come one day a week and stay for two years with their carers and it's been fascinating. They help in the flower patch. There is only ever two youngsters at a time and each has three or four carers. Most, sadly, can't speak.
"There was a lad who, a year ago, had no motor skills to hold anything, even a broom or stick. They taught him how to sweep and he loves sweeping now. It seems like a small thing, but for him it's a real achievement."
The next generation
Jobs around the farm are shared out between the three of them, with James mostly looking after the financial side and both Fraser and James taking care of the cattle. Victoria concentrates on the B&B and cut flowers and when the farm hosts school visits, which they do fairly regularly, Victoria will co-ordinate and organise.
"We don't really have specific jobs, we all just muck in," says Fraser. "If it needs all three of us for a job, we will do it."
It's heartening for James and Victoria that Fraser has chosen to stay in the family business. All four boys were given the option of working on the farm.
Looking to the future: Fraser with Moss the sheepdog
"There is Owen, Fin, Fergus and me," says Fraser. "Owen is the oldest and he is in London teaching science. The other two both work for Frontier, which is an agronomy company where Finley sells fertiliser and Fergus is our agronomist, and he's here every couple of weeks.
"Mum and dad asked in age order if they wanted to have a go on the farm and none did, so, when it got to me, I thought about it, went to Hartpury College for two years, then onto Reading to do three years in agriculture, and have been back here full-time since then.
"It's a tenant farm and not an inherited one. I am not in the partnership yet, and won't be for a few years. I will wait and see how things develop in the farming industry."
So what's next for this enterprising farming family? "We are going to do a campsite this year," says James. "We have the go-ahead from the National Trust, we have a field, and want to experiment with camping and a bit of wild camping, too. "We will do it basic and cheap to start with, just to see what response we get and whether it works for us day-to-day." Another string to their farming bow.
Find online: warrenfarms.co.uk