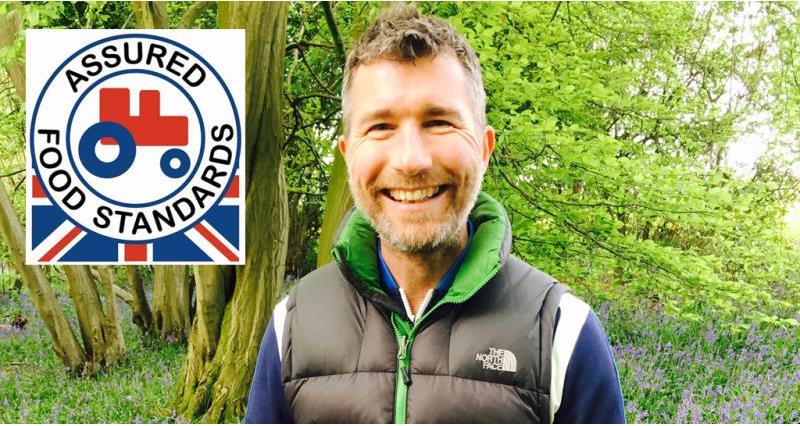 If you're interested in food and its provenance, Red Tractor Week from 11-17 September is a great opportunity to get involved. But what exactly is the Red Tractor and should you care? Countryside magazine spoke to the organisation's Andy Thompson (above) to find out…
Q What is the Red Tractor scheme and why is it important?
A Put simply, Red Tractor ensures you can trust the food we all eat. We know where all Red Tractor food comes from and that it's produced to high standards of animal welfare and the environment has been protected.

We are the largest food standards scheme in the UK and have some of the most comprehensive and respected standards in the world. Red Tractor food is checked regularly by independent experts from farm through to the pack in the shop. All the major UK supermarkets use our standards as the basis for their UK food.
Q Can the general public get involved with Red Tractor Week, or is it just for farmers?
A Red Tractor Week (11-17 September) is for everyone, be it the general public or farmers. The week is there to raise awareness of our great UK food standards. If people can see all the great food that we produce in this country and the standards used to produce it, then it'll encourage everyone to look out for the logo when they do their shopping, whether that be in a supermarket, or eating out.
We'll be focusing on a great British food type each day, telling people about the standards that are used to produce it, providing some useful recipes and a linked competition. Look out for it at: redtractor.org.uk, or via Facebook and Twitter.
Q Why do farmers become part of the scheme? And how many British farmers take part?
A There are about 88,000 involved with the Red Tractor standards. That's a huge proportion of the UK's total farmers. Red Tractor farmers care about their animals, their crops and the land they look after. They, like us, are passionate about producing good quality, safe food that the British public can enjoy and be proud of!
Q Are there any well-known retailers/ food brands involved?
A Absolutely. All the UK's major supermarkets use our standards on their own label food, as well as some very big restaurants, such as KFC, Nandos, Harvester pubs and Toby Carvery.
Some big brands use our standards too, and proudly display our logo on their packaging. Look out for it on Weetabix cereal, Silver Spoon sugar, McCains chips and Ginsters pasties.
Q Is there anything that sets the Red Tractor label apart from lots of other food labels?
A We are the only UK food label that gives consumers confidence right through from farm to the pack in the shop.

Most other labels are interested in single issues, like animal welfare or environmental protection, but we cover those areas and make sure food is safe to eat and can be traced back to the farms where it was raised or grown. We also ensure that the food has been born, grown, prepared and packed, all in the UK.
Q In one sentence, why should I look out for the Red Tractor label on packs of food?
A Because it's the single easiest way to ensure that food has been produced to high standards, and that it comes from
UK farmers who are passionate about what they do.