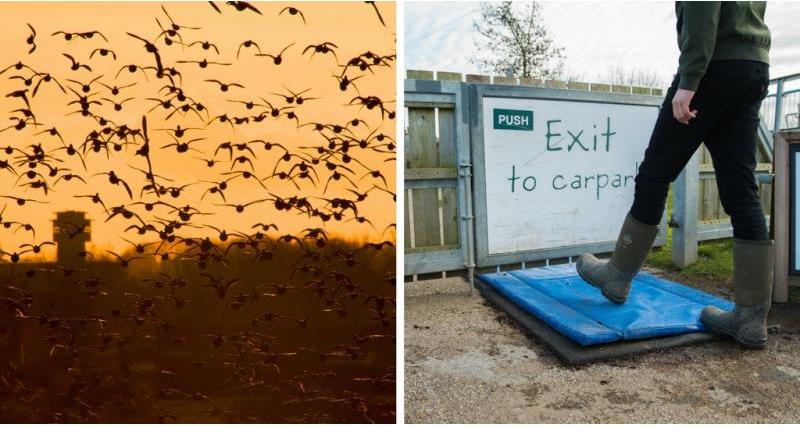 Dr Ruth Crombie from the Wildfowl and Wetlands Trust writes:
An early autumn 'spring' of teal jinking across the water before splashdown will always warm my heart. They're a decoyman's 'half duck', so tiny yet covering vast distances to choose our mild shores for their winter.
But their arrival, for me, is now tinged with concern. Ordinary bird flu viruses in waterbirds are not new but highly pathogenic strains are. As for their origins, it's hard to say for sure, but having seen huge flocks of domestic ducks grazing among swathes of wild waterbirds in Asia, I can understand how a genie could have escaped from the bottle. Now wild birds find themselves as both victims and vectors.
There are plenty of challenges for our native wildlife and here at WWT it's our job to continue Sir Peter Scott's wish to help people fall in love with wetlands and waterbirds and conserve them for future generations. As part of this work, we keep irreplaceable collections of birds - some as insurance against extinction in the wild and some to tell the story of conservation and to just be fallen in love with!
Whether your primary interest is poultry, captive or pet birds, falconry, game bird rearing or wild birds, the new bird flu viruses affect us all. WWT manages 10 of the largest and most important wetlands in the UK so we deploy our staff's eyes and ears on the ground – throughout the year – to seek out the unusual and submit samples to the government APHA laboratories for testing. In the winter of 2016/17 we were the early warning of the virus being in the UK. This winter, despite our vigilance it's appeared elsewhere first.
In addition to surveillance, Defra and APHA appreciate our (and other organisations') ornithological knowledge developed over decades and we can help them assess risk of the arrival of viruses and onward spread. WWT's skills at safely trapping wildfowl using decoys, cannon nets, swan pipes and the like, allow us to help answer research questions on prevalence and immunity in wild birds. As ever, it is partnerships which help understanding move forward.
So in a 'bird flu' winter how do we operate our 10 visitor centres? There's, rightly, no appetite to 'shut the countryside' - infected wild birds could just fly over closed gates anyway. Like any poultry farmer we have measures (which depend on level of risk) prepared to avoid or respond to disease in our collection of birds.
We have currently deployed footmats at entrances and exits reducing risk of spreading infection on footwear. Importantly, these highly visible measures coupled with information signs and leaflets provide an opportunity to make the wider public aware of bird flu. It's about normalising biosecurity for people wherever they go, which has to be good for farming and conservation alike.
Awareness is key. For all of us bird keepers, these viruses cause sleepless nights but two things are for sure, they are here to stay and we're all in this together.