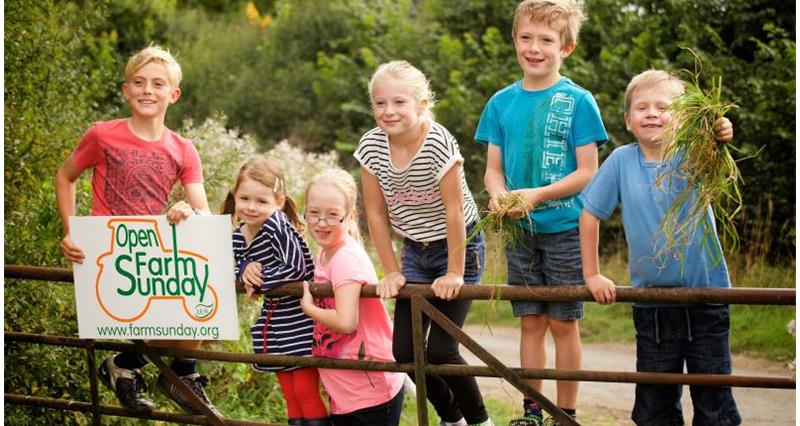 Find an event near you | send us your photos | visit the Discovery Barn | see photo gallery from last year
This June, hundreds of British farmers up and down the country are giving you the chance to visit their farm for FREE as part of an initiative called Open Farm Sunday.
The annual event, which takes place on Sunday 11 June, sees normal working farms around the country open to the public to give you a first-hand experience of what goes into producing the nation's food, day in, day out.
For the latest news, interesting facts and figures, photos and educational videos, visit the Open Farm Sunday Facebook page and website.
Open Farm Sunday, organised by LEAF (Linking Environment and Farming), is now in its 11th year and has welcomed around 1.8million visitors to farms in that time. That means that almost 2million people have had the chance to explore their local farm to find out exactly where their food comes from, and how it's produced during the year.
There are lots of different types of farm taking part this year. Just click on the link above and enter your postcode to find your nearest event and what activities are available. They could range from tractor and trailer rides, through to milking demonstrations, farm tours and more!
We hope that by giving the public the opportunity to speak directly to the British farmers who are proud to produce the nation's food and drink, we will encourage more people to Back British Farming when they shop. Find out more ways to show your support and Back British Farming.
Send us your Open Farm Sunday photos

We'd love to see Open Farm Sunday through your eyes. Take photos to capture what you learned and which fun activities you got involved with. We will include some of the best photos we receive on our website, social media feeds and magazines.

Email your photos to Y2FtcGFpZ25zQG5mdS5vcmcudWs=, send us a message on www.facebook.com./NFUonline or tweet us @NFUtweets.

*By sending your photos to us you are confirming that you are the legal owner of the photo and that you have consent from any persons appearing in the photos.
The NFU is proud to have been a principal sponsor of the initiative since 2006, and we also provide participating farms with useful information, leaflets and kids' activities about British farming. Missed out? Download them for free here.

Let's Talk Farming!
If you've missed out on Open Farm Sunday this year, fear not - there are lots more ways for young minds to find out about food and farming thanks to our Let's Talk Farming education programme, which works hard to educate the next generation about the quality work of farmers in the UK.
For instance, our exciting new Discovery Barn will be visiting dozens of events across England and Wales over the next few months. Find out where you can catch it here.
We've also produced primary school teaching packs and a series of videos to help teachers in the classroom - take a look at our teaching packs and videos, available to download for FREE.