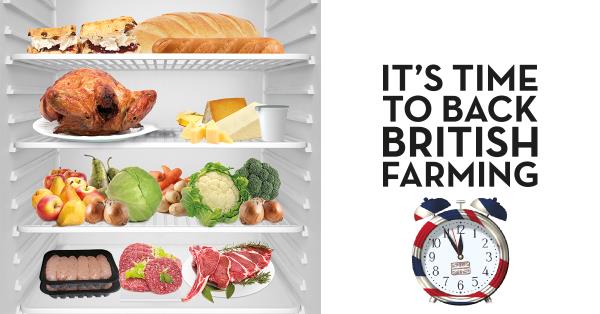 Tuesday 9 August 2016 marked the day that our national larder would run bare if we fed the nation only British food from 1 January.

Britain's farmers and growers supply 61 per cent of the nation's food – a figure which has gradually reduced over the last 20 years. The NFU is calling on the Government to reverse this downward trend through their post-Brexit policymaking.

Read what Meurig Raymond, President of the NFU said here.

How can you help to increase Britain's self-sufficiency in food

Make a mouth-watering difference - buy British food
• Choose seasonal British fruit and veg – check out what's in season now
• Find out where you can buy British food with our sourcing guide
• Remember to use the Red Tractor logo with a union flag as a guide to know you are buying quality British food.

Remember – there will always be some food that can't be produced in Britain and greater self-sufficiency doesn't mean limiting the variety of food you eat. It does mean enjoying what we do produce in Britain and showing support for British farmers by choosing a British variety if possible.

Inspire the next generation on the importance of supporting British farmers
?• Ask your local primary if they are using our free Why Farming Matters school resources. If not, why not point them in the right direction?
• Catch the Let's Talk Farming Roadshow and discover more about the world of British food and farming

Join the conversation on social media
• Show your friends and family why it's important to buy British food and support British farmers using #backBritishfarming