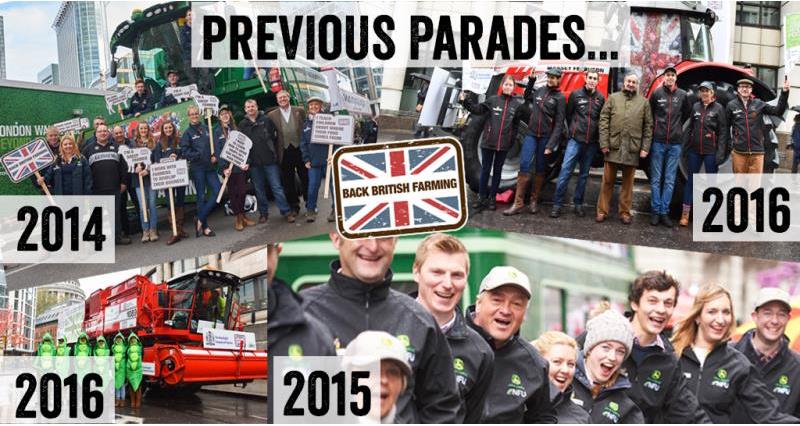 The NFU is giving eight young farmers and a Back British Farming supporter the unique opportunity to land a starring role representing British farming in one of the oldest and most popular historic civic pageants in the world.
We are looking for a group of young farming champions from across England and Wales to join us, the Worshipful Company of Farmers and New Holland in this year's Lord Mayor's Show (11 November 2017) to help take the Back British Farming message into the heart of the City of London.
In addition we are inviting one passionate Back British Farming supporter to join them and help to spread the word.
Nominations are now open!
We are asking you to nominate a young farmer, aged 18-30, that has made an outstanding contribution to the farming sector, someone who is helping to make a difference or who has a great story to tell.
Nominations are also open to members of the public over the age of 18 who are passionate about Backing British Farming. Perhaps they go to extraordinary lengths to support British farmers or spread the word to friends, family and their local community?
Note: You can nominate yourself if you wish.

How to nominate
It's easy to nominate a young farming champion, Back British farming supporter, or even yourself! Complete the nomination form and include as much information as possible on why you think your nominee deserves to represent British farming and the wider farming industry.
Nominations close on 12 July and a shortlist of finalists will be drawn up for 28 July by a panel of farming experts.
You can read the full terms and conditions of entry here.
NFU Vice President Guy Smith said: "Having the young farmers with us at the Lord Mayor's show provides the perfect platform to engage with the watching crowds and inform them about the crucial role of farming and its vital place in the wider food industry. We are hoping this competition will help to showcase another group of young farmers who're all passionate about what they do."
Richard Bower, chairman of the NFU's Next Generation Policy Forum, was part of the NFU group of young farmers in the Lord Mayor's Show two years ago. He said: "Being asked to represent British farming at the Lord Mayor's show in 2015 is something I will never forget.
"Showcasing our fantastic industry in the capital city is so important and the support my fellow young farmers and I received from the public on the day was amazing. If you get the chance to do this then grab it with both hands.
"There are some fantastic young farmers out there doing great things, so please get nominating."