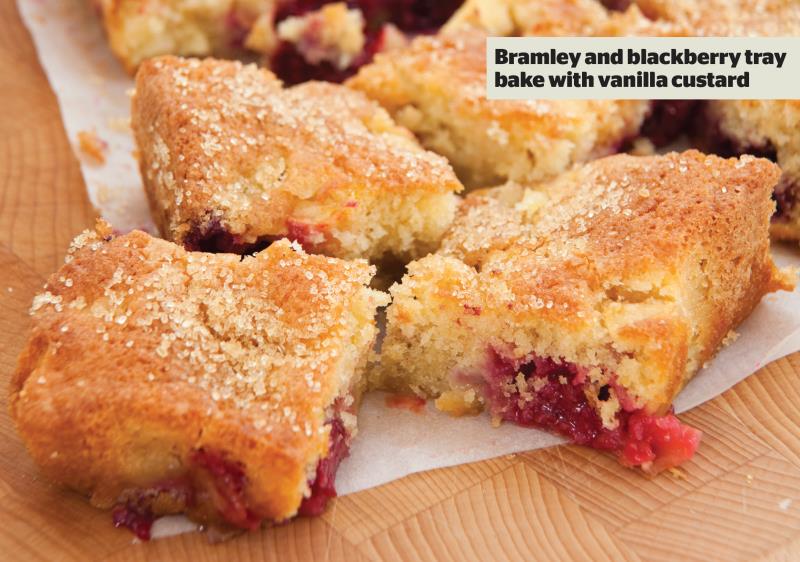 Ingredients


Method
Preheat the oven to 190°C. Line a shallow 20cm (8in) square cake tin or brownie tin with baking parchment.
Cream the butter and sugar together until mousse-like and doubled in volume.
Add the eggs, one at a time, beating between additions. Add the vanilla extract and lemon zest.
Mix in the flour and baking powder.
Toss the apple pieces in the lemon juice.
Add half the apple to the cake batter and mix in.
Gently mix in half the blackberries. Pour into the prepared cake tin.
Dot the rest of the apple pieces and the remaining blackberries on top of the cake batter and sprinkle the demerara all over.
Bake for 30-35 minutes until golden and the centre is firm to touch.
Leave in the tin for 10 minutes before turning out and allowing to cool completely. Cut into squares.
For the custard
Put the milk and cream in a saucepan and heat until just before it begins to simmer – you will see tiny bubbles at the side of the pan and steam will start to come off the milk.
Whisk the yolks, sugar and cornflour together in a bowl until well blended.
Pour the hot milk and cream on to the eggs and sugar, whisking all the time with a balloon whisk.
Return, through a sieve, back into the pan, add the vanilla and heat gently until it's thick enough that a line drawn with your finger onto the back of a wooden spoon stays there.
Pour the custard into a jug and serve at once or keep in the fridge covered with cling film and gently reheat to serve.