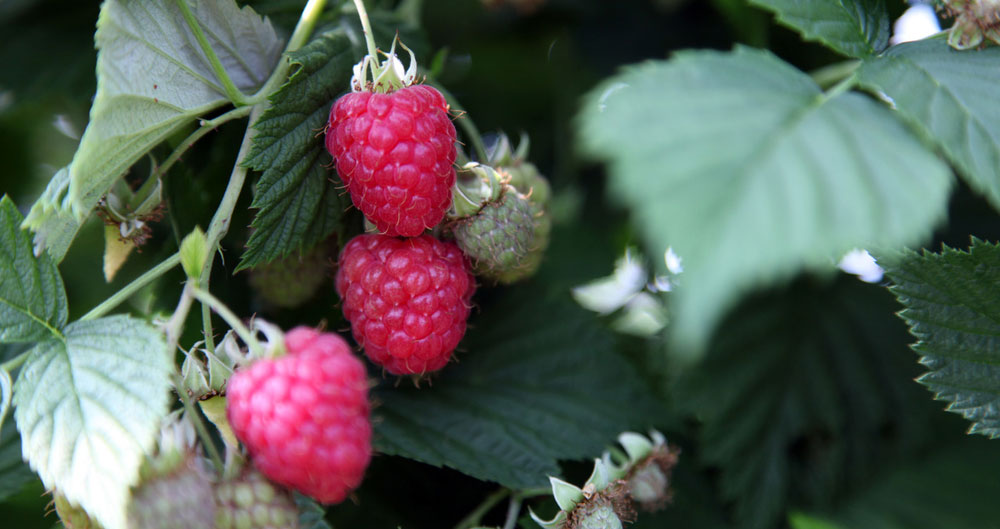 Cast your mind back to the spring months of 2019 and you'll probably remember the spring sunshine and hot Easter bank holiday. The warm weather brought strong raspberry plants and stronger flavoured British raspberries, meaning raspberry lovers could enjoy an early start to the British raspberry season with the berries on the supermarket shelves in abundance.
The early boost for the raspberry season didn't only bring a high quality of fruit, it extended the growing season right through to early November.
British growers use careful planting system to ensure a continuous supply of berries over the summer months. The leading raspberry varieties grown in the UK have the ability to flower and fruit over a long period of up to five months, while traditional types typically produce fruit for just a four to six week period.
Nick Marston, Chairman of British Summer Fruits - the industry body that represents 95% of berries supplied to UK supermarkets - said: "We are always striving to deliver the highest quality fruit to our customers. Ongoing innovations in the industry allow us to prioritise sweetness and flavour which has helped berries become the most popular fruit in shopper's baskets."
Did you know:
Between May 2018 and June 2019, almost £320m worth of raspberries were sold in the UK with shoppers spending 16% more on the classically British berry than in the previous year.
Berries, including raspberries, have the biggest market share of all fruit grown in the UK, making up an impressive 22.9%.
The value of the berry industry is over £1.4 billion.
Fresh berries are now the most popular fruit item in shoppers' baskets and their great health credentials are one big reason for their popularity.
The health benefits of eating British raspberries

Nutritionist Emma Derbyshire said: "Raspberries are a powerful source of nutrients including vitamin C, manganese, dietary fibre and polyphenols which are thought to have potent antioxidant properties.
"There is a growing body of evidence that raspberries could have a valuable role to play in helping to maintain wellbeing, as part of a heart healthy diet. Their mechanisms are in need of further study but it is thought that their consumption may help to regulate and maintain healthy metabolic activities in our body's cells".
Know your raspberries
A huge selection of raspberries are available throughout the British season. Have you heard of these varieties?
BerryWorld's Sapphire – BerryWorld's Sapphire is a naturally larger raspberry variety with a sweeter taste and luxurious velvety texture. These premium raspberries are extremely moreish and loved by consumers!
Driscoll's® Maravilla™ – A versatile, plump and fine flavoured berry which freezes well and does not bleed.
Lagorai - The fruit has a conical form, red colour and a very good size, is firm and has a good flavour.
Paragon – mostly harvested in August and September, the fruit offers a consistent exquisite flavour eating experience.
Adelita - an attractive, fleshy raspberry with good colouring. It has a sweet taste with a slight tart flavour, and also has a high level of folic acid, potassium, and is low in sodium, making it a highly beneficial health food for regular consumption..
Kwanza - a top-class raspberry. This primocane raspberry variety is distinguished by its very large fruit size and its bright orange red colour. Other features are good flavour and excellent shelf life.
Berryworld Jewell - distinctive for its large, plump cone shape, strong raspberry aroma and sweet, tangy taste.