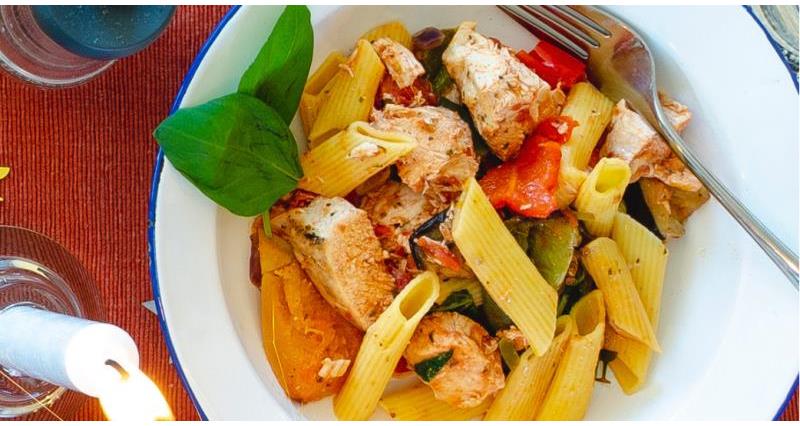 Serves: 4
Preparation time: 5 minutes
Cooking time: 15 minutes
Ingredients
1 red, yellow or green pepper, seeded and cubed
1 courgette, cut into chunks
1 red onion, quartered
2 firm tomatoes, halved
2 tbsp oil
4 skinless chicken fillets, cut into chunks
salt and freshly ground black pepper
pasta shapes (cook as per packet)
freshly chopped herbs to garnish
Method
Put the vegetables into a roasting pan and drizzle with most of the oil. Season with salt and pepper and place under a hot grill for 5–10 minutes, turning occasionally, until softened and slightly charred.
Wipe a large frying pan with the remaining oil, heat the pan and add the chicken pieces. Cook over a high heat for about 4–5 minutes, turning the chicken frequently until it is a golden brown all over.
Meanwhile, cook the pasta as per pack instructions in a large pan of boiling water. Drain and return to the pan.
Add the charred vegetables and chicken to the pasta and toss. Serve with a herb garnish.
---
NFU Countryside has put together a fantastic collection of recipes for our recipe book called 'Countryside Kitchen.' The book, which contains recipes and some of the stories behind the growers of the raw ingredients retails at £15.95 plus P&P. Members can buy the book for £7.95 plus P&P.
Buy your copy here