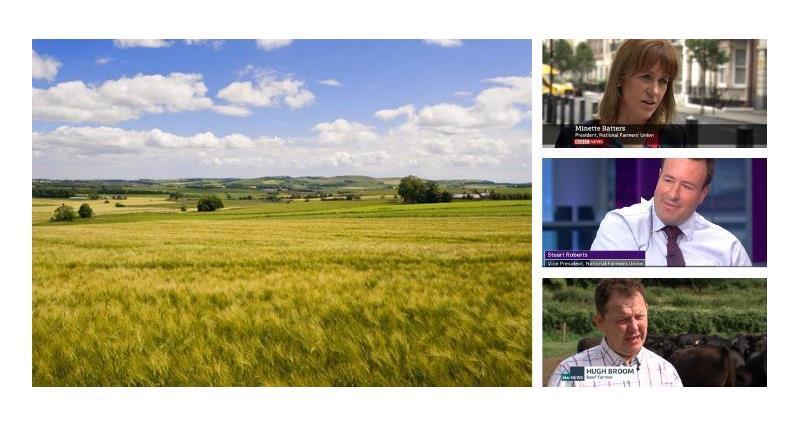 New Prime Minister visits Wales
Prime Minister Boris Johnson visited a poultry farm in South Wales to outline his ambition for food and farming. NFU Cymru Director John Mercer spoke to commercial radio station LBC and BBC News about the impact a no-deal would have on Welsh farmers. He reiterated the NFU's position that an orderly departure from the EU which includes free and frictionless trade with the EU is crucial to deliver the best outcome for British food production.
Climate change and diet
Earlier this month, the Intergovernmental Panel on Climate Change (IPCC) issued a global report into land use and its impact on the climate. Much of the media coverage focussed on changing diets and reducing meat consumption.
In response to the findings, NFU President Minette Batters said: "Having gone through the report in detail, it is clear that the IPCC recognises the important role animal products play in a balanced diet, and when produced sustainably in low greenhouse gas emission systems are actually part of the solution to climate change".
"It is therefore incredibly frustrating to see this inflated within some part of the media to recommending a reduction of meat consumption in the UK.
NFU Vice President Stuart Roberts featured on Channel 4 news after Goldsmiths College, University of London announced it was banning beef products in its shops and canteens to reduce its greenhouse gas footprint. He pointed out that the naive move totally ignores the difference between the carbon footprint of British beef and all the headlines we hear about global beef.
Speaking to the i newspaper, Mr Roberts enforced the point that global reports need to be considered at a local level. He said: "The biggest issue for me when we have these kind of global reports, is that it's really important to look at it through a local lens," referencing that carbon footprint of cattle in the UK is two and a half times lower than the global average".
Self sufficiency
NFU President Minette Batters was interviewed on Sky News highlighting the decline in UK food self sufficiency since 1984. She called for policies to be in place that enable farmers to feed a growing population. The story also featured on Farming Today, BBC Breakfast and BBC Radio 4.