The Big Farmland Bird Count
The Big Farmland Bird Count was launched in 2014 to record the effect of conservation work instigated by farmers and gamekeepers on their land. Organised by the Game & Wildlife Conservation Trust (GWCT), it is sponsored by the NFU and delivered in partnership with the Farming & Wildlife Advisory Group Association and LEAF with further support from the NFU, CLA, Perdix and Kings.
In 2021, a record number of farmers participated in this year's Big Farmland Bird Count, leading to 81% more birds being counted over one million hectares of British farmland. Despite much of the country being blanketed in snow during the survey period (5-21 February), 2,500 counts were returned. This represents a 65% increase in the number of counts submitted compared to 2020.
A total of 25 species from the Red List for Birds of Conservation Concern were recorded including starlings, fieldfare, lapwing and linnet, of which an incredible 112,000 were spotted. The five most abundant birds counted were woodpigeons, starling, rooks, fieldfare and chaffinch. A total of 190,000 were seen, making up over 37% of the total number of birds recorded
These results highlight the amazing work British farmers are doing for the environment which is certainly good news for the future of our treasured bird species.
Take a moment to listen
So many of us enjoy the simple pleasure of listening to the sweet sound of bird song, which is one of nature's greatest symphonies.
Spring is the best time of year to hear bird song bringing us closer to nature, wildlife and the environment. Why not wake up early one morning, open the window, and listen to the dawn chorus. We've got this handy spotters guide to get you on your way. Let the relaxing melodies of chirps and tweets continue to lift our spirits, after a year where nature has provided an escape for many during such uncertainty. 
The work of British farmers in relation to food is frequently championed, but there is so much more to farming than simply keeping the nation fed. British farmers and growers provide habitats for wildlife and additional feeding for farmland birds during the winter months, with many involved in agri-environment schemes, showing their commitment to wildlife.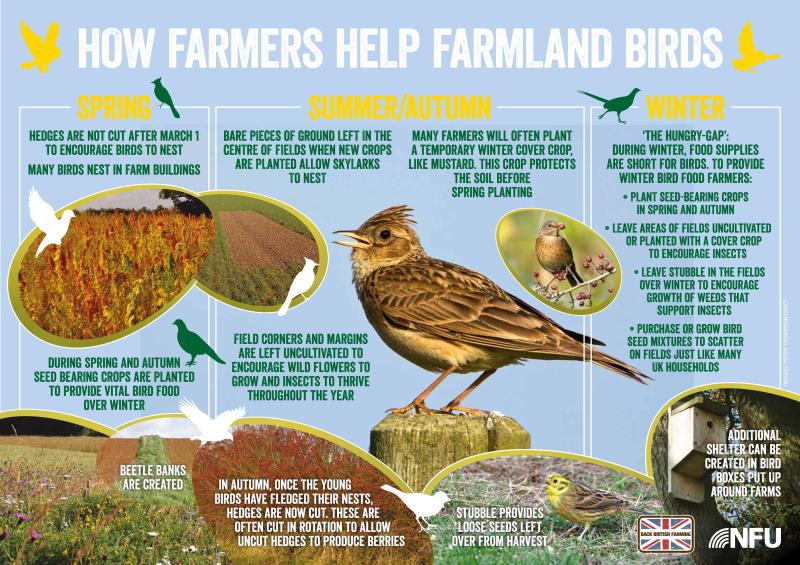 How can farms attract more bird species?
Meet the farmer - Saya Harvey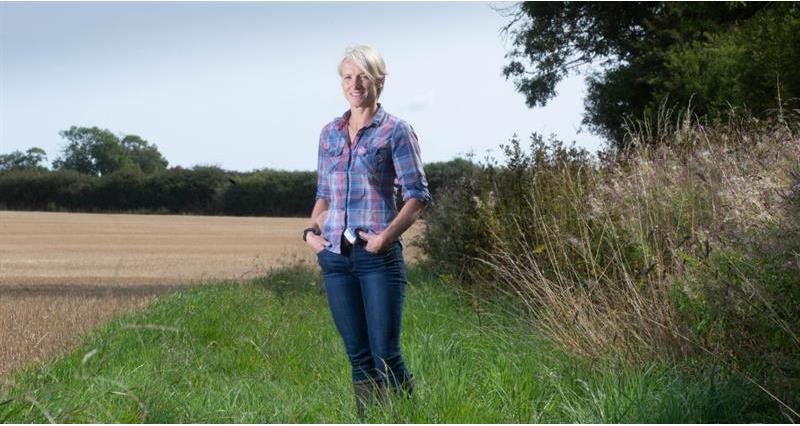 Saya Harvey grows cereals such as wheat and barley on a 120 hectare farm in Leicestershire. Alongside the planted crops, a quarter of the farm is dedicated to wildlife habitats, including grassland, flower margins and woodland. This work has been tailored to create habitats for farmland birds, including several tree sparrow colonies, grey partridge, skylark, starlings, song thrush and yellowhammer.
"Hedgerows are another very important wildlife habitat," Saya says. "We've planted approximately two-and-a-half kilometres of hedge on the farm over the past 30 years. We now manage our hedges by traditional laying and trimming, which results in tall, wide and thick canopies with berries in the winter but also nice tight thorns to protect nesting birds from predators.
"Since planting the woodland, we have seen an increase in the number of bird species on the farm from 45 species to 60, including a pair of barn owls that have taken up residence in one of our barn owl boxes. A permissive right of way through the new woodland ensures that our whole community enjoys our farm, the wildlife and landscape."
Meet the farmer - Nicholas Watts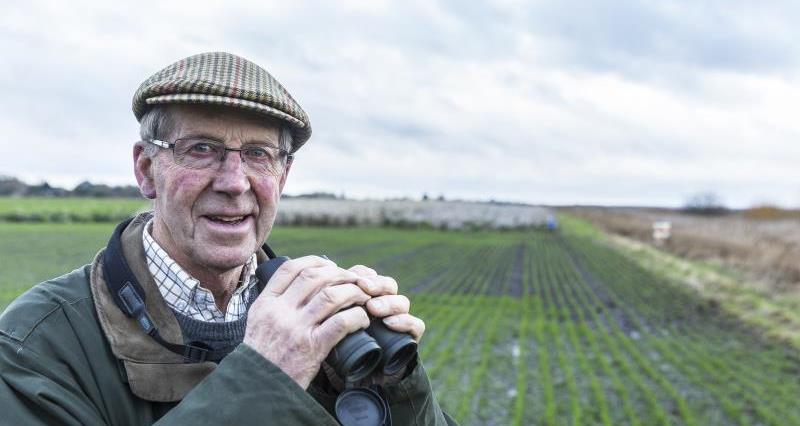 Lincolnshire farmer Nicholas Watts has dug ponds, planted grass margins, spinneys and hedges, and built bird boxes to create habitats for birds to flourish on his farm near Spalding.
His family grows 15 different crops, including potatoes, sugar beet, oilseed rape and wheat. Over the decades they have adapted the way they farm to help conserve as many species as possible.
"More cars, more people, more houses and more tarmac means fewer insects," Nicholas says. "We've created areas rich in insects and this has attracted reed and sedge warblers, reed buntings and tree sparrows. We've increased the number of skylarks and meadow pipits too."
Small changes to the way they farm have made a difference. When they're planting their winter wheat, they pause the machine for a couple of seconds to leave a blank area in the crop, which is useful for skylarks to nest in. They also cut hedges less frequently to help nesting birds and ensure more food supply for both the birds themselves and the insects they feed on.