And to demonstrate their joined-up thinking, the trio are attending events together where Tim showcases the meat, Simon demonstrates his butchery skills, and Lorna then cooks a delicious dish with the different cuts.
This productive relationship shows how, by working hand-in-hand, rural businesses can bring the field to the plate and help people understand the journey their food has undergone and the value of buying British and local.
Tim Metson, Farmer
Coverwood Lakes Farm, Ewhurst, Surrey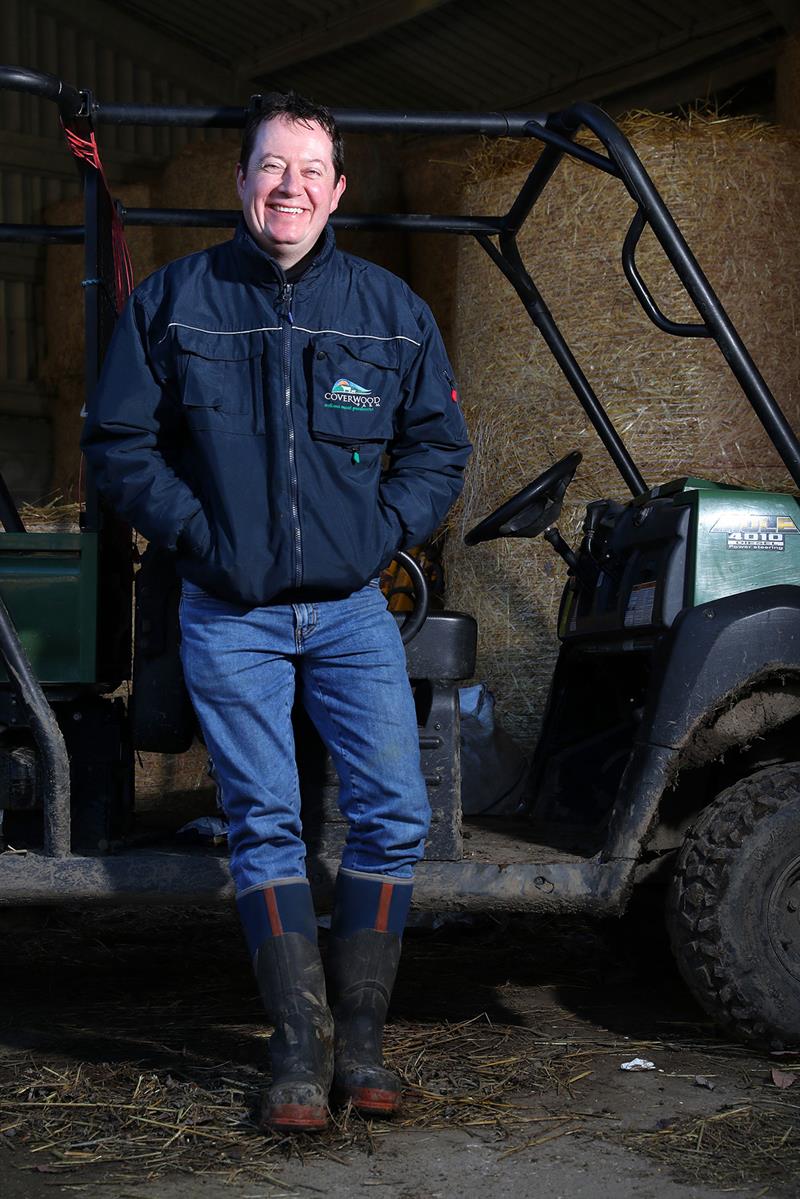 "Lorna comes directly to me to buy the lamb and Simon butchers the meat to give her the cuts she needs," he says. "But rather than keep the butchery off-site, I decided that I could build one here on the farm and increase production
"The big project at the moment involves working with Simon. He's young and dynamic and even on the British butchery team. He's based just down the road in Oxshott but he has the contract to do all our butchery here at the new facility. He's an advocate for old-style butchery, which is just what I'm looking for.
"I want to get back to the farming and allow the meat make the money," he says. "I tried a boxed beef scheme where you buy a 10kg pack and it was great for the first two times I did it, but it rather waned within six months.
"People have the 'buy it now' culture. They have good intentions but then the supermarket is easier.
"That got me frustrated. So I also started a catering concept of taking cooked meat out in an Airstream trailer to events and that has worked well. But what I'm looking to do is more on the wholesale side, and provide premium, absolute top-end meat that has a real story behind it; its provenance is British and local.
"The facility we have built on the farm is quite big so we can process fresh local meat on a larger scale. We already supply our local school and I'm approaching other independent schools to do the same for them."
The concept involves working with other farmers, putting their meat through Simon's skilled team at the butchery, and supplying schools in the area with meat that's local to them.
"We will buy in from local farmers and create a scheme whereby, so long as they meet our criteria of how their animals are managed and fed, they can join our buying scheme and we can pay more than they can get through mainstream abattoirs," he explains.
"To make it truly local, I'll talk to a particular school's nearest farm, and, so long as their beef is good quality, I will buy if from them and then the school can have meat that's from the farm next door.
"Farmers are great at what they do but are notoriously bad at marketing, but, if we can help each other, we can create a good local story behind the products we are supplying. I was worried about doing things on a bigger scale for fear of not having enough stock ourselves, but, by using other farmers, I can make it work. The butchery will have a lot of kit in there for Simon and his team to use. They will be doing high street skilled butchery on a wholesale level.
"I have also put in a developmental kitchen so we can experiment with products and come up with different ideas and ways to use our meat.
"We will also do pop-up events where we will have a lamb carcass there and Simon will give demonstrations on how to cut the meat and get people to have a go at it and then it will go through to Lorna and she will cook it – so you can see the end product.
"As well as the butchery, I want to start working more with people like Lorna who want quality and local for their businesses. We can help each other. "
Simon Taylor, Butcher
Surrey Hills Butchers, Oxshott, Surrey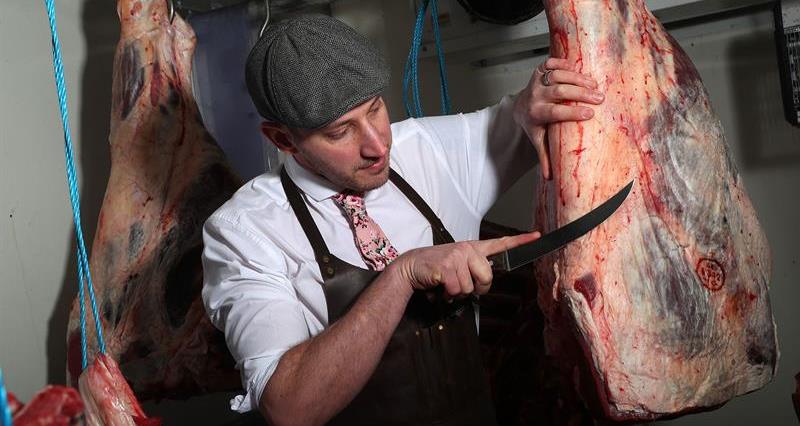 Simon has waited a long time for a state-of-the-art butchery to unleash his talents on a wider market. The opportunity to take on the work at Tim's farm in a purpose-built facility was one the 38-year-old jumped at.
"I haven't spent masses of time on a farm but I'm learning so much from Tim and how he does things," says Simon. "It's become so difficult for me as a butcher to find local produce where we really connect with the farm like we used to and then deliver that local quality and provenance to the customer. Here we are going to build on the Surrey Hills Enterprise, which Tim and I are part of, and use the Surrey Hills trademark and give that outlet to local farmers which will be great for all of us, including the consumer.
"Speaking to farmers through Tim, there are some who have been winding down their herds, but, now they know what we're doing, they're working their herds back up again so they can supply their meat to us."
Simon has been passionate about butchery for most of his life.
"I ended up working at the village butchers shop from the age of 13 and worked through apprenticeships after school. Then, about eight years ago, I got the shop in Oxshott. I have been working with Tim for six years now.
"I'm 38 so have a lot of experience on the block. You could say you are a butcher after three or four years but, even with the skills, you still need experience as no two animals are the same and there's always something to be learnt."
Simon is one of the best butchers in the country, and, as a result, qualified for Team GB for the World Butchers Challenge.
"A lot of people don't realise we have a Team GB called 'British Beefeaters'. We are six qualified butchers and compete against butchers around the world. The next one is in Sacramento, California, in September.
"Each team is given a whole lamb, a side of pork, a side of beef and six chickens and you get three hours and 15 minutes to prepare the meat. We are judged on cookability, sellability and cleanliness."
Simon believes education is the key to getting more people to buy their meat locally. And he loves talking to chefs such as Lorna about how to use the more unusual cuts of meat.
"Lorna gets her meat from Tim and then I give her the cuts she needs for her meals," says Simon. "Educating people on how to use the more unusual cuts is really important as it helps to reduce waste. Some chefs are great at using the old cuts. They're nothing new, but my Nan would have known exactly what to do with a hand of pork, whereas a lot of people don't know what this is.
"It's actually the other side of the shoulder of pork, a similar muscle to the shoulder but a bit cheaper and often used as a sausage cut but also makes a fantastic dish.
"It's a tricky landscape that we have to deal with, but people are aware of animal welfare more now and we are lucky in the UK to have the highest standards in the world.
"I love being on Tim's farm and the new cutting room is a fantastic facility that will benefit local farms and businesses as well as consumers."
Lorna Nanda Gangotra
Chef and food entrepreneur, Ripley Farmers' Market, Surrey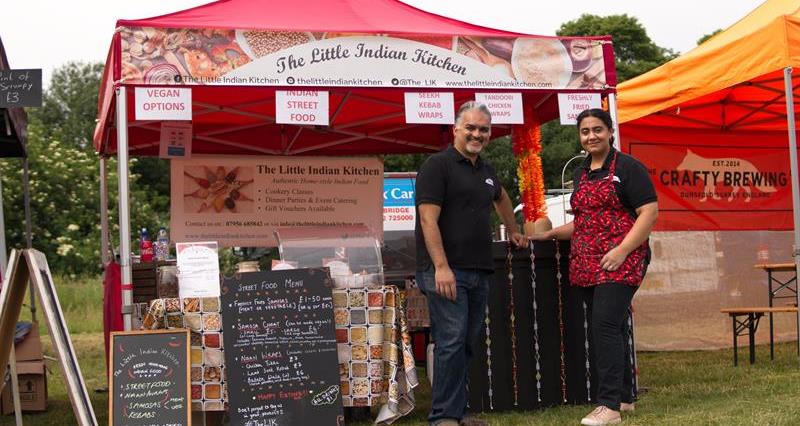 "It has been great meeting Tim and Simon. We all sing from the same hymn sheet and there's a lovely synergy," says chef Lorna Nanda Gangotra, who won the BBC's 'Family Cooking Showdown' in 2017.
Her passion for food stems back to her childhood, watching her mum and gran and cooking for the family.
"My grandparents lived with us and I learned from gran, watching her cook with a few local spices. She is from the Punjab and could conjure up a whole load of dishes from nothing. Culturally, even though I was born in Birmingham, it was still very much an Indian roots upbringing and we show our love and affection through food. If you go to an Indian event, you won't leave hungry!"
Having worked in the City for a few years, Lorna finally took the plunge, with the help of husband, Rohit, and set up a small restaurant in London called the Little Indian Kitchen serving real, fresh street food at lunch times.
"Then people started asking how I made everything, so I set up small cookery school. People were booking in for weekend and evening classes and I would also go out to demonstrate at food festivals. I kept it small and real, what you see is what you get. Word of mouth helped it take off."
After three children, Lorna felt the restaurant was too much to combine with family life and so she gave it up and they moved to Surrey. It was here she happened across Ripley Farmers' market and the idea of making fresh ready meals using local produce to sell at the local markets.
"To be able to sell at Ripley you have to use a certain percentage of local produce in what you make. We have been doing that for five years now. We use free range chicken from a local farm and now I get our lamb from Tim and use Simon the butcher. I make oven-ready meals with free-range chicken, lamb and a veggie option too. I believe with farmers' markets that if you make it, you stand there and sell it, come rain or shine. I have a lovely following of people, from old to young, and they get that personal touch. I still offer cookery classes but I travel to client's homes to teach them.
"I make the food in my 5-star rated kitchen at home which helps me to juggle work and family life.
"Traceability is also important. With three kids I want to know where food comes from. I use all fresh real ingredients, there's no preservatives, just fresh real herbs and spices, and the taste of my dishes is so different.
"It's about the layers of the flavours and even on the BBC TV show, one of the judges, Rosemary Shrager, was blown away with the ginger garlic layers, the onions and tomato, which make a full-bodied curry."
The BBC's Family Cookdown was a great experience for Lorna, who won the show alongside her sister and sister-in-law. Presenters Zoe Ball and Nadia Hussein were joined by judges Rosemary Shrager and Giorgio Locatelli for a show aimed at filling the gap left by the Bake Off move to Channel 4.
"My favourite dish was the one we cooked in the semi-finals when we had to do a national dish with a twist and our category was fish and chips. We did triple fried masala chips with a spiced battered haddock and I made spicy mushy peas and spiced coriander chutney which blew their socks off."
Lorna loves to visit Tim on his farm to see the 'field' element and understand the full journey her lamb takes from the farm, to Simon in the state-of-the-art onsite butchery, and then to her kitchen where she works her culinary magic to produce curries of distinction with full traceability and fantastic flavours. It's a real field to fork experience.
Did you enjoy this article? You'll find loads more in Countryside magazine, full of stories about British food, farming and businesses. Find out how to get the magazine here.