Location: Cambridgeshire
Produce: Sugar
L F Papworth Ltd director, Kit Papworth specialises in producing sugar beet, combinable crops, agronomy (the science of soil management and crop production) and sheep, while his cousin Tim - who is joint managing director - specialises in potatoes and cattle. The duo farm approximately 1750 hectares growing crops including sugar beet, wheat, barley, rye, oilseed rape, potatoes, vining peas, dwarf beans, maize and field beans alongside a significant area of grass.

To grow and produce sugar beet takes 18 months. The process begins once a cereal crop is harvested in August, at which point the farm will apply compost and fertiliser to the land and plant a cover crop, usually mustard or radish. This takes place to build up the rich nutrients of the soil, to prevent nutrients leaving the soil and improve the soil structure. The cover crop will grow until the following February and will be used for the farm's sheep to graze. The field will then be ploughed ready for planting the sugar beet seed.

In March when the soil begins to warm and dry the farm will drill pelleted sugar beet seeds into the soil with a specialist drill. Over the coming months, the crop will grow from a tiny seed to a big plant with a large root, which is where the sugar is stored. In order to maximise the root growth, weeds such as poppy and cleaver need to be kept under control to prevent the tiny sugar beet being smothered.

Sugar beet factories usually begin processing sugar during October and finish the following March. During this time, the farm harvests the sugar beet and places it into a pile known as a clamp where the beet is left to dry before being loaded onto lorries and taken to the factory.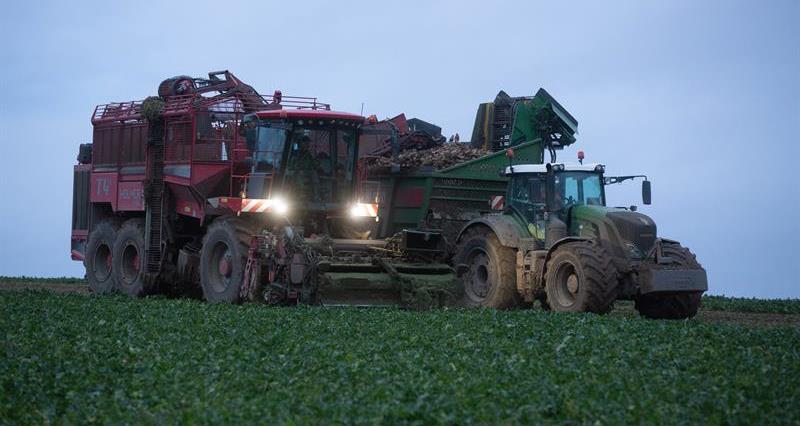 Pictured above: Sugar beet being harvested during December

Once in the factory, the sugar is extracted by special machines and the by-products are separated so they can be sold into a multitude of industries including animal feed and cosmetics. The extracted sugar is then either packaged and sent to supermarkets or sent in bulk to food manufacturers. Meanwhile on farm the whole process begins again with crops such as spring barley being sown into the recently harvested field.

Kit Papworth is the fourth generation of his family of farmers who moved to Cambridgeshire in 1926. The business is mainly centred around contract farming which means that Kit manages over 20 different farms on behalf of different landowners in North Norfolk. His business is still very much in the family where he works alongside his cousin Tim, father David, uncle Jim and cousin Sam, who manages the family's butchery.

L F Papworth Ltd are Linking Environment and Farming (LEAF) farmers. LEAF works with farmers to inspire and enable sustainable farming that is prosperous, enriches the environment and engages local communities.