"I was at Harper Adams and didn't know what to do for my dissertation," Henry says. "My Dad said 'What about clotted cream manufacturing?' When I asked why, he mentioned that through their catering hire business they have seen how popular afternoon teas have become. So I studied it for 12 months and got the technical know-how. And, although I was doing it for my dissertation, I was also coming home and seeing the potential for our business so it had a real practical use."
The 25-year-old has taken the concept and run with it, forming Clotton Hall Dairy. He has turned an old barn into a dairy and makes the cream by hand, using milk from older brother Rob's dairy herd.
Parents Andrew and Elizabeth are thrilled that their two sons have taken on the reins of the farm, securing its future for the next generation. Outside Henry's business, Rob looks after and is expanding the dairy herd, while Andrew and Elizabeth run a third business on the farm called Corkscrew Hire, providing catering equipment for large events, which they set up more than 20 years ago.
"Henry and Rob will be the sixth generation working here," Andrew says. "We all have our separate projects but everything comes into the family farm. It's always been a dairy farm. After all, this area is very much cow country, traditionally grassland and fairly flat."
The farm spans 250 acres and has a growing herd of 260 cows, with a mix of breeds chosen for the fat content and richness of their milk. The key to great clotted cream is the quality of the milk, so Henry and Rob have worked together to find the right cows for the job.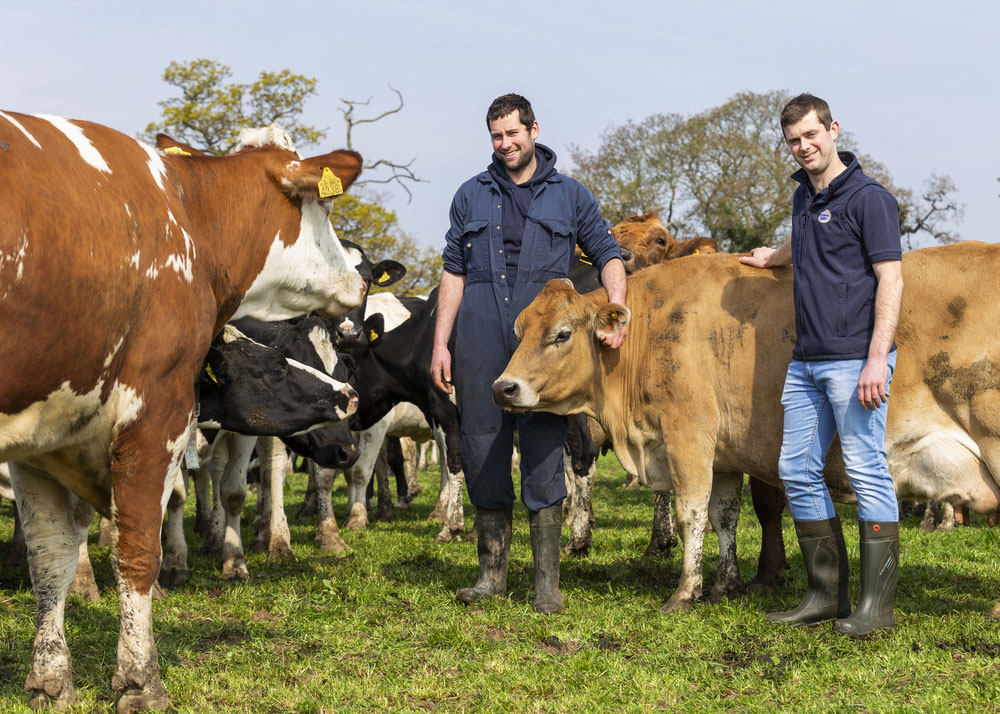 Pictured above: Rob (left) and Henry Cooke with some of the dairy herd, which includes Danish and Swedish Reds, Jerseys and Friesian cows
"We have a mixed herd including Danish and Swedish Reds, Jerseys and Friesians, as we need milk that is high in butter fat. We want a premium product, so we need premium milk," Andrew says. "We stumbled across the Danish Red because Rob was looking for some more cows and the opportunity came along to go to Denmark to see some farms. So he went across and came back to say he'd bought 40 cows and then he went to Ireland last year and bought 65 more!"
The north of England is not known for clotted cream, most of it coming from the South West, but Henry is hoping to change that and is already gaining a good number of customers locally.
"Making clotted cream here in Cheshire is very different, which is why I wanted to do it. It took six months to get it right and longer to get it consistent. It was hard work and there were plenty of teething errors, but now every pot comes out the same."
"We did the market research first to make sure there was a market there and I started selling it in October 2017. First we sold to farm shops we already knew and a few local restaurants and word gets around. I also put it on Facebook and people started to want it. We produce tubs from 40g up to 1kg. I am trying to hit the retail market though, as I would rather put the cream on a shelf and get the brand out there, than put them in a café where they decant the cream so no one can see the branding.
"Last year was steady while we found our feet, but we did get into one local Morrisons and then into another five this year, which is great."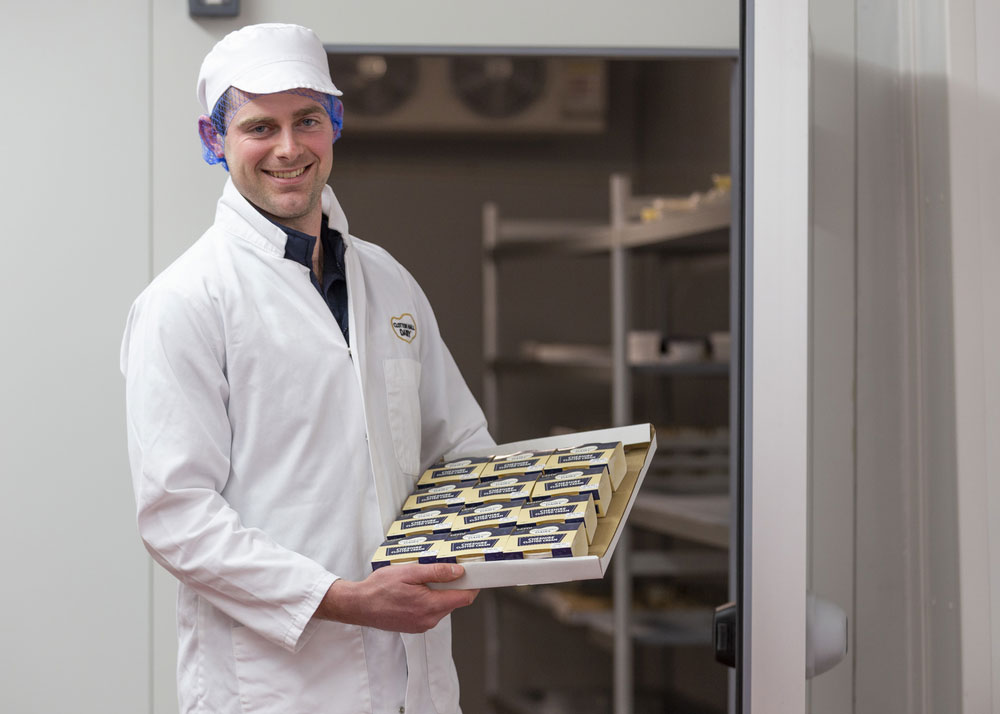 Pictured above: Henry Cooke with his Clotton Hall Dairy clotted cream
Food metres, not miles
The business got a huge boost in February 2019 when Matt Baker and the BBC Countryfile team came to the farm. The resulting feature broadcast in March and the phone has been ringing off the hook ever since.
"I'm now working with three distributors, so it's a matter of seeing how big it goes. I still make everything myself by hand. I milk the cows in the morning and the milk is pumped through the dairy, which is opposite the milking shed, so it's more like food metres than food miles," he laughs.
"It's a 24-hour process. The milk comes into a tank, I warm it up and then separate the cream from the skim. You have to make sure the fat's just right, otherwise you can't make the product. Then I decant it into tubs and bake it, which is what a lot of people don't know about. I do it at a low temperature for just over an hour. You get a crust on the top of the cream and it thickens up, then cools down overnight and then it's cream. The minimum fat content is 55% for clotted cream.
"There's a lot of specialist equipment that we had to invest in, but sourcing it was tricky. It took a while to get both the equipment and the process just right. You have to get the milk up to temperature, get the fat right, cooking and cooling, there are lots of variables along the way. It's amazing how much you can learn by doing it every day. There is variance, but you have to work around that to keep it consistent."
Henry stresses that it's important what the cows are fed and Andrew agrees. "It makes a difference to the milk," he explains. "They are grass fed most of the year round and are turned out very early – it was 16 January this year when we started turning them out in the day time. We have sandy light soil that drains easily so the cows don't have to cope with too much mud."
He is justifiably proud that, between them, his two sons have grabbed the farming mantle and are determined to make a success of it. While they were young, their grandfather John kept the farm running, but it's now in the hands of the younger generation who have the vision and energy to take the farm forward.
"The work of these two lads reflects well on the whole of farming," Andrew says. "It's great to have a good positive story about young people in farming."