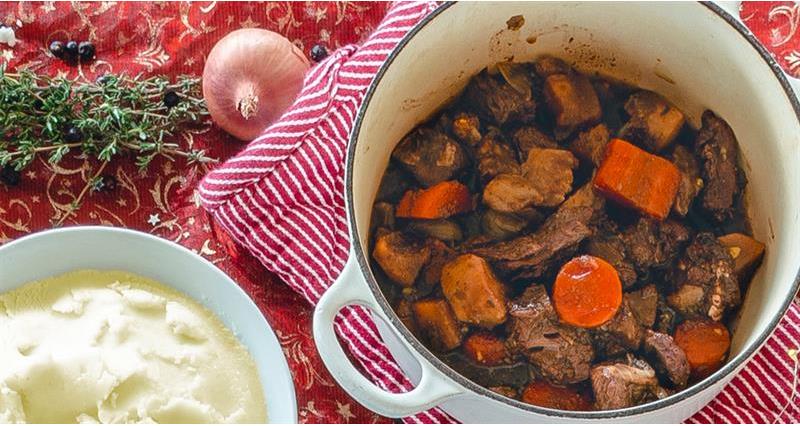 Serves: 6
Preparation time: 5 minutes (plus overnight marinade)
Cooking time: 30–45 minutes
Ingredients
900g lean venison, diced
450ml red wine
8 juniper berries
2 fresh bay leaves
2 sprigs fresh thyme
2 tbsp seasoned flour
2–3 tbsp oil
225g shallots
350g celeriac, peeled
and cut into chunks
3 carrots, peeled and cut
into chunks
150ml beef stock
4 tbsp redcurrant jelly
fresh thyme to garnish
Method
Place the venison into a large bowl and pour over the red wine. Add the juniper berries, bay leaves and thyme. Cover and leave to marinate in the fridge for 24 hours.
Remove the venison from the marinade and pat dry with kitchen paper (reserve the marinade). Toss the meat in the seasoned flour.
Preheat the oven to 160°C/fan 140°C/325°F/gas mark 3.
Heat the oil in a large flameproof casserole dish and sear the venison in batches until browned all over, adding a little more oil if necessary. Remove with a slotted spoon.
Fry the shallots in the casserole for 2–3 minutes, then stir in the marinade and stock and bring to the boil.Return the venison to the casserole and add the celeriac and carrots.
Cover the casserole and cook in the oven for 1¾ hours.
Stir in the redcurrant jelly and return to the oven for a further 30–45 minutes until the venison is completely tender.
Serve with mashed potato and garnish with fresh thyme.
---
NFU Countryside has put together a fantastic collection of recipes for our recipe book called 'Countryside Kitchen.' The book, which contains recipes and some of the stories behind the growers of the raw ingredients retails at £15.95 plus P&P. Members can buy the book for £7.95 plus P&P.
Buy your copy here