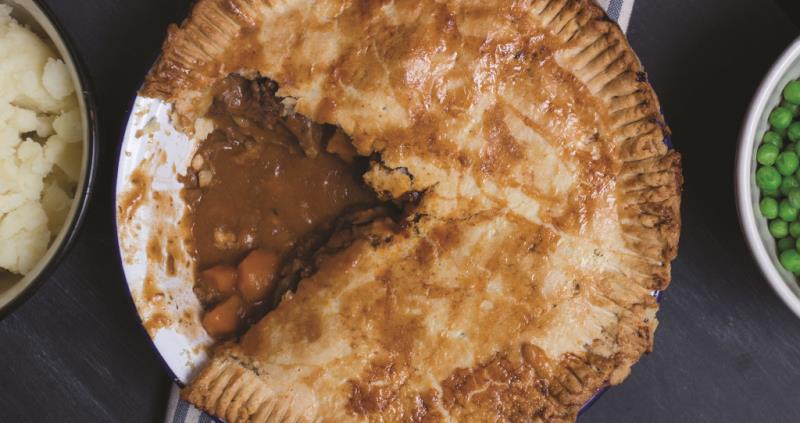 Picture this: it's cold outside, the fire is lit and all you want is a good old bit of stodge to keep your belly warm. What options are there? The good-time British classic of course! We're about to stamp all over the rumours that a steak and ale pie is difficult to cook. We promise you won't be in a boat with an angry tiger that's trying to kill you. Roll up, roll up, introducing the #studentfarmer pie…
This article started the way all great articles go: by Googling. It was great aside from the fact that if you Google "pie" you're likely to suffer an Australian infiltration, which shows this disgusting pastime of shoving ketchup on top of a meat pie. Then you've got the Americans who call pretty much everything pie: lemon meringue pie, custard pie, humble pie, American Pie, American Pie 2, American Pie 3, 4 and 5 – you catch the drift. Over here in the #bestislandintheworld we're easily pleased.
Shove meat and gravy inside some pastry and Bob's your uncle (well, maybe not – he's probably called Steve), and we go wide-eyed and weak at the knees. Shove some mash and peas on there and some extra gravy for the Northern folk and it's heaven on a plate. Dribble. Us UK lot might like to take credit for this humble dish, but actually, we kind of have to thank the Egyptians – yeah, Cleopatra had it all. According to a very trustworthy source, the ancient Egyptian diet used to consist of pies made from oat, wheat, rye and barley, which were then filled with honey and baked over hot coals. Welcome to the #studentfarmer history lesson, folks.


The Greeks got jealous and made their own version, and then the Romans did the same, proving that everyone just loves a good pie. In the end, history comes back to the Tudors (cheers Henry), where travellers in that time made the pastry purposefully inedible to preserve the meat inside. You could keep those bad boys intact for up to three months. To cut a long story short, we've always been preachers of the pie. It's synonymous with Northerners but actually, it's the Londoners who are obsessive over the dish, taking it one step further and eating it with jellied eels. If that isn't enough to turn your stomach, we don't know what is. Now we've got that out of the way. Here's the pie to end all pies, and the dish you can cook in your halls of residence without setting fire to anything and forcing every Tom, Dick and Harry onto the communal lawn (some in their pants) while the alarm is turned off.

The #studentfarmer British steak and ale pie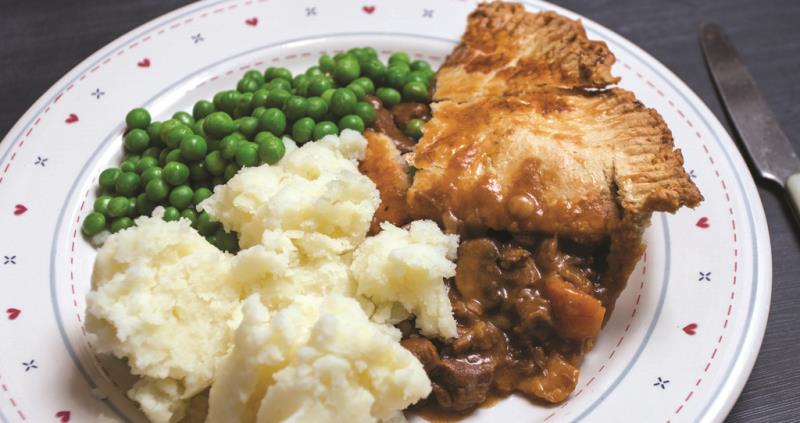 For the pastry…

- 500 g plain white flour
- 250 g salted butter
- 165 g water

For the filling…

- 1kg braising steak cut into chunks
- Three cloves of garlic
- One large or two medium onions, finely chopped
- Two tablespoons of oil
- One heaped tablespoon of flour
- Two roughly chopped carrots
- 500ml ale
- One small handful of thyme
- Half a teaspoon of sweet chilli powder
- One teaspoon of Worcestershire Sauce
- Two tablespoons of tomato purée
- Three tablespoons of liquid beef concentrated beef stock (can be bought in a bottle)
- Optional – mushrooms which have been sautéed in butter can be added when the beef is cooked.

Method
1. Heat the oil and fry the steak in batches putting each fried-o_ batch into the slow cooker (or a casserole dish)._
2. Fry the onion, garlic and carrots and then stir in the flour.
3. Add the remaining ingredients and stir until mixed and hot.
4. Transfer to a slow cooker or casserole dish for about two and a half hours until the meat is tender.
5. When cooked, transfer the filling to a dish to cool it.
6. In the meantime, make the pastry by mixing the flour and the butter together until it reaches a breadcrumb texture, then gradually add in the cold water. When it forms into a ball, turn out onto a sheet of cling fi lm and leave in the fridge for 1-2 hours. Feel free to cheat and buy ready-roll shortcrust pastry.
7. Once chilled, roll out _two thirds of _the shortcrust pastry to line the bottom of the dish.
8. Put the cold filling in, damp the edges and put the lid on and knock up the edges.
9. Eggwash the pastry.
10. Bake for about 45 – 50 mins on 190 degrees Celsius and reduce heat if pastry is browning too much.
11. Serve with creamy mash and peas, plus gravy. Enjoy.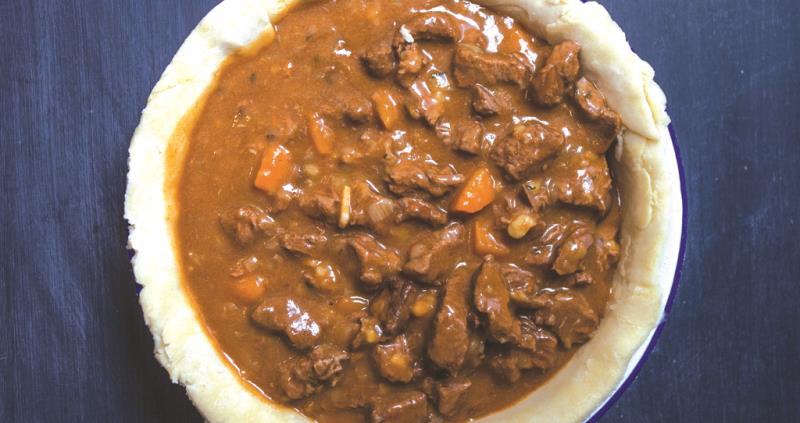 Where did our British ingredients come from?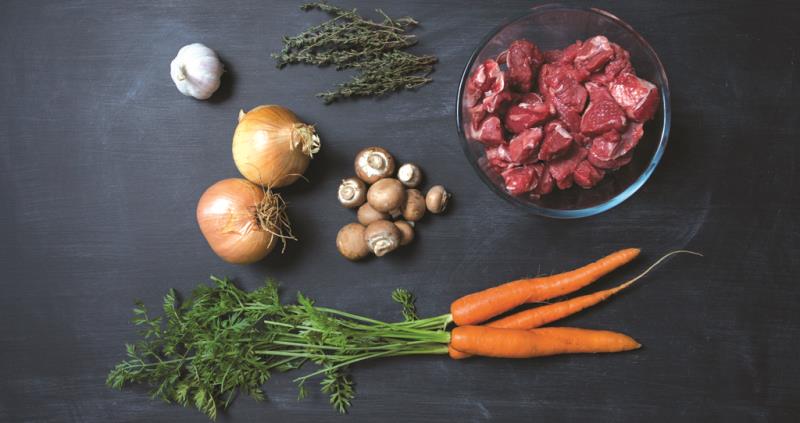 SHEPHERD NEAME
The clue is in the name – steak and ale. Perhaps it's an excuse to get booze into everything we can. Either way, we're not complaining. There was only one place we could think of when we needed the ale for our pie: Shepherd Neame. Cast your mind back to the January2015 edition of #studentfarmer. We went on a nice little trip to the brewery and the nice master brewer concocted us our own version of a Shepherd Neame classic ale. Most of us at the office kept the ale as a trinket and a reminder, only to realise that ale goes off and now we've got miscellaneous chunklets floating in the bottle.
The ale specialists at Shepherd Neame said that the best ale for a pie was called Bishops Finger. Fancy. Apparently this beer takes its name from the finger-shaped signposts which pointed pilgrims on their way to the tomb of Archbishop Thomas Becket in Canterbury and was the first strong ale to be brewed by Shepherd Neame after malt rationing was eased in the late 1950s. It is also one of the UK's oldest bottled beers, brewed since 1958.
We're full of history lessons in this edition, aren't we? That's not all. Bishops Finger is brewed to a charter which states it can only be brewed by the head brewer on a Friday and that it must be brewed using 100% natural ingredients, Kentish hops and barley, and the brewery's own artesian mineral water.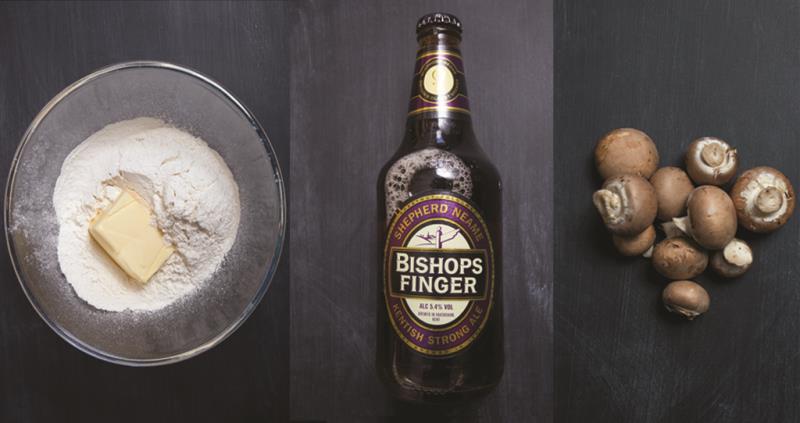 JAMES HENSHAW, TAYLORS BEEF
Pretty much the main ingredient of the steak and ale pie is the meat – no arguing there. You want something that's going to drop apart, like the food you see on those TV adverts that make you starving as you gormlessly stare and salivate. Bringing the beef to the table is James Henshaw who works at Taylors Farm Shop in Lathom, Lancashire, as a butcher. Crowned the Premier Young Butcher of the Year 2016 after a gruelling five-hour, six-category competition, we're pretty sure that James knows his beef. And he's a cut above, too.
James grew up around farming, with his grandad working a 250-head herd of beef cattle. Then he got bitten by the butchery bug at school. James ended up staying at Taylors for a year as a Saturday boy, before jumping in at the deep end to study an apprenticeship when he finished school. And it was hard work. He said: "Butchery includes more than I ever thought – you learn something called boning out to start with and that can be really intricate." And put it this way (I said put it this way), he's out to quash all the stereotypes that Fred from Coronation Street started about butchery – the industry is full of ideas and he wants to see those ideas flowing.

WILL RICHARDSON, POSKITTS CARROTS
We weren't really sure how to write this interview up, considering Will Richardson dropped the bombshell that he's allergic to barley. To put this into context, his family run a mixed farm, which includes 1,300 acres of arable, 200 beef bulls, 1,000 pigs and 100 sheep. Yeah, you guessed it – the arable side grows barley. Sneezing and spluttering aside, horticulture is the one area that Will didn't have any experience in. So what did he do? He decided to go out and get some, all with the aim of benefiting his career and the farm back at home. Cue a spot at genius carrot farm, Poskitts.
"I thought I'd benefit from learning different methods of farming. I've learnt a lot that will shape my career for the rest of my life and the farm at home," he said. And farming was always what he wanted to do, and the Poskitts ethic of going from field to fork has been something that Will has admired from the beginning. It's something he believes will be even more important in the future. Ask him about the best carrot and you'll get a quick-fi re response before you've even finished asking it. Never mind the straight, skinny, perfect shaped carrot – wonky is where it's at. In fact, scratch that, the shape doesn't matter whatsoever.
He said: "Who cares what the carrot looks like? I know it's down to preference but I wouldn't mind an odd-shaped carrot as long as the flavour is there. Shape is always second."

CARLY LAMB, GOWER VIEW FOODS
When researching about pastry for our pie recipe, there was a serious question we had to answer: whether we used salted or unsalted butter in our pastry. Thanks to technical assistant Carly Lamb from Gower View Foods, she quashed that question with one swoop. Her answer? Creamy Welsh butter – salted.
But she wasn't always involved in dairy and food processing – Carly spent her childhood following her father around the hills of Pembrokeshire as he went about his business being a shepherd. That's when she knew her heart and soul belonged to agriculture. Now she works at a dairy production site and packing centre in Camarthenshire. "Every day is different. One day I can be doing quality checks and the next I can be looking at new product development," She said.
Carly wants to champion the technology and the hard work behind that bottle of milk or tub of butter that's on the table. So next time you're thinking about your butter, always – ALWAYS – pick the one with salt.