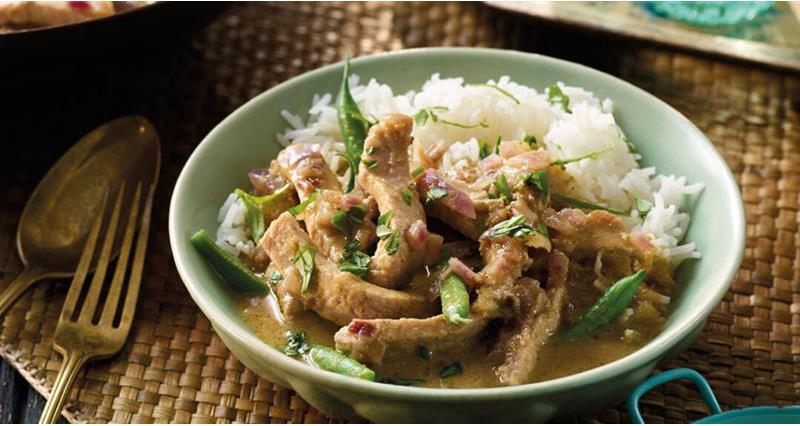 Our quick and easy Thai green pork curry can be made with loin medallions, loin steaks or stir-fry strips and is ready on your table within 15 minutes. Serve with rice and enjoy immediately!
Cooking time: 15 minutes
Serves: 4 people
Cooking skill: Not too tricky
Ingredients
4 pork loin medallions, sliced or pork loin steaks, fat removed, sliced
1 teaspoon vegetable oil
1 medium red onion, peeled and finely chopped
4 tablespoons prepared Thai green curry paste
200ml light coconut milk
200ml reduced salt hot vegetable stock
2 tablespoons fish sauce
Grated zest and juice of 1 lime
200g green beans, trimmed and halved
300g basmati rice
Handful of chopped basil leaves (optional)
Method
Heat the oil in a medium saucepan and fry the onion for 2 minutes.
Add the curry paste and cook for a further minute. Pour in the coconut milk, stock, fish sauce, lime zest and juice. Bring to a simmer then add the beans and pork. Cook for 5 minutes or until the juices run clear.
Cook the rice according to pack instructions. Divide between 4 plates.
Spoon over the curry, garnish with the basil leaves and serve immediately.
Serving Suggestion
Try using pork stir-fry strips for speed instead of the medallions or add baby corn and peas to the curry with the pork.