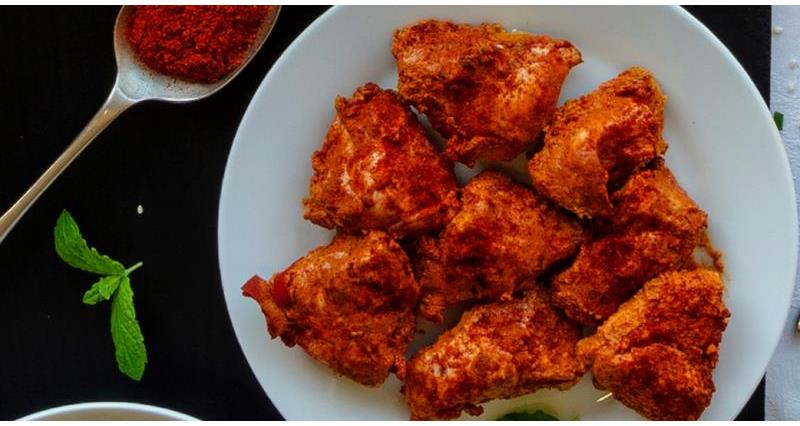 Serves: 4
Preparation time: 20 minutes (plus 4–5 hours marinade time)
Cooking time: 25–35 minutes
Ingredients
4 large chicken breasts, each cut into four pieces
Marinade
1 piece ginger, peeled and grated
3 cloves garlic, finely chopped
3 medium hot chillies,
finely chopped
1 large pot natural yoghurt
half a jar of tandoori paste
2 tbsp tandoori BBQ masala spice blend
salt to taste
To serve
2 tbsp freshly chopped coriander
Raita
1 small pot natural yoghurt
1 tbsp freshly chopped mint
salt to taste
Method
For the marinade: mix together the ginger, garlic cloves, chillies, yoghurt, tandoori paste and spice blend in a bowl.
Add the chicken pieces to the marinade, stir until well covered, and leave, covered, for 4–5 hours or overnight.
Preheat the oven to 180°C/fan 160°C/350°F/gas mark 4.
Place the chicken in the marinade into a roasting pan and cook for 25–30 minutes. Make sure the chicken is cooked by inserting a skewer into a piece – the juices should run clear.
Sprinkle with the coriander and serve with a salad and the raita.
TOP TIP: Tandoori pastes and spice blends can be found in the 'World Foods' section of most supermarkets.
---
NFU Countryside has put together a fantastic collection of recipes for our recipe book called 'Countryside Kitchen.' The book, which contains recipes and some of the stories behind the growers of the raw ingredients retails at £15.95 plus P&P. Members can buy the book for £7.95 plus P&P.
Buy your copy here