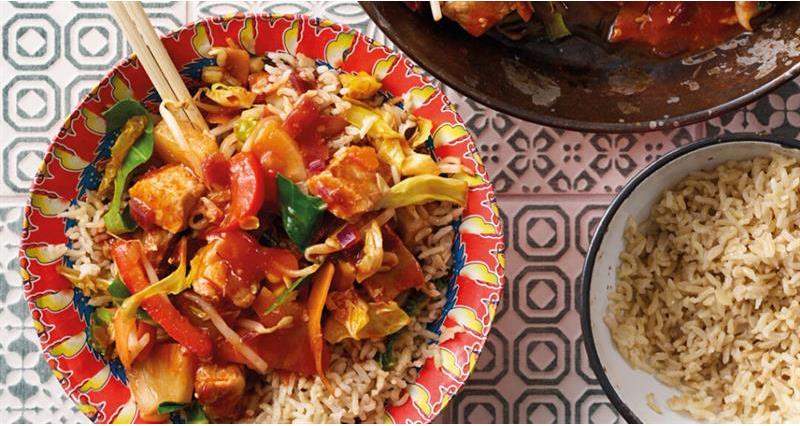 This sweet and sour stir-fry with pork medallions (or pork loin steak) is a delicious, healthy, and simple meal that is guaranteed to go down a treat in your house!
Cooking time: 22 minutes
Serves: 4 people
Cooking skill: easy
Ingredients
4 pork loin steaks, fat removed and cut into cubes, or pork medallions, cubed
1 tablespoon vegetable oil
1 red onion, peeled and diced
2 cloves garlic, peeled and finely chopped
1 x 300g pack prepared stir-fry vegetables
2 x 250g pouches wholegrain rice or brown basmati rice
For the sauce:
1 x 227g can pineapple slices in natural juice, drained, cut into chunks and juice reserved
2 tablespoons tomato purée
2 tablespoons white wine vinegar
1 tablespoon sweet chilli sauce
Method
To make the sauce, in a measuring jug mix together the pineapple juice, 75ml water, tomato purée, vinegar and sweet chilli sauce.
Heat the oil in a large frying pan or wok and fry the pork, onion and garlic for 5 minutes. Add the prepared stir-fry vegetables, the sauce and pineapple chunks. Cook for 7 minutes or until juices run clear.
Heat the rice according to pack instructions and serve with the stir-fry.
Serving Suggestion
If preferred add freshly chopped ginger to the stir fry or use a ready prepared stir-fry sauce of your choice.