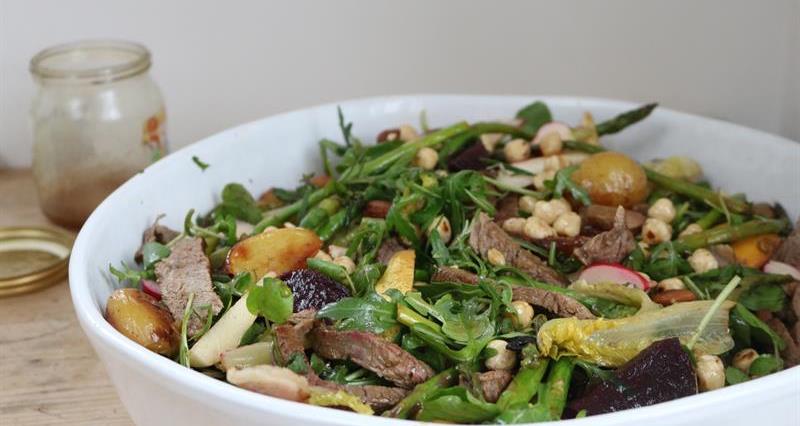 Hangar steak, skirt or cote de beouf are all great cuts to use for this delicious spring beef salad from Miranda Gore Browne. This is a lovely way to make a piece of beef go further. Simply pile everything onto a big serving dish and let everyone dig in and help themselves. Don't worry if you can't get exactly these ingredients, it will be just as delicious if you add the summery veg you can get your hands on.
Ingredients
500g beef
500g baby new potatoes
6 small shallots
3 baby cos lettuces, roasted in the oven
Watercress
Baby rocket (or seasonal salad leaves)
British asparagus
3 small pears, cut into slim wedges
Baby beetroots
Radishes
50g butter
Salt and pepper
For the dressing:
100ml olive or rapeseed oil
90ml balsamic vinegar
1 tbsp of lemon juice
1 tsp of lemon zest
2 tbsp of honey
Salt and pepper
50g whole almonds or hazelnuts,
toasted and roughly chopped
A small bunch of fresh garden herbs
Method
Preheat the oven to 200 degrees.
Put the new potatoes, shallots and a few lemon wedges into a baking tin with some olive or rapeseed oil. Put into the oven and roast for half an hour.
Then, put a frying pan onto the heat and make sure it's smoking hot.
Add a little butter or oil, then add the beef and sear for two minutes on each side.
Lift the beef out and add it to the baking tin the potatoes are roasting in, and put it straight back into the hot oven. Add the quartered cos lettuces and the asparagus for the last five minutes of cooking time.
For medium rare, roast the beef for 20 minutes, for rare closer to 12-15 minutes. Adjust the times according to the thickness of the piece of beef you are cooking.
Lift the beef out onto a plate to stand for about five minutes then finely slice.
Put all the salad leaves into a large serving dish, pile on the potatoes, baked lettuce and asparagus and all the juices, then add the beetroot, pears, radishes and nuts.
Shake the dressing ingredients in a jar and pour over the top just before serving.