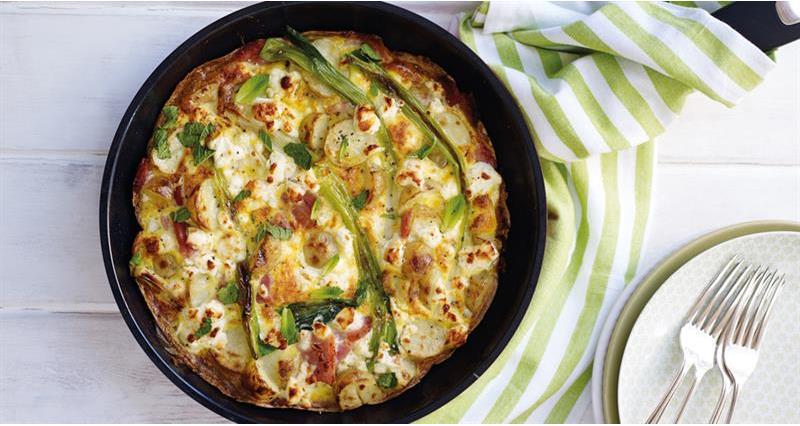 Serves: 2-4
Preparation time: 7 minutes
Cooking time: 20 minutes
Ingredients
200g new potatoes
6 spring onions, trimmed
1 thick slice carved ham, torn into pieces
1 tbsp oil
4 eggs, beaten
60g feta style cheese, crumbled
6 mint leaves, chopped
Method
Cube the potatoes into bite-sized chunks and parboil in water for 5–7 minutes.
Add the spring onions to the water for the last minute of cooking then drain.
Heat the oil in a medium-sized frying pan, add the potatoes, spring onions and ham pieces and toss in the oil.
Tip in the beaten eggs and stir a couple of times to coat and incorporate everything.
Sprinkle the feta and mint on top and allow to cook gently for 8–10 minutes until cooked halfway through. Meanwhile, heat the grill to hot.
Move the pan under the grill to cook from the top for 5–8 minutes until the frittata is golden and cooked through.
---
NFU Countryside has put together a fantastic collection of recipes for our recipe book called 'Countryside Kitchen.' The book, which contains recipes and some of the stories behind the growers of the raw ingredients retails at £15.95 plus P&P. Members can buy the book for £7.95 plus P&P.
Buy your copy here