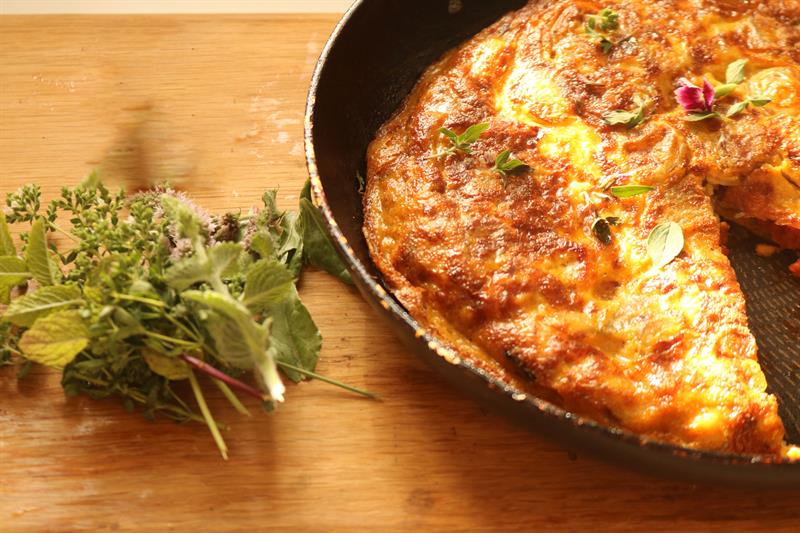 This recipe from Great British Bake Off finalist Miranda Gore Browne is a great standby for packed lunches and will happily sit in the fridge for a few days ready to be popped into your lunch box as you dash out of the house.
Ingredients
1 red onion, thinly sliced
500g waxy potatoes (I used British Anya potatoes from Norfolk) thinly sliced.
100g chorizo (thinly sliced)
6-8 free range eggs
Salt and pepper
Fresh herbs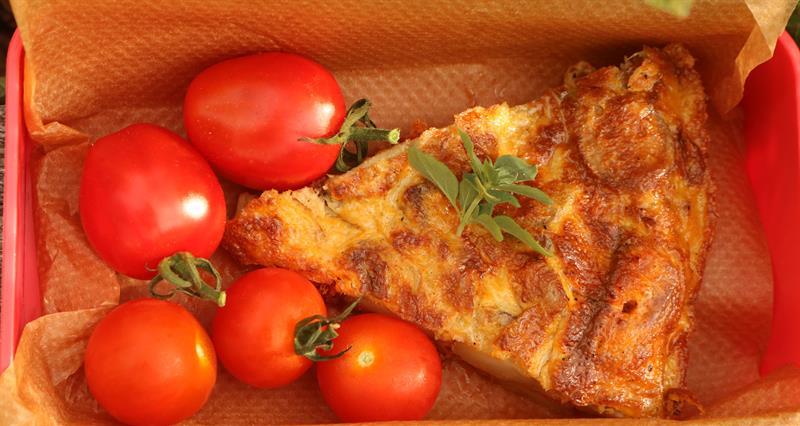 Method
Slice the onion thinly and put it into a frying pan with some olive oil, cook until starting to caramelise.
Break the eggs into a large bowl, beat together well and season with salt and pepper.
Remove the onions from the heat and put in a bowl to cool.
Slice the chorizo and cook in the frying pan, put in a bowl to cool.
Slice the potatoes (I don't peel them but you can if you prefer), put them into the frying pan and cook on a medium heat, stirring regularly for about 15 mins or until cooked through. Waxy potatoes will hold their shape, other varieties may crumble or break up, don't worry if this happens.
Once the onion is cooled, stir this into the egg mixture.
Remove the potatoes from the heat and put them into a bowl to cool. After about five minutes, add them to the egg and onion mixture.
Leave the egg mixture to stand for at least 20 minutes.
Heat up your frying pan, add a tablespoon of olive oil, pour in the egg mixture and sprinkle the chorizo on top.
Cook for about 15 minutes on the hob.
Once the tortilla starts to set and is almost cooked but still a little runny on top. Find a large plate and invert the tortilla onto it. Then carefully slide the tortilla back into the pan, runny side down to finish cooking.
Chop a few fresh herbs on top, some freshly ground pepper and a drizzle of olive oil.
Serve warm with salad or leave to cool, cut into wedges and have ready in the fridge for packed lunches.