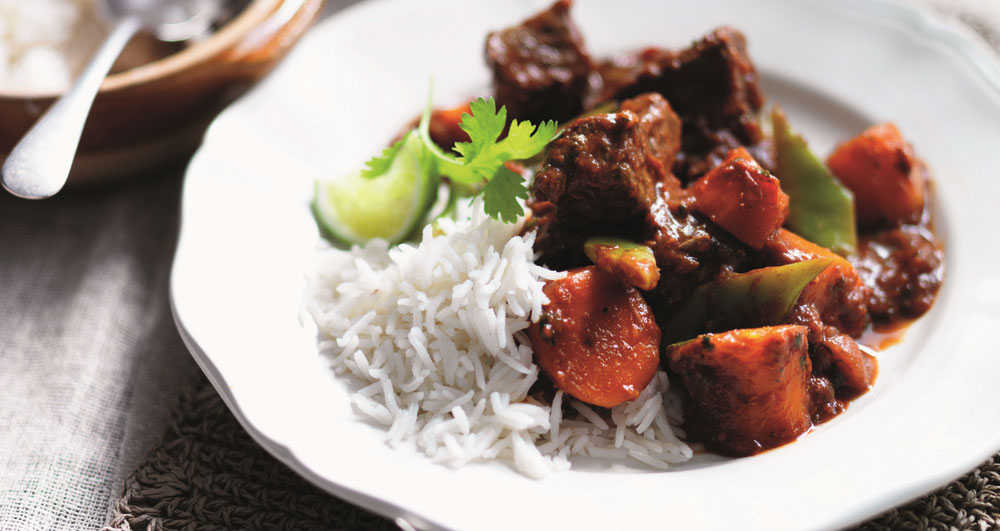 Serves: 4
Prep and cook time: 3 hours
Cooking skill: easy
Ingredients
750 g | 26 oz British stewing steak, trimmed and cut into 2 1/2 cm 1 inch cubes
2 tbsp sunflower oil
1 small onion, finely diced
3 cloves garlic, minced
2 tbsp fresh ginger, peeled and minced
1 tsp whole cloves
3 cardamom pods, lightly crushed
2 small cinnamon sticks
1 bay leaf
2 tbsp mild or hot curry powder
400 g | 14 oz tinned chopped tomatoes
250 ml | 9 fl oz reduced-salt beef stock
4 medium carrots, peeled and roughly chopped
200 g | 7 oz | mangetout, cut in half on the bias
2 tbsp lemon juice
2 tbsp coriander, finely chopped, plus extra to garnish
250 g | 9 oz basmati rice, rinsed in several changes of water, then drained
1 lime, cut into wedges
Salt
Freshly ground black pepper
Method
Season steak with salt and pepper. Heat oil in a large saucepan or casserole dish set over a moderate heat. Working in batches, brown steak in hot oil, 5 minutes per batch. Remove to a plate.
Reduce heat to medium and add onion, cooking for 5 minutes. Stir in garlic, ginger, and spices, cooking for 2 minutes.
Stir in tomatoes, stock and steak. Bring to boil and then reduce to a gentle simmer until steak is very tender, about 1-1 1/2 hours; stir occasionally.
Stir in carrots and simmer until tender, about 20 minutes. Stir in mangetout and cook for 3-4 minutes. Stir in chopped coriander. Season to taste with lemon juice, salt and pepper.
Combine rice with 700 ml water in a saucepan. Bring to boil, cover, and cook over a low heat until rice has absorbed water, 15-20 minutes.
Remove from heat and let cool, covered, for 10 minutes. Fluff rice with a fork.
Divide rice and curry between plates. Garnish with lime wedges and coriander.
Did you know..
The Red Tractor logo signals traceable and safe food that has been farmed with care.