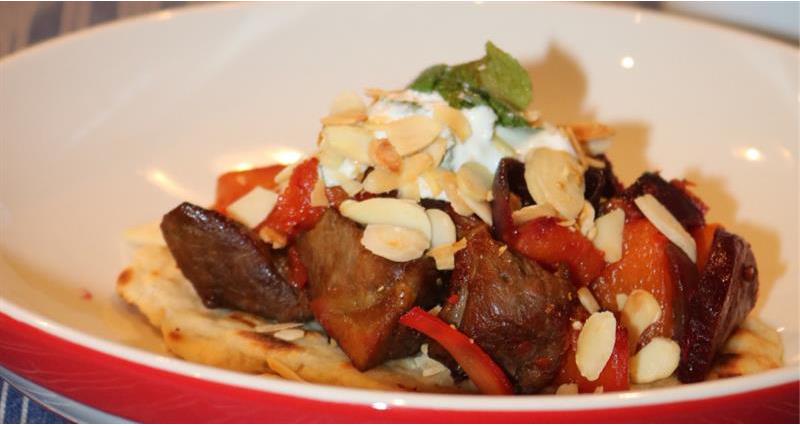 Homemade flatbreads sound too complicated for a midweek supper, but they take hardly any time to make. This is a hearty winter warmer using the best of British lamb, courtesy of Miranda Gore Browne.
Serves: 4
Preparation time: 20 minutes
Ingredients
500g cubed British lamb shoulder
1 tablespoon of oil
1 teaspoon of chilli flakes
½ teaspoon of coriander seeds
½ teaspoon of cumin
2 red onions, peeled and cut into thin wedges
½ a butternut squash, peeled, deseeded and cut into 2cm square chunks
2 beetroots, peeled and chopped into wedges
Yogurt flatbreads
200g thick natural yogurt
200g strong white flour
A pinch of coriander seeds
A pinch of dried chilli flakes
A pinch of salt
A little oil for your hands – this makes kneading the dough less sticky.
100ml yogurt
Fresh mint, finely chopped Sea salt
Flaked almonds (optional dressing)
Method
Put the lamb, oil, coriander seeds, cumin and chilli flakes into a freezer bag and, if you remember, pop this in the fridge in the morning before heading out for the day. If you are like me and doing this at the last minute, then jostle the lamb about in the bag for a few minutes before tipping into the roasting tray.
Roast the lamb, onions, squash and beetroot in a deep metal roasting dish for about 35 minutes.
For the flatbreads, put all the ingredients into a large bowl, stir together with a wooden spoon, then use your hands to knead into a soft dough.
Break into balls and roll thinly with a rolling pin.
Heat a frying pan and wipe with a little oil. Cook two flatbreads at a time, when one side is golden and mottled turn over and cook the other side. Keep them warm on a baking tray in the bottom of the oven until the lamb and vegetables are ready.
Put a few tablespoons of the remaining yogurt into a bowl with a sprinkle of sea salt and some fresh mint, parsley or coriander.
Pile the lamb and vegetables on top of the flatbreads, spoon a dollop of yogurt on top, along with flaked almonds if using, and eat immediately.