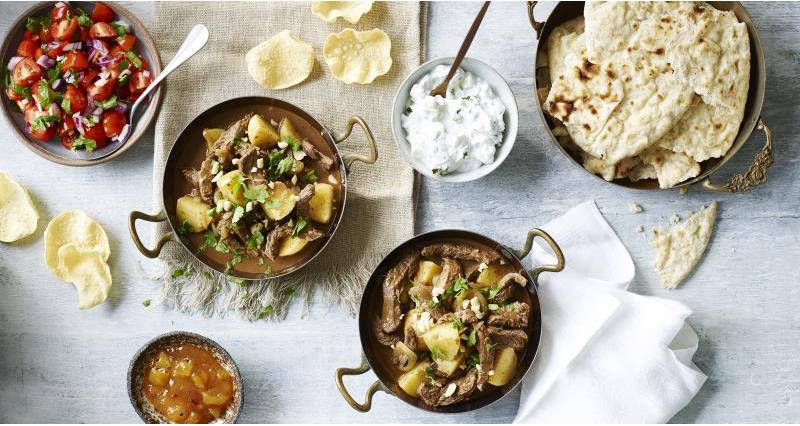 Serves: 4
Preparation and cooking time: 40 minutes
Ingredients
50g thin cut British beef steaks, cut into 5cm strips
4tsp rapeseed oil
1 onion, peeled and sliced
2tbsp Thai Massaman curry paste or curry paste of your choice
400ml reduced calorie coconut milk
2tbsp crunchy peanut butter
150ml good hot beef or lamb stock
450g small new potatoes, unpeeled and cut into quarters
Salt and freshly milled black pepper
25g roughly chopped roasted unsalted peanuts, to garnish (optional)
Large handful of freshly chopped coriander, to garnish
Method
Heat half the oil in a large non-stick pan, add the onion and cook for 2-3 minutes.
Stir in half the curry paste and cook for 1-2 minutes.
Add the coconut milk, peanut butter and stock to the pan. Bring to the boil. Add the potatoes, reduce the heat, cover and simmer for 10-15 minutes, or until the potatoes are cooked.
In a separate non-stick pan, heat the remaining oil, add the beef strips and the remaining curry paste. Stir-fry for 2-3 minutes and add to the coconut and potato mixture.
Garnish the curry with unsalted roasted peanuts and freshly-chopped coriander. Serve with boiled rice, naan or flatbread and a selection of Indian relishes and chutneys and seasonal vegetables or a side salad.