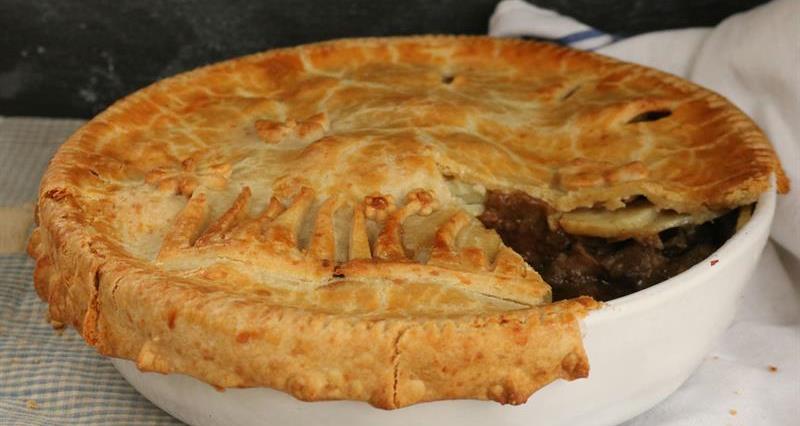 Ingredients
2 tablespoons of oil
6 shallots (or 2 brown onions), peeled and cut into wedges
2 leeks, thinly sliced
200g brown mushrooms
2 tbsp of butter
2 tbsp of plain flour
600g shin of British beef – cut into chunks
250ml beer
400ml water with two stock cubes
500g potatoes, washed but not peeled and finely sliced
Salt and pepper
For the pastry:
340g plain flour
A pinch of salt
165g butter (cold or frozen and grated)
75g mature cheddar cheese (grated)
8-10 tablespoons of cold water
Method
To make the filling:
Preheat the oven to 180 degrees.
Heat the oil in a frying pan or cast-iron casserole dish.
Add the shallots and fry until starting to soften. Add the leeks and 1 tablespoon of butter and cook until soft.
Take the leeks and shallots out of the pan and put them in a bowl.
Brown the mushrooms in the remaining butter and then remove as well.
Toss the beef in the flour, salt and pepper and brown in a little oil.
Once it has browned, put all the vegetables back in, pour over the stock and the beer, and then put it into the oven to cook for 3-4 hours.
To construct the pie:
Finely slice the potatoes and par boil until they start to soften.
Spoon the casseroled meat into a pie dish and layer the sliced potatoes on top.
Roll out the pastry. Dip your finger in cold water and run it around the rim of the pie dish.
Lift the pastry carefully on top.
Use the tines of a fork to press down the edges. Cut around the edge of the pastry leaving a little overhang.
Use cutters to cut out pastry shapes and stick these onto the top of the pie with a little water. Brush with a beaten egg and make a couple of holes or slits in the top of the pie.
Lift onto a baking tray and pop into the preheated oven to bake for about 35 minutes.