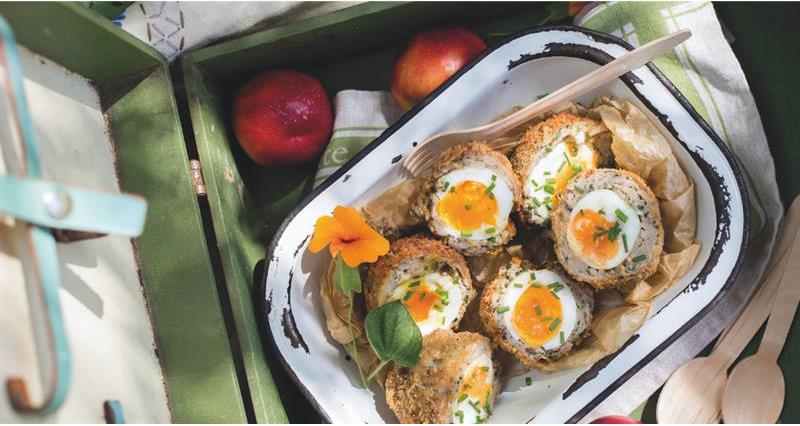 Serves: 6
Prep and cook time: 45 min
Cooking skill: medium
Ingredients
8 large eggs
300 g | 11 oz good-quality lean British sausagemeat
300 g | 11 oz British chicken mince
1 small bunch chives, chopped
2 tsp wholegrain mustard
70 g | 2 1/2 oz cornflour
120 g | 4 oz panko breadcrumbs
Salt
Freshly ground black pepper
Method
Boil eggs in a saucepan of water for 6 minutes. Remove to a bowl of iced water.
Drain, crack, and peel. Rinse off any shell and pat dry with kitchen paper.
Combine sausagemeat and chicken mince with half the chives, mustard, and salt and pepper to taste in a bowl, scrunching together.
Divide into six and gently shape around the eggs, completely enclosing them.
Place cornflour in a bowl. Beat remaining eggs with some salt and pepper in a second bowl. Place breadcrumbs in a third bowl.
Dust shaped eggs with cornflour, shaking off excess. Dip into beaten egg to coat, letting excess drip off before rolling in breadcrumbs.
Arrange on a baking tray, cover, and chill as the oven preheats.
Preheat oven to 220°C (200° fan) | 425°F | gas 7.
When ready, bake until golden-brown and cooked through, about 15-20 minutes.
Let Scotch eggs cool for 5 minutes before serving with remaining chives.