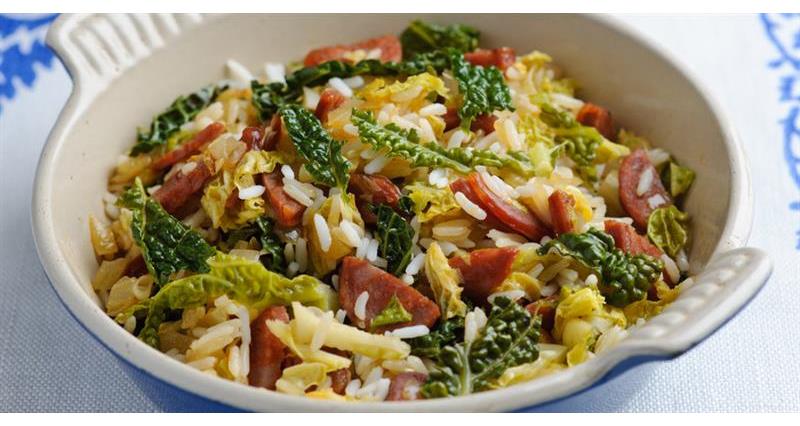 Preparation time: 10 minutes
Cooking time: 15 minutes
Serves: 4
Ingredients:
400g long grain rice
1 savoy cabbage
2 shallots
2 cloves of garlic
1 medium chorizo sausage
Olive oil
Sea salt and pepper
2 bay leaves
Method:
Place the rice in a pan of boiling water and cook for 10-12 minutes, depending on the instructions on the packet. When the rice is soft, drain and set aside.
Wash and trim the savoy cabbage, and slice the leaves very thinly. Discard the tough stalks. Peel and finely chop the shallots and the garlic. Slice the chorizo into thin slices.
In a heavy sauté pan, heat some olive oil. Sweat the onions and the garlic with some sea salt and pepper until soft. Then add the bay leaves, the thin cabbage slices, the chorizo slices and a small amount of water.
Stir well, and continue to cook over a medium heat for about 3 minutes.
Add the boiled rice, and mix well. Taste for seasoning, and add more sea salt and grated black pepper if necessary.
Just before serving, remove the bay leaves from the pan.
Serve hot.