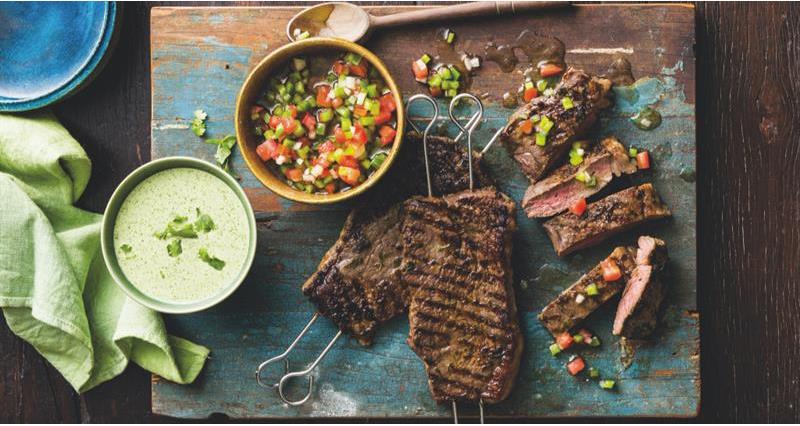 Serves: 4
Prep and cook time: 35 min
Cooking skill: easy
Ingredients
For the salsa and steak:
1 green pepper, cored, seeded, and finely diced
1 large vine tomato, cored, seeded, and finely diced
1/2 small onion, finely diced
2 limes, juiced
1 pinch Silver Spoon caster sugar
1 tbsp extra-virgin olive oil
1 dash Tabasco
4 British sirloin steaks, 7 oz each, trimmed of excess fat
2 tbsp olive oil
1 clove garlic, crushed
2 tbsp oregano, chopped
Flaked sea salt
Freshly ground black pepper
To serve:
200 g | 7 oz low-fat plain yoghurt
1 handful coriander
1/2 lemon, juiced
Method
For the salsa and steak: Stir together green pepper, tomato, onion, lime juice, sugar, extra-virgin olive oil, Tabasco, and salt and pepper to taste in a serving bowl. Cover and chill.
Preheat barbecue to a moderately hot temperature, about 220°C | 425°F; if using charcoal, wait until coals turn white hot.
Cut steak into four 14 cm | 5 inch x 6 cm | 2 1/2 inch pieces. Combine with olive oil, garlic, oregano, 2 tsp salt and some black pepper in a mixing bowl, turning to coat.
Once barbecue is ready, thread two skewers through each steak. Lay steak onto barbecue, cooking for 3-4 minutes per side for medium; cook for more or less time depending on preference.
Remove from barbecue and let rest under aluminium foil for 10 minutes.
To serve: In meantime, blend yoghurt with coriander, lemon juice, and some salt and pepper to taste in a food processor.
Present steak, salsa, and sauce on a platter.