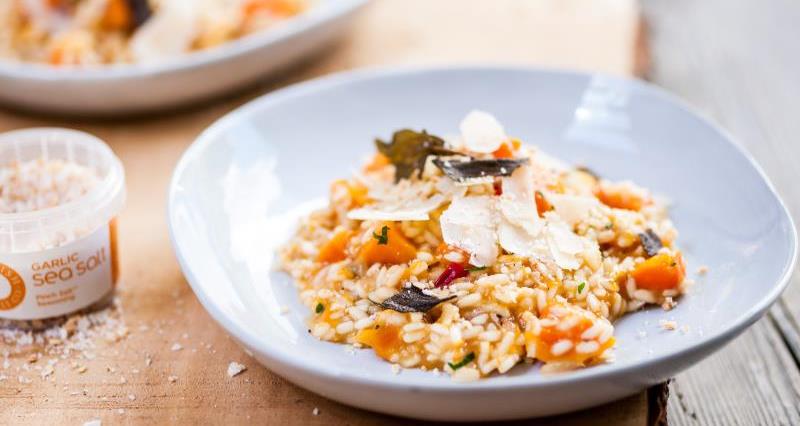 Serves: 4
Ingredients
1 medium pumpkin, peeled and diced
1 red chilli, deseeded and roughly chopped
1 tsp Garlic Sea Salt
300g risotto rice
1 medium onion, diced
1 clove garlic
2 pints warm chicken or vegetable stock
1 glass white wine
100g grated parmesan cheese
Method
Place the diced pumpkin in a roasting tray along with the chopped chilli, garlic salt and a generous dash of cooking oil.
Roast in a moderate oven for 25 – 30 minutes until the squash is turning golden.
In a heavy bottomed pan sweat off the onion and garlic in about 50ml oil without colouring.
Turn up the heat a little and add the rice. Stir well to coat the rice evenly in oil.
Add the wine and stir until the wine has been absorbed into the rice. Turn the heat back down to and add the roasted squash along with a ladle full of warm stock.
Stir continuously until absorbed. Keep adding stock, stirring all the time until the rice is al dente.
Remove from the heat and stir in the parmesan. Serve in warmed bowls.
Recipe by Iain Shillito