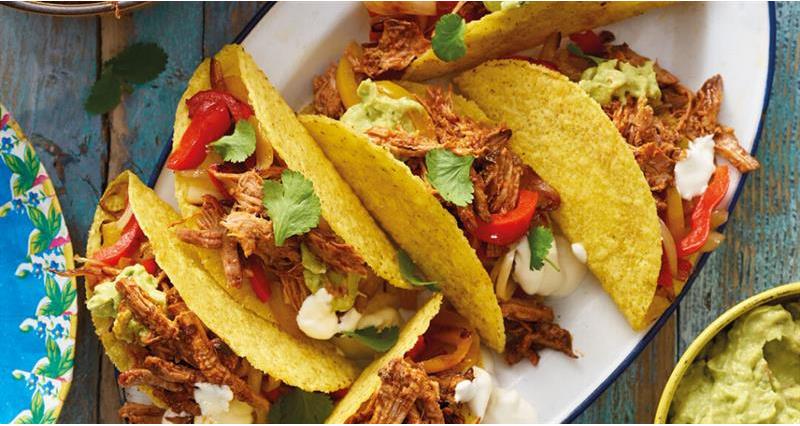 Pulled pork tacos bring that tasty Mexican flavour to your dinner table. Enough to share for six people, fill crunchy taco shells with slow cooked fajita flavoured pulled pork and top it with a dollop of guacamole and soured cream – enjoy!
Preparation time: 20 minutes
Cooking time: 6 hours
Serves: 6 people
Cooking skill: easy
Ingredients
1.6kg boneless pork shoulder joint, rind removed
4 tablespoons fajita seasoning mix
4 tablespoons chipotle or Mexican paste
Grated zest and juice of 2 limes
2 tablespoons soft brown sugar
2 tablespoons vegetable oil
2 onions, peeled and sliced
3 red peppers, deseeded and cut into strips
3 yellow peppers, deseeded and cut into strips
12 crunchy taco shells
Reduced fat soured cream, guacamole and coriander leaves.
Method
Preheat the oven to gas mark 7, 220°C, 200°C fan. Line a roasting tin with a large sheet of foil to hang over the tin.
Unroll the pork, pat dry with kitchen paper and place in the roasting tin, loosely fold the extra foil around the edges.
Mix together the fajita seasoning, chipotle paste, lime zest, juice and sugar. Rub the mixture all over the pork. Roll up the pork and tie with string. Pop in the oven and cook for 30 minutes until browned.
Turn the oven temperature down to gas mark 2, 150°C, 130°C fan. Remove the pork and fold the foil over to make a parcel. Return to the oven and cook for about 5 hours or until tender.
Increase the oven temperature to gas mark 7, 220°C, 200°C fan. Uncover the pork and cook for 10 minutes. Remove from the oven, cover with foil and leave to rest for 30 minutes.
Meanwhile, heat 1 tablespoon of the oil in a large non-stick frying pan and stir fry the onions and peppers for 3–4 minutes until lightly charred (you might want to do this in two batches). Warm the tacos according to pack instructions.
Remove the foil and string from the pork in the roasting tin, and 'pull' the cooked pork apart by securing with a fork and shredding the meat with a second fork. Fill the warm tacos with the pulled pork, onion and peppers. Top with a dollop of guacamole and soured cream, and serve immediately.