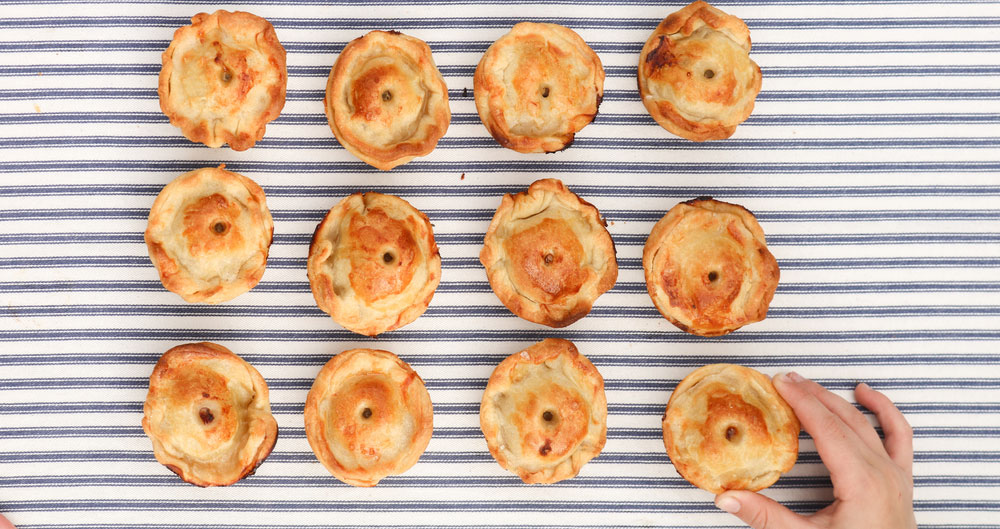 Makes: 22 muffin tin pies
Cooking time: 20-25 minutes
Equipment: You will need:
two 12-hole muffin tins and
a rolling pin
Ingredients:
For the pastry:
400g plain flour
100g strong white bread flour
150g lard
220ml water
A good pinch of salt
For the filling:
2 small shallots or
1 small onion, peeled and finely chopped
350g British lean pork mince – look of the Red Tractor logo – (or use pork shoulder and mince)
100g smoked streaky bacon
Pinch each of crushed nutmeg, coriander seeds, mace and juniper
Fresh thyme leaves, finely chopped
Salt and freshly ground pepper
40g fresh breadcrumbs
2 small Coxes apples, coarsely grated (approx 50g)
1 stick of rhubarb, finely chopped (approx 30g)
1 egg (to brush on top)
12 tsp of good chutney, (pop under the pastry lid or if making open-topped pies, see instructions right) – optional
Method
Put the lard and water into a pan and heat until the lard has melted.
Put the flour and salt into a bowl and then pour in the melted lard and water, stir with a wooden spoon then knead with your hands until you have a soft, warm dough.
While the dough is still warm, roll half out with a rolling pin and then use a round pastry cutter to cut out circles larger than the muffin tin holes.
Press these circles of dough into the bottom of each muffin tin hole.
Roll out the remaining dough and cut more circles, these will be your pie lids.
Preheat the oven to 220 degrees
Crush the coriander seeds, nutmeg, mace and juniper berries in a pestle and mortar. Mix all of the filling ingredients together well in a large bowl (shallots, pork, bacon, apples, thyme, breadcrumbs and rhubarb) then add the spices.
Use a tablespoon measure to scoop the mixture into each lined muffin case.
If you love chutney, pop a teaspoon on top now! Leave out if you prefer a more traditional pork pie.
Press on a pastry lid and use your fingers to squeeze or crimp together the edges.
Brush with a beaten egg and once all the pies are ready, pop into the preheated oven
Bake for 20-25 minutes at 220 degrees
For open-topped chutney pies, you will need a teaspoon of good quality chutney for each pie. Then bake the pork mixture in the pastry cases, without lids. Remove from the oven after about 20 minutes, spread one teaspoon of chutney on top then put back into the oven for about another 5 minutes.
Recipe courtesy of Miranda Gore Browne - a food writer, home-baking expert, director of The Kitchen School and passionate foodie. She was also a finalist on the first series of The Great British Bake Off. Miranda has written two books, Biscuit and Bake Me a Cake as Fast as You Can both published by EburyPress.