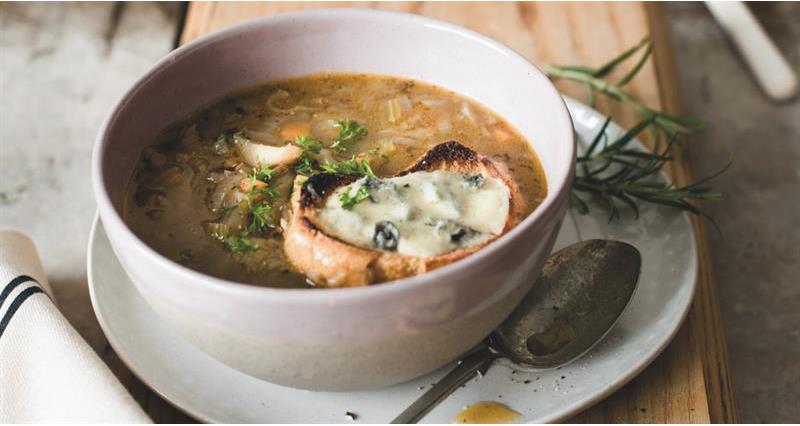 Serves: 4
Prep and cook time: 1 h 30 min
Cooking skill: easy
Ingredients
2 tbsp unsalted butter
1 tbsp sunflower oil
4 thyme sprigs
2 rosemary sprigs
2 cloves garlic, crushed
6 large onions, finely sliced
125 ml | 4 1/2 fl oz dry white wine
1500 ml | 53 fl oz reduced-salt beef stock
75 g | 2 1/2 oz British blue cheese, eg Stilton, at room temperature
4 small baguette slices
1 small handful curly parsley, chopped
Salt
Freshly ground black pepper
Method:
Melt butter with the oil in a large, heavy-based saucepan set over a medium heat until hot.
Add thyme, rosemary, garlic, onions, and a generous pinch of salt, sweating for 25-30 minutes until lightly browned. Remove herbs and garlic from saucepan.
Deglaze saucepan with white wine, reducing it by two-thirds. Stir in stock, bring to a simmer, and cook for at least 45 minutes, stirring occasionally.
Adjust seasoning to taste with salt and pepper as needed before ladling into warm heatproof bowls.
Preheat grill to hot. Spread blue cheese onto baguette slices, placing them on top of soup.
Brown under grill until golden-brown and bubbling on top, 2-3 minutes.
Carefully remove from grill and let cool briefly before serving with a garnish of parsley.