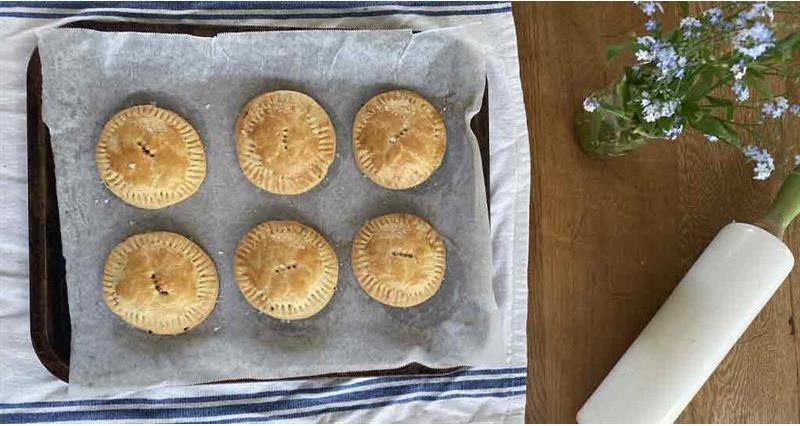 These mini beef pies, courtesy of Miranda Gore Browne make a lovely treat at lunchtime, are great for a picnic in the garden, or to take as sustenance on a daily exertion.
Ingredients
For the filling:
1 tbsp of rapeseed oil
20g butter
1 onion finely chopped
A pinch of mace
A pinch of nutmeg
400g minced British steak
50ml beef stock or any gravy
A few sprigs of thyme
1 carrot – about 60g (peeled and coarsely grated)
1 tsp of mustard powder
1 tbsp of tomato puree
A dash of Worcestershire sauce
Salt and pepper
For the pastry:
400g self-raising flour
Pinch of salt
225g cold butter (grated)
90ml of milk, add a little at a time as you may not need it all
Method
Preheat the oven to 180 degrees.
Put the flour and salt into a large bowl, or into the food processor. Add the coarsely grated butter and rub together with your fingertips or whizz in the food processor.
Add the milk a little at a time (use a knife, not your fingers and cut it into the mixture) until you have a soft dough. Squash into a fat disc, wrap in non-stick baking paper and put into the fridge to rest for a couple of hours. You can make this a few days before, if that fits in better.
Finely chop the onion and fry in a frying pan with the oil. Melt in the butter and then add the minced beef and cook until brown. Stir in the carrot and spices and cook through.
Add half a beef stock cube to 50ml of boiling water and dissolve, or use any meat stock or gravy you have left over.
Stir in the mustard powder, tomato puree and Worcestershire sauce. Pour over the mince, add a sprig of thyme, season well with salt and pepper, and let it simmer on the hob until you have a thick meaty mixture.
Take the pastry out of the fridge and let it come to room temperature. Roll out to about 2mm thick and then use a large biscuit cutter (I used a 9cm cutter) to cut circles out of the pastry.
Line a flat baking tray with non-stick baking paper. Cut out discs from the pastry and place them onto the baking paper, these will be your bases. Spoon on the meat mixture.
Brush a little water around the edge of the mince, place another pastry circle on top and then use a fork to press down and seal the edges. Make one fork hole in the top, brush with beaten egg yolk or a little milk and bake in the middle of the oven for 15 to 20 minutes, or until golden and crisp.