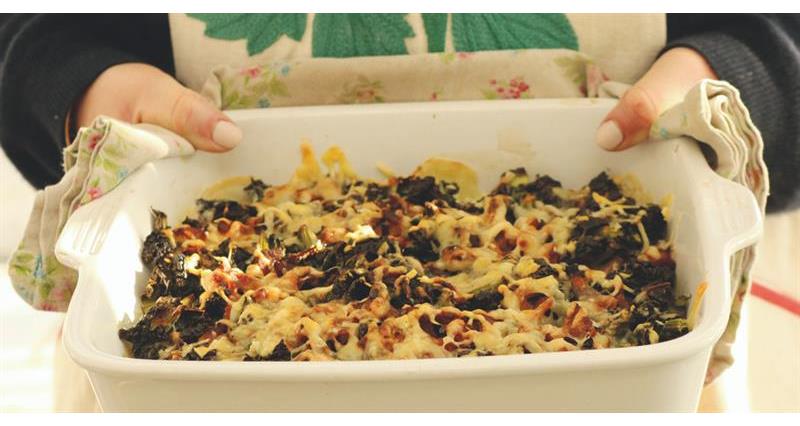 Preparation time: 20 minutes
Serves: 4
Ingredients
1 tablespoon of butter
1 small red onion, finely chopped
1 clove of garlic, fry whole with the bacon then remove
6 rashers of smoked streaky bacon, chopped into small pieces
200g Cornish Yarg cheese (or use another local hard cheese)
2 large potatoes, peeled and thinly sliced
Two bunches of Cavolo Nero, chop off the stalks and finely shred the leaves – approx. 200g after chopping
Salt & pepper
½ teaspoon of ground nutmeg
300ml Double cream
100ml of milk
Method
Put the butter into a pan, add the onion and cook until soften, then add the crushed garlic and cook for a few minutes. Pop the cooked onion and garlic into a bowl and the fry the bacon until crispy
Cook the thinly sliced potatoes in a pan of boiling water for about 10 mins, drain and put to one side.
Drain the potatoes and put half into an ovenproof dish. Put half of the Cavolo Nero, bacon and onions on top.
Put the milk, cream, nutmeg, salt and pepper into a jug, mix with a fork.
Pour half of the liquid over the potatoes and Cavolo Nero.
Add the remaining potatoes, Cavolo Nero and bacon mixture and mix a little to combine. Pour over the rest of the liquid.
Spread the grated cheese over the top and pop into the preheated oven (170 degrees) for about an hour. I put mine under the grill for the last five mins to make it bubbly on top.