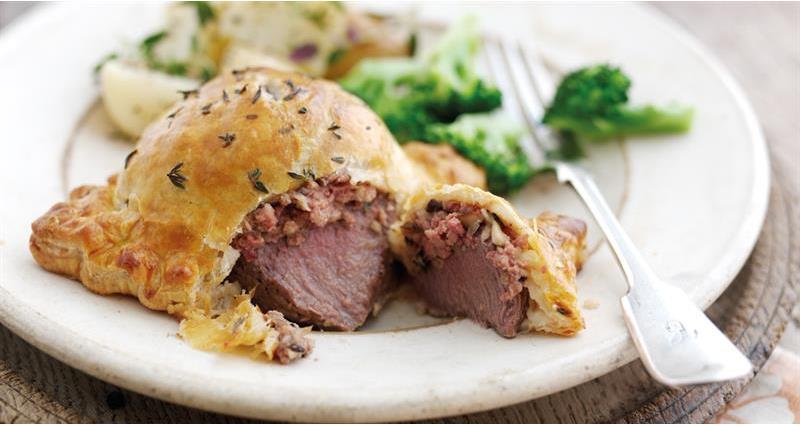 Serves: 4
Preparation Time: 35 minutes
Cooking Time: 20
Ingredients
1–2 tbsp olive oil
1 small sprig of fresh rosemary
salt and freshly ground
black pepper
2 lean cannons of lamb (one half of the loin side of lamb) (approx. 400g), trimmed and cut into 4 equal portions
50g wild mushrooms, cleaned and finely chopped
1 shallot, peeled and finely chopped
1 tbsp fresh thyme leaves
75g farmhouse pâté, softened
375g pack of ready-rolled puff pastry sheets
1 egg, beaten
handful of fresh thyme leaves, to garnish
Method
Heat the oil and rosemary in a non-stick frying pan over a moderate heat.
Season the lamb portions and brown for 30 seconds on each side. Set aside to cool.
In the same pan, add the mushrooms, shallot and thyme leaves. Cook for 5–10 minutes until soft. Set aside to cool.
Preheat the oven to 220°C/fan 210°C/425°F/gas mark 7.
Put the lamb portions on a clean chopping board. Spread each portion evenly with the pâté, then the mushroom mixture. Press down lightly.
On a lightly floured surface, unroll the pastry and divide into eight equal squares. Roll four to approximately 6cm larger than the base to allow for covering each lamb portion.
Position each lamb portion on a pastry square, leaving a 1cm border. Press down gently and brush the edges with some of the beaten egg. Place the larger pastry square over the lamb, neatly trim the edges and pinch all around the pastry to seal.
Brush the surface with the remaining egg and sprinkle with the thyme. Gently mark the surface of the pastry with the point of a sharp knife to allow any steam to escape.
Transfer the Wellingtons to a baking sheet and cook for 12–15 minutes for a medium choice; longer for well done. Leave to rest for 3–4 minutes.
Serve with fresh, seasonal vegetables and boiled new potatoes.
---
NFU Countryside has put together a fantastic collection of recipes for our recipe book called 'Countryside Kitchen.' The book, which contains recipes and some of the stories behind the growers of the raw ingredients retails at £15.95 plus P&P. Members can buy the book for £7.95 plus P&P.
Buy your copy here