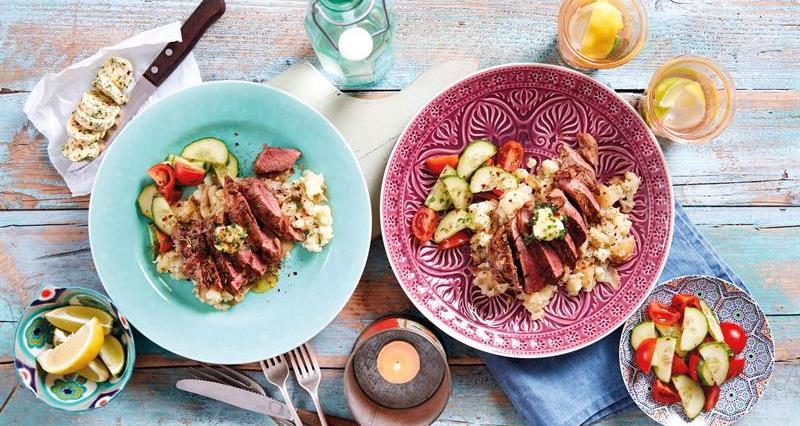 Lean lamb leg steaks dusted in a combination of dried mixed herbs and chilli flakes then cooked on a prepared barbecue or under a preheated grill.
Steaks are topped with a quick chilli butter made with butter, dried chilli flakes and freshly chopped parsley. Serve with and warm crushed new potato salad with a disc or two of the chilli butter stirred through and salad leaves. A quick, but delicious mid-week meal ready in under 20 minutes.
Serves: 2
Preparation time: 10 mins
Cooking time: Under 20 mins
Ingredients:
2 boneless lamb leg steaks
1 tablespoon rapeseed oil
1 teaspoon dried red chilli flakes
1 teaspoon dried mixed herbs
For the chilli butter:
50g butter, softened
½ teaspoon dried chilli flakes
1 tablespoon freshly chopped parsley
Method:
To prepare the chilli butter: in a small bowl, mix together the butter, ½ teaspoon chilli flakes and parsley. Mould the butter into a sausage shape, wrap in cling film or foil and refrigerate until required.
Brush the steaks with oil on both sides. Mix together the dried chillies and mixed herbs, sprinkle over the steaks.
Cook on a prepared BBQ or under a preheated moderate grill for 6–8 mins on each side.
Top with a disc or two of the chilli butter and serve with warm crushed new potatoes and tomato and cucumber salad.
Tip: Use the chilli butter on lamb chops or beef steaks.